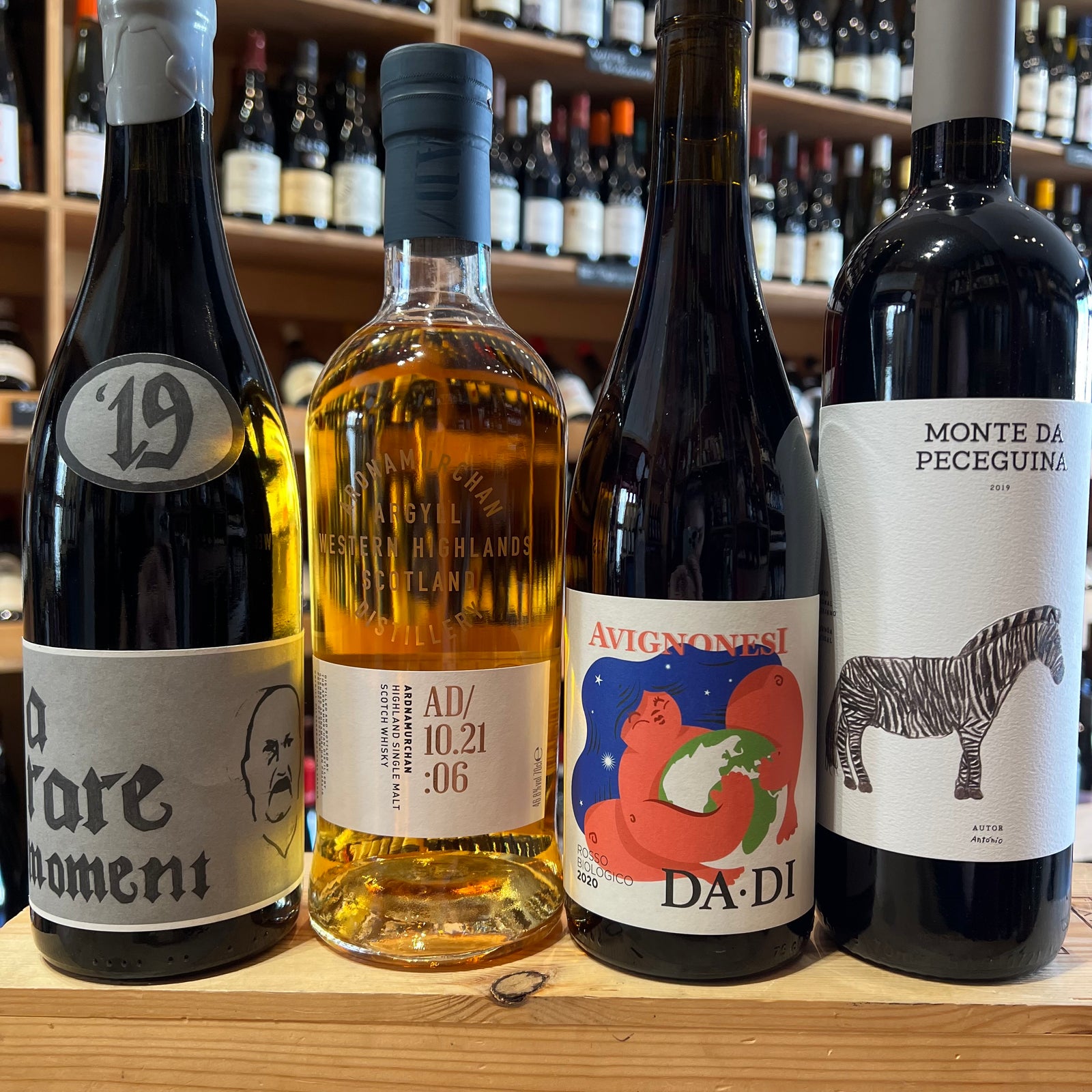 Father's Day is on Sunday 19th June and we have some tremendous wines (and spirits) to treat your nearest and dearest! 
Avignonesi, Da di Sangiovese, was £19.99, now discounted by 10% 
Da Di is not actually Italian for Daddy but a Chinese word for earth /soil. This is a nod to the clay, amphora vessel used for aging and to the rejuvenated soils of the vineyards.
Tuscan winemaker Virginie Savery focussed on organic, biodynamic and sustainable methods of wine production. This is a natural Sangiovese wine with lovely purity and fresh red fruit flavours. 
Lovely with lamb cutlets or Italian dishes such as Pasta alla Norma. 
Monte de Peceguina Tinto 2019, £19.99
The labels for the Monte da Peceguina range have been drawn by João Soares' children. He is the winemaker at Herdade da Malhadinha Nova, a large estate surrounded by stunning hills and mountains, in the Beja province of Low Alentejo. João, Paulo, Rita, João and Maria Antónia Soares collectively run a stud farm, luxury accommodation, organic gardens as well as their vineyards and winery. Truly a family affair! We love these wines and the Tinto is a real treat. Intense red and black fruits with notes of violet and toasted spice from the barrel aging. Absolutely delicious! 
Serve with rich, full flavoured foods. It would be a fine match for steak and chips. 
Adelphi Distillery Ardnamurchan Single Malt batch AD/10.21:06 70c, £53
We are very pleased to have a few bottles of the new release of Ardnamurchan. It has notes of bruised apples, lemon meringue pie and salted caramel on the nose, with vanilla, smoke and a saline quality on the palate. The releases from this distillery, which was first established in 1826, are super rare and very special. 
Blank Bottle Rare Moment, £22.50
This is a blend of Pinotage with a big chunk of organic Syrah. The wine is aged only in old oak, it is a fine and elegant wine with dark fruits, spice and black pepper. This wine was made, bottled and designed exclusively for us. 
You could gift someone a 'rare moment' of peace… or take a moment yourself, for remembrance, contemplation or simple enjoyment. 
How ever you choose to spend the day, we wish you happiness... and a large glass of something lovely!