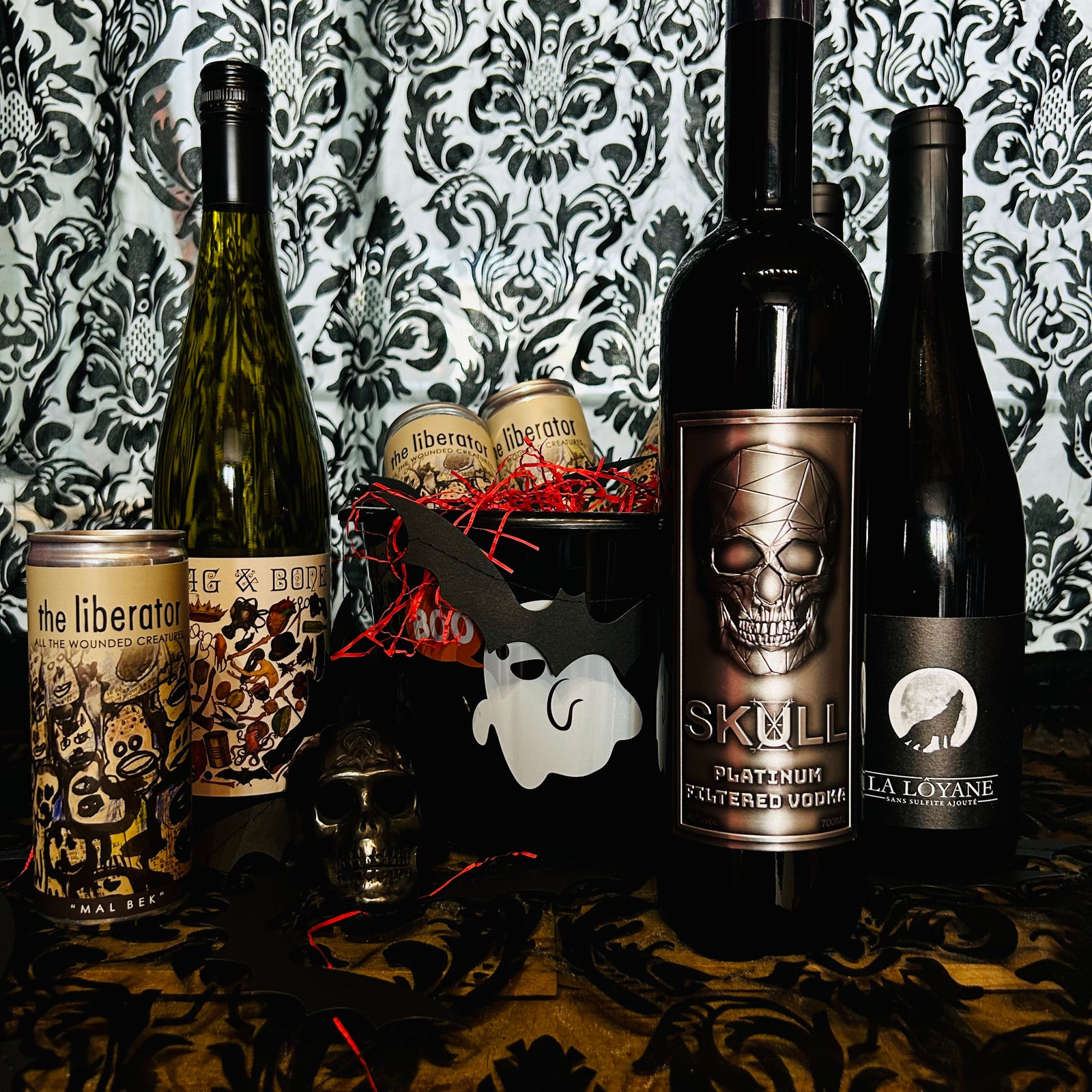 Halloween is creeping around the corner, and it's the perfect time to add a touch of eerie elegance to your wine collection. Whether you're hosting a costume party, a cosy night in, or just want to enjoy some hauntingly good wines, Butler's has got you covered. Get ready to indulge in spine-tingling sips and elevate your Halloween festivities with these bewitching beverage choices.
Sinister Reds:
Halloween is synonymous with the colour red, and what better way to celebrate than with some dark and decadent red wines? Consider stocking up on deep, rich varietals like Cabernet Sauvignon, Malbec, or a mysterious Merlot. These wines boast flavours of blackberries, plums, and dark chocolate, perfect for sipping by the fire as you tell ghost stories. Why not add a playful twist to your Halloween celebration by pairing wines with your favourite Halloween sweets? Try matching a bold red with dark chocolate – a favourite of ours is La Loyane Lirac Rouge Sans Sulfite - Carignan 60 % Grenache 40 % fermented and aged in stainless steel with no added sulphur. The family 20ha family vineyard is 150 years old and is in the process of converting to organic production. Their wines are typical of this Rhone region showing strength, finesse, and elegance. Juicy fresh raspberries and herbs are dominant here with a good length and silky tannins. No added sulphur really lets the fruit shine through! Fun fact: La LÔYANE is an area historically occupied by wolves giving this wine a spooky character.
If you fancy indulging on-the-go a can of luscious red will keep you warmed up and ready to face the hoards of fancy dressers and trick-or-treaters. The Liberator 'All The Wounded Creatures' Malbek 25cl Canis the perfect travel size companion, part of The Liberator range from renowned Master of Wine, Richard Kelley, who is also known as the 'Cape Crusader' working on seeking out (liberating) rare wines that may have been blended in bulk. In a rough translation from Afrikaans, "mal bek" refers to an individual with an intriguingly uninhibited or lively manner of speaking. It's not intended as a disparaging term; rather, it's used affectionately to depict someone who might have a tendency towards "verbal diarrhoea." The wine itself emerges as bold and opulent, displaying pronounced fragrances of wild blackberries, accompanied by a discernible floral character, and inviting notes of warm spices on the nose. On the palate, it presents a full-bodied structure, characterized by supple tannins that provide a velvety texture.
Haunting Whites:
For those who prefer white wines, there are plenty of options to match the spooky spirit. Look for Chardonnays with buttery undertones or Rieslings with a crisp, citrusy finish. These wines will complement autumnal dishes like roasted pumpkin or creamy butternut squash soup. These styles also play perfectly with sour sweets that will surely be accompanying your trick or treating bags
Our top pick is Smalltown Vineyards Rag & Bone Riesling - The inspiration behind this label is quite unique! Their product manager discovered that due to the limited production of a specific wine, nearly half the vineyard's fruit was destined for the discard pile. However, he saw an opportunity to harness the quality of this overlooked half. This sparked the idea of repurposing what was almost discarded, embracing the notion that one person's trash can be another person's treasure. As he pondered a suitable name for the wine, serendipity struck when a rag & bone van parked outside his home, collecting old iron and more. Despite it being a modern van rather than a traditional horse and cart, the name "Rag & Bone" stuck. The label artfully showcases an array of discarded items, symbolizing how, when brought together, they create an eclectic assortment greater than the sum of its parts. This story instantly conjured up images of Mary Shelleys Frankenstein, the palate is bright, zingy, singing with natural acidity and textural. It reflects the vineyard with its fine sandy texture with bright, white pithy fruit. Just a cracking Eden Valley Riesling. Well suited to seafood dishes, spicy cuisine and anytime in the company of those who enjoy a quality riesling! Try chilli prawns, green thai curry, fish, and chicken laksa (with chilli, coconut, ginger and lime).
Spine-Chilling Spirits:
Wine isn't for everyone and luckily, we have plenty of alternatives. This is one of our all-time favourites and top picks for the spooky season, followers of ours will surely recognise this as Cassie's favourite tipple, and not just for the label!
Skull X Vodka is an elegant style. It's made by combining the purest water from natural aquifers 200 feet below the surface, and the finest white wheat in Slovakia. It is passed through platinum filters before finally being distilled five times to create a very pure vodka. It's not complex which we like. It is slightly creamy with a hint of sweetness and spice but no burn at all when drinking, even neat. Great in a martini and with tonic but it's also a great sipping vodka if you prefer to drink it by itself. It would work a treat with shellfish, or gravlax and pickled cucumber. 
This Halloween don't settle for the ordinary. Elevate your celebration with a selection of spine-tingling wines that will leave a lasting impression on your guests. Whether you're hosting a costume party or enjoying a quiet evening at home, Butler's has the perfect bottle to enhance your Halloween experience. Cheers to a spooktacular night filled with delicious wines and hauntingly good times!