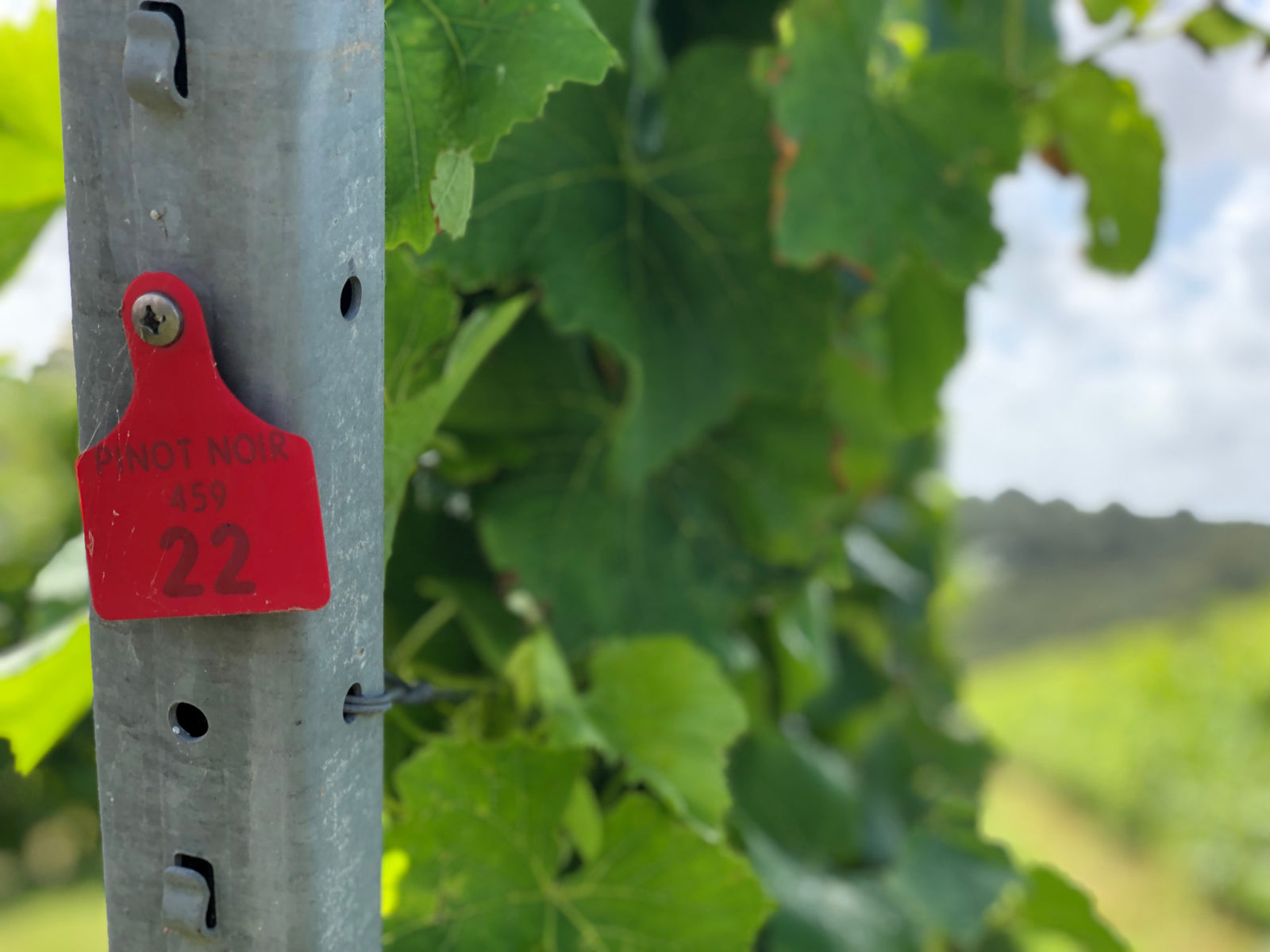 Thoughts from Jake.
This Monday the Butlers team were lucky enough to get invited to Rathfinny Wine Estate in Alfriston for a tour around their shiny new winery, followed by a tasting of their flagship wines all of which we have in stock in our shops. The tasting was accompanied by a 3 course lunch in The Flint Barns, their hotel which houses one of their two restaurants and is nestled right in the heart of their vineyards.
We set out from Brighton train station at 10am headed for Seaford armed with a magnum of Hanewald-Schwerdt's Reiterpfad - a powerful and elegant Pfalz Riesling; big tropical fruit balanced by that defining German acidity. We were joined by our friends from Fourth & Church so the magnum didn't last long.  Definitly the best way to kick off a team day out!
On arrival to Seaford station (now a little tipsy) we were picked up in the Rathfinny minibus by our friend Rich (their Sales Executive) and zipped up to the estate via their vineyards where we got to see some of their new plantings. There vineyards are almost exclusively made up of the classic Champagne varieties: Pinot Noir, Chardonnay and Pinot Meunier. 
Once we got settled we were greeted by the man behind the whole operation Mark Driver who very kindly took the time out of his seriously busy schedule to have a coffee with us, introduce himself and tell us a bit about the company  and his vision of becoming one of the worlds leading sparkling wine producers. 

Following our chat with Mark we were given a tour of their winery and bottling line, the scale of which is pretty staggering. Every stage of production is carried out with precision and quality in mind. It's very apparent that an incredible amount of planning has gone into this project and current output is only a fraction of what they're capable of producing. Watch this space.


Then on to the exciting part, lunch and the tasting:

 
Cradle Valley Pinot Gris / Pinot Blanc 2017
Paired with: Crispy crab cake with coriander & mango salsa.
Cradle valley (named after the valley the estate occupies) is the brand Rathfinny use for their still wines. This new vintage is nice and lean, with ripe stone fruit and a touch of oak on the Pinot Gris which adds a little richness.

The label, designed by a local stone mansion & artist, shows two hares (one of many critters found on the Rathfinny estate).

We found that the fruit matched beautifully to the mango salsa and the trademark Sussex acidity did great at making the sweetness of the crab meat shine.

 
Rathfinny Blanc de Noir 2015
Paired with: Pork wrapped in smokey pancetta, wild mushroom sauce & a cranberry fritter.
The Rathfinny BdN is 65% Pinot Noir & 35% Pinot Meunier. With just 4g/l  dosage it's made in a very dry style. Thanks to the lower natural acidity of the two Pinot's we think it remains seriously well balanced. It spends 3 years ageing in the bottle on the lees, which places it on the richer side of sparkling wines and is full of red fruit like cranberry's and cherries with just a hint of almond and toast.

Another great pairing. The wines weight meant it stood up well to the pork, the light toasty notes complimented the smokey pancetta and all that red fruit with the cranberry fritter was perfect!


Rathfinny Brut Rose 2016
Paired with: Vanilla panacotta with roast peach.
Pinot Noir led blend (67%) and a supporting role played by Chardonnay (28%) and just a touch of Pinot Meunier (5%). This one was fresh and bright thanks to a shorter time aging in the bottle, this sparkling was all about the pretty fruit notes; strawberry, raspberry with a touch of vanilla & cream. A slightly higher dosage balanced out the acidity nicely.
Thoughts from Derek.
Our visit to Rathfinny was absolutely a fabulous experience because the people behind the project know exactly what they are doing and what they want to achieve.
They have got fantastic new products that are a must try and I thought that they are game changers.
There were experts in every single department to make sure that everything is perfect which made me want to come and buy more wine because of the high quality which is guaranteed.
We also had a very delicious lunch, staff were very kind and happy too which obviously made me happy and relaxed.
We stock these delicious wines at Butlers. So please pop in for the experience.
Their Cradle Valley Pinot Gris / Pinot Blanc was a favourite of mine! Loved it big time.