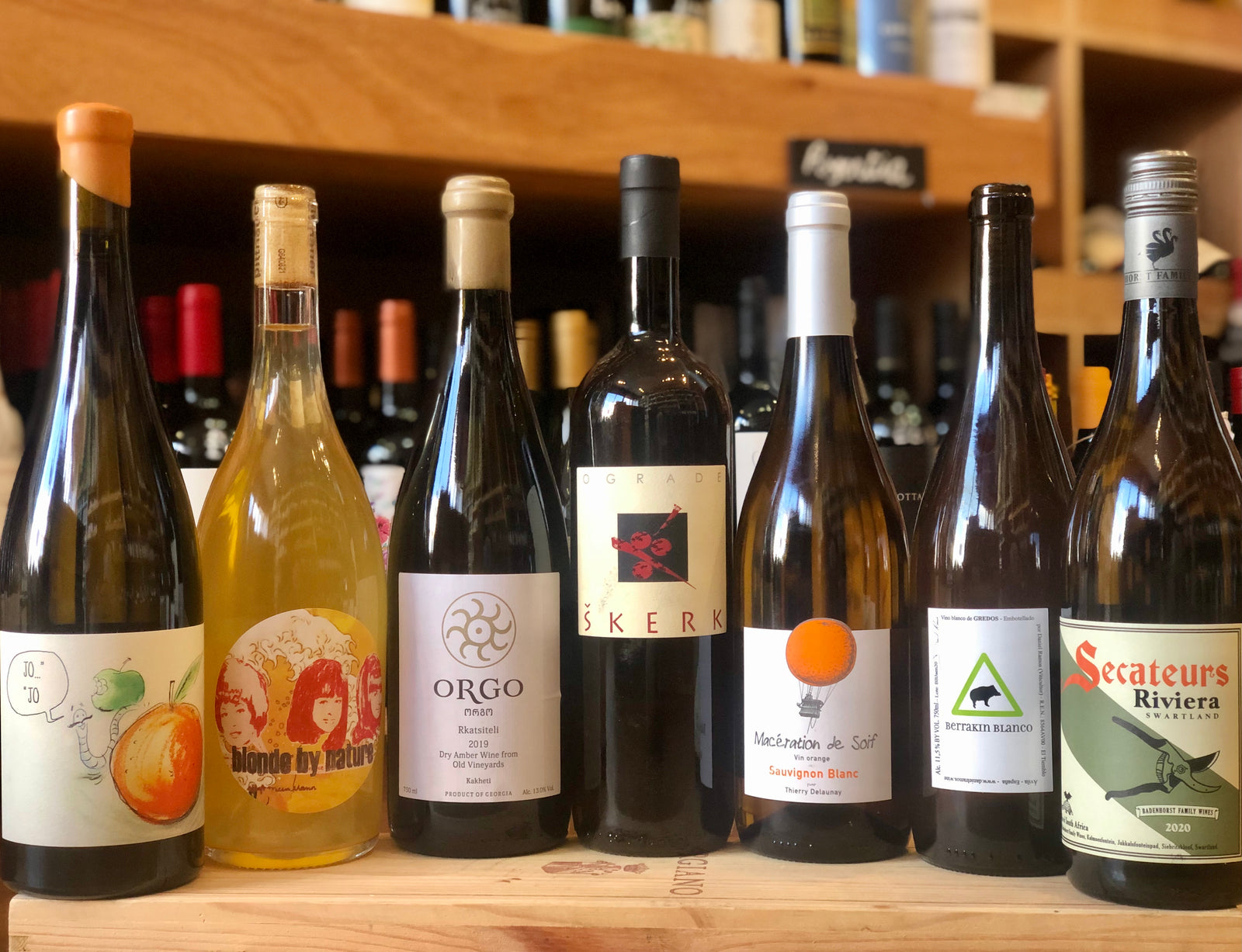 Of all the winemaking developments in the last couple of decades, the re-emergence of skin-contact wines may well be the most important. 'Orange wines' is the term most people have settled on, now that the style has found its niche and is edging towards the mainstream. If you haven't yet come over to the orange side, here's what you're missing out on.
What is orange wine?
In simplest terms, orange wines are white wines made like red wines. They use white grapes. But where a standard Sauvignon Blanc or regular Riesling is fermented solely from juice pressed from those grapes, with orange wines the skins are added to the fermentation vessel as well. As the must ferments, it draws character from the skins as well as the juice, leaving a wine with more texture and complexity than its white counterpart. This is the skin contact in question, and it's what gives these wines their unique array of charms. 
Orange is not the only hue
The name orange wine isn't always strictly accurate. Depending on things like grape variety and amount of skin contact, the wine in the bottle can end up anywhere between a pale gold colour and something closer in hue to Berocca. And since modern skin-contact wines have spilled largely out of the natural wine movement, many are bottled unfined, unfiltered and defiantly cloudy. But the one thing common to all orange wines is structure - that drying, mouth-filling tannic twang you'd usually associate with red wines. 
What do orange wines taste like?
Be under no illusions: orange wines can be a difficult drink to get your head around at first. There's a reason words like 'funky', 'waxy' and 'savoury' tend to follow them around. Very often the nose and the palate are strikingly different. A sniff can leave you expecting ripe fruity flavours, but in the mouth things are usually cleaner, chewier, sometimes more austere. But once you know what to expect, there's a huge amount of pleasure to be found in this ancient and happily-revived style. (Quick detour into history: skin-contact wines were probably the original white wines, first made in Georgia well over 6000 years ago.)
Orange wines with food
One place where orange wines really come into their own is on the dinner table. Their structure and purity makes them incredibly versatile food wines, as happy nestling up to curries and North African cuisine as they are alongside a cheese board. Personally we're quite partial to a bottle with sushi. 
Orange wines at Butler's
We currently have a small selection of skin-contact wines - one of the downsides of being achingly on-trend is that they tend to fly out of the shop almost as quickly as they come in. We've included links to our current selection below, but keep checking in for new arrivals - orange wines are here to stay and you'll always find a good bottle at the UK's Independent Wine Retailer of the Year.
From Northern Italy
From the Loire
Domaine Joel Delaunchy Maceration De Soif Sauvignon Blanc Vin Orange 2020 (£17.95)
From Austria
Pittnauer Blonde By Nature 2020 (£19.50)
From Germany
From Spain
El Berrakin Blanco 2020 (£14.75)
From Georgia
Orgo Rkatsiteli Kakheti 2019 (£20.99)
From South Africa
Secateurs Riviera, AA Badenhorst 2020 (£16.99)