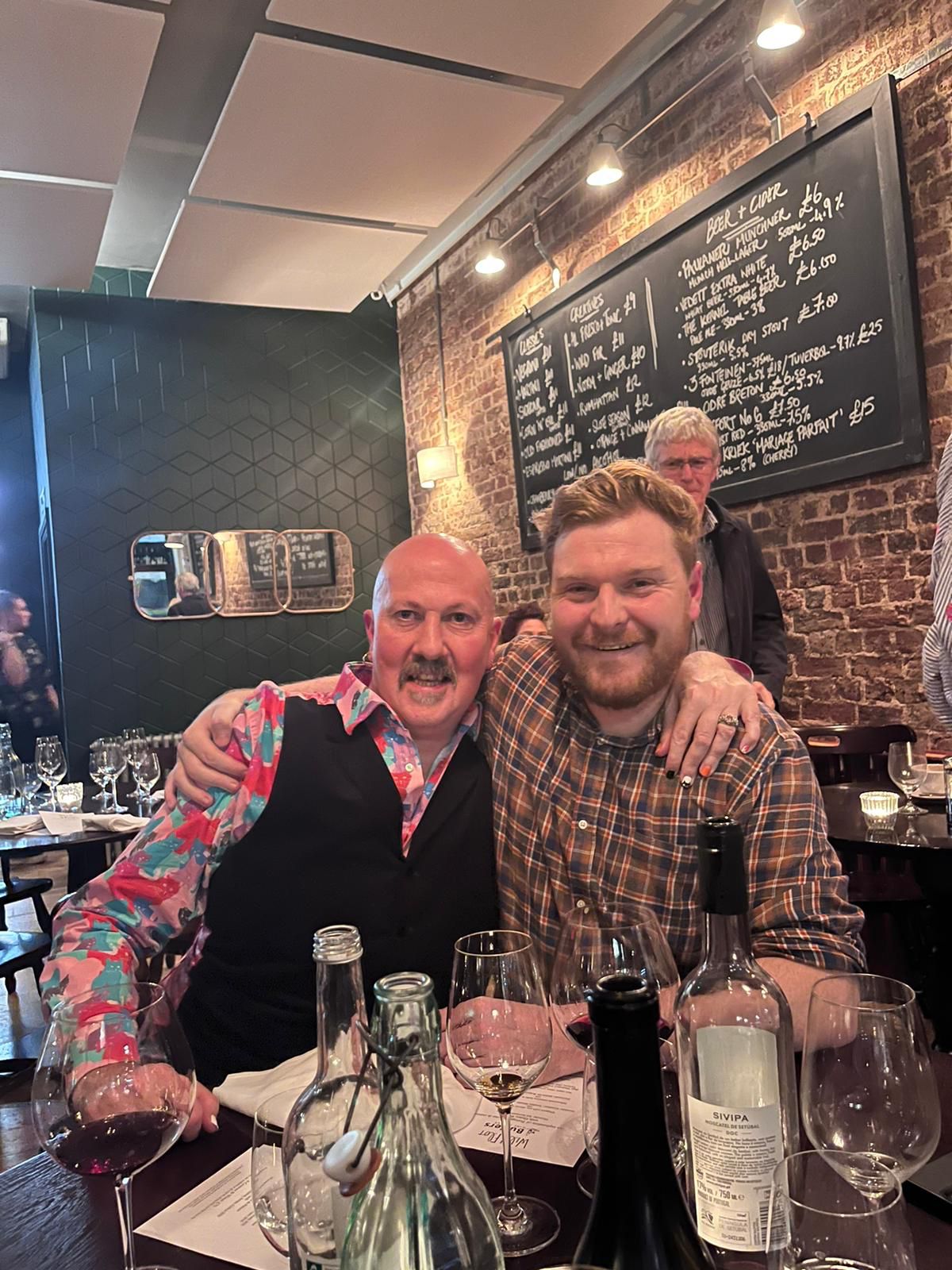 BUTLERS AT WILD FLOR.
Arguably the colab of the century – two staples of the Brighton wine scene hand in hand for an evening fuelled by Portuguese wines hand selected by the man Henry Butler himself.
There was a buzz building as Butlers and Wild Flor customers alike found their seats.
On our table – The four horseman of the wine apocalypse Henry, Rob Maynard (Wild Flor Co-Owner), myself (Jonny) and a late addition of Ray, a lone diner who scored the best seat in the house, his long white beard tickling the table added to a wise wizard vibe he had going on - we couldn't have asked for anyone better to join us on table 7.
Quick greetings and conversations led to the simple dinging of Rob's glass to settle the floor and kickstart the evening – a brief and well put intro from Rob sends Henry into action.
Mr Butler was rocking an awesome pink jacket, complemented by matching suede doc martens. He explained Butlers history of working with Portuguese wines and port since the 70s which really displayed the growth of Portuguese wines over that time and how revolutionary the shop was in taking the risk – as Henry put it, 'buying wines that end up really hard to sell'.
An early highlight was Henry going completely off book to everyone's amusement as he grabbed Rob and managed to mould him into the shape of Portugal. Even Renaming the jutting out part of Lisbon to 'Robs peninsula' (Patent Pending).
Meanwhile the ever brilliant Wild Flor staff poured our glasses and popped the snacks elegantly under our noses.
The first course was a Delicious Chicory canoe filled with whipped cod roe and bacon a perfect little bite to start the night alongside our first wine.
Vinho Verde comes from the named appellation meaning green or young wine, located in the northernmost part of Rob's forehead with a strong Atlantic influence these wines are known for their crisp acidity and early bottling hence the Young part.
The Anselmo Mendes Vinho Verde was a bit of a curve ball for many of our traditional diners – a skin contact alvarinho which gives this wine a lovely golden apple and peach base, with a neat floral perfume backed up by a clean acidity which cut right through the creamy whipped cods roe. The wine also stood up to the bitter chicory, the skin contact adding an interesting layer of body and orange peel sensations which complemented each other perfectly.
Wolfing Down the snack and digging into a lovely palate cleansing piece of sourdough.
The second wine was brought round and this was another white from further South in the well-known Dão region. The starter was a plate of fresh meaty tomatoes with a melt in mouth lardon layered over the top - a stellar balance of fat and acidity needed a wine that would neither dominate nor get lost in the dish. This was perfect fit:
Quinta Do Roques, Encruzado, 2018
Out of portugals 200+ native grapes this is their Chardonnay equivalent – a grape that takes kindly to oak and gains a creamy texture with a full body whilst maintaining a freshness and not losing its aromas within the barrels.
This wine was elegant and respectful of the dish and added a layer of woody pine notes to the pairing, really boosting the lardons character. 
For the main course we had the pleasure of two reds to work through alongside a perfectly cooked pata negra pork loin and creamy potatoes topped with little salty clams that really lifted up the dish
Our first wine is from the daughter of very well respected producer Luis Pato. But she by no means is shadowed by him.
Filipa Pato has made a strong name for herself by working all across the globe absorbing knowledge and methods and is now praised for her dynamic use of native grapes such as Baga – the variety we had the pleasure of trying in her wine "D.N.M.C." otherwise known as Dynamica.
Baga 'Dinâmica', Filipa Pato, Bairrada 2019
Is a lovely adventure into the biodynamic side of Portuguese wine placing a strong emphasis on sustainability.
The Baga grape is known for its high tannins and high acidity, a mega combo creating a powerful and interesting wine. It's known to be hard to tame but produce very fine wines when done right. I guess its lucky Filipas family have been working with the grape for a while. Dynamica is oaked so its really full of crunchy red fruits, some amazing hits of spices and a liquorice finish. 
The second wine was from along the Douro river. Famous port producers Niepoort and their endeavours into still wines. And I must say they're doing a bloody good job at it. 
Vertente, Dirk Niepoort, Douro, 2019
This is a big blend of different grapes from the Douro, mainly Tinta Roriz, Touriga Franca, Tinta Amarela, Touriga Nacional and others, a neatly oaked wine with a bright young nose full of forest fruits and graphite-esque minerality.
The oak adds a certain depth to the wine smoothing out the tannins for a velvety texture which helped it work with the pork loin. 
Both of the wines hold a great tannic structure making them ideal for the pork loin pairing. The tannin molecules softening the fat and balancing out the two main components of the meal.
To finish off the wonderful night of course we went sweet and what a treat it was. Pudim Abade is a classic Portuguese dessert that can only be described as a bacon fat custard but completely in a good way. 
It had a rich feeling full of wonderful salty sweet flavours that were heightened by the accompanying sweet wine. 
That treat was the Moscatel De Setúbal, sivipa, lisboa
This is made from an incredibly sweet grape variety also known as muscat of Alexandra, the grapes already have a strong base sugar level.
The wine is fortified by adding a brandy in order to halt fermentation and keep the sugar. This was lovely, filled with flavours of cloves and star anise and prunes.
Really acting as a part of the desert itself - you could have even poured it all over the Pudim abade to make a crazy crème caramel. 
Coming out of the last two years were so glad that this evening was a massive success as well as our Rioja night a couple weeks back.
We look forward to doing more of these in the new year. A special thank you to everyone who attended and we hope to see you guys at the next one. Take it from me, they are worth it. 
Many thanks for indulging my writing, pop in Thursdays and Fridays if you fancy a Chit Chat!
- Jonny