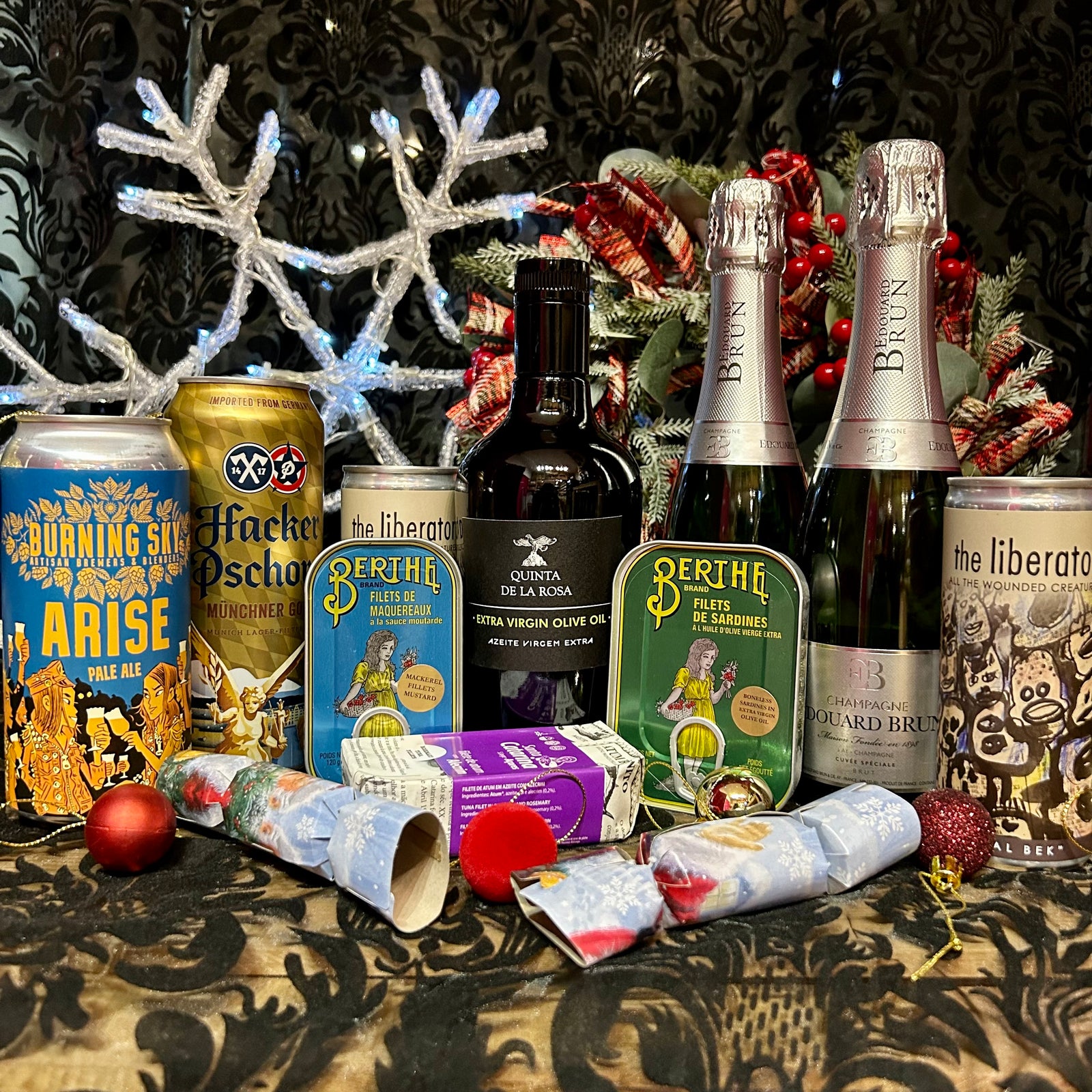 As the days grow shorter and the air turns crisper, there's a palpable sense of anticipation in the lead-up to Christmas. The holiday season is synonymous with joy, togetherness, and, of course, indulgence. One way to make this season even more special is by exploring unique stocking fillers that not only spread cheer but also tantalize your taste buds. At Butler's, we've curated a selection of festive delights that include tinned fish, olive oil, canned wines, and beers.
Tinned Fish: A Taste of the Sea
The tradition of stocking fillers dates back centuries, and it's all about surprising, loved ones with something special. This Christmas, consider the delightful surprise of sustainably sourced tinned fish. Think beyond the ordinary with gourmet options like Spanish sardines, Portuguese mackerel, or artisanal tuna. These tins are not only convenient but also packed with flavour and nutrients. They make for perfect additions to Christmas gift baskets or as standalone gifts for seafood aficionados. Some of our favourites include; Berthe Boneless Sardines in Extra Virgin Olive Oil, from Ramirez, the Portuguese cannery behind the Berthe brand. Berthe was established in 1853 and uses traditional canning techniques, and is committed to sustainable fishing. Santa Catarina Tinned Tuna Fillets with Rosemary, pole-and-line caught in the Atlantic, and renowned for its pinkish colour and delicate taste. These delicious fillets come in an olive oil infused with rosemary, and are great with salad greens, the oil drizzled over the top with a squeeze of lemon juice. Berthe Mackerel Fillets With Mustard, from France. One of our treats from La Belle-Iloise, a brand that makes an art form out of putting finely-tuned, traditional-tasting recipes in tins. The cannery works with fishing fleets which follow sustainable practices such as fishing in the right season and using environmentally friendly techniques to catch the fish.
Olive Oil: Liquid Gold for the Gourmet
Olive oil, often referred to as liquid gold, is an essential ingredient in any kitchen. Gift a bottle of premium extra virgin olive oil to elevate the recipient's culinary creations. The rich, fruity flavours of a high-quality olive oil can transform a simple dish into a gourmet masterpiece. A beautifully designed bottle of olive oil also adds a touch of elegance to the holiday season. Our top pick is Quinta de la Rosa Extra Virgin Olive Oil, made with the same care and attention to detail from olives grown organically among the Quinta's vines in the Douro Valley and it's great for everything from marinades to dressing salads, however we think it would be the perfect gourmet addition to some Christmas roast veggies.
Canned Wines: Unwrap and Sip
With canned wines gaining popularity, they've become a convenient and eco-friendly option for Christmas celebrations. At Butler's, we have been lucky enough to secure 'All The Wounded Creatures' Malbek, part of  the Liberator range from renowned Master of Wine, Richard Kelley, who is also known as the 'Cape Crusader' working on seeking out (liberating) rare wines that may have been blended in bulk. In a rough translation from Afrikaans, "mal bek" refers to an individual with an intriguingly uninhibited or lively manner of speaking, which is often a regular feature at festive gatherings. The wine itself emerges as bold and opulent, displaying pronounced fragrances of wild blackberries, accompanied by a discernible floral character and inviting notes of warm spices, a perfect seasonal sip. These single-serve containers are ideal for enjoying during holiday gatherings, on cosy nights by the fireplace, or even for on-the-go festivities. Canned wines make for excellent stocking fillers, and their trendy packaging is sure to delight your loved ones.
Beers Local & Beyond: Cheers to the Holidays
The craft beer revolution has brought a wide range of unique and flavourful options to the forefront. This Christmas, surprise beer enthusiasts with craft beers in cans or bottles whether you prefer to stay local or travel further afield to the heartland of beer culture we have some great selections.
Hacker-Pschorr Munchener Gold Can 50cl 5.5%, The Hacker-Pschorr brewery is one of Germany's most renowned and historic breweries, known for its rich tradition of brewing exceptional beer. Located in Munich, Bavaria, this brewery has a storied history dating back over 600 years. Still brewed to this day according to an age-old recipe, this slightly stronger beer is a mature masterpiece and delights with its enticing malty aroma and its slightly stronger original wort. Hacker-Pschorr have an incredible range and we also stock their Kellerbier and Weissbier. Burning Sky Arise 44cl can 4.4%, from one of our absolute favourite local producers, located in the beautiful and inspirational South Downs, occupying refurbished farm buildings in true farmhouse brewery style. The Arise is a balanced malt bill that gives a great mouth feel and a finish that keeps on giving. Restrained bitterness followed by massive peach, pine & resinous hop flavours to keep you satisfied. A session IPA that's perfect for end of the day (or the start). 
Half Bottles of Champagne: Bubbling with Elegance
What's a festive celebration without a touch of effervescence? This Christmas, consider adding a touch of glamour with half bottles of Champagne. These petite yet elegant bottles exude luxury and are perfect for intimate gatherings or to accompany a special holiday meal. Whether it's a crisp and refreshing Brut or a rich and decadent Blanc de Blancs, Champagne in half bottles makes for a grand gesture in a compact form. They're the perfect size to slip into a stocking, and their celebratory nature is bound to put a sparkle in your loved ones' eyes. Raise a glass to toast to the season with these miniature delights. Edouard Brun Cuvee Speciale Brut NV is a fantastic choice at an incredible price. Edouard Brun is a small, family-owned Champagne House in the revered Grand Cru village of Aÿ and was founded in 1898, This half-bottle of the Cuvée Speciale captures all the richness and depth of the house style. Brun uses old oak to ferment a portion of its Pinot Noir grapes, leading to softness, roundness and elegant red cherry fruit on the palate. The acidity is clean and crisp, balanced by bright, lively fruit and brioche-and-biscuit lees complexity. The perfect morning sip for Christmas day.
The lead-up to Christmas is a time for joy and celebration, and finding the perfect stocking fillers adds an extra layer of warmth to the season. At Butler's, we've gathered an assortment of delightful treats. These unique and thoughtfully curated options are ideal for gifting, whether you're surprising a loved one or treating yourself. So, this holiday season, elevate your celebrations with these delectable offerings, and make each stocking stuffer a source of joy and delight. Cheers to a festive and flavour-filled Christmas!