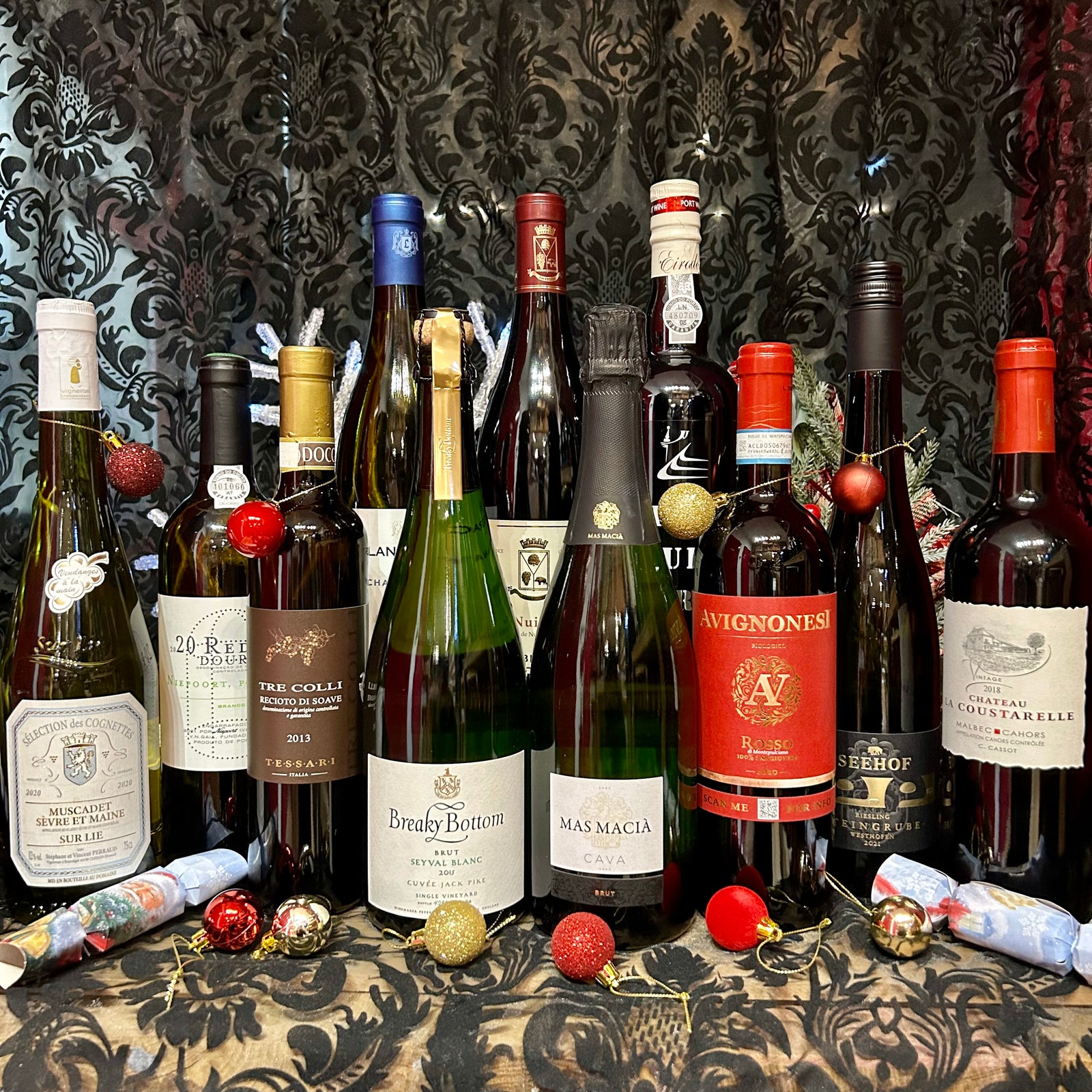 However we choose to spend the holiday season, sitting down with family, friends and those we love for great food and drink is one of the most important parts. I have collected here some wines that pair beautifully with many of the most popular foods we enjoy over the festive period - so go ahead, get yourself a treat!
Aperitifs and Canapes
One of my favourite parts of Christmas Day is the hours before lunch, pottering about the kitchen getting things ready whilst sipping something tasty, eating some nibbles and having a good chat! Nothing beats a nice glass of bubbly to start the festivities and wash down some salty snacks so here are a couple I am very fond of:
Mas Macia Cava Brut NV - £12.99
How great Cava is still being made at this price point is a mystery to me! A traditional bottle-fermented blend of local Xarel-lo, Macabeo and Parellada, the Mas Macia has ripe apple and peach flavours, subtle toasty almond and cream richness and a delicious dry finish. Ideal for nuts, crisps and cheese biscuits or for raising a toast on its own.
Breaky Bottom Cuvee Jack Pike 2015 - £35.50
Named for a friend who helped winemaker Peter Hall plant Breaky Bottom Vineyard in Rodmell, East Sussex back in 1974, this is 100% Seyval Blanc and one of the most excellent sparkling wines made in the UK. A very fine and bone dry style, with an abundance of citrus fruit and chalky minerality and has developed more toasty and honeyed notes on top from ageing in the bottle. 
Festive Fish
Whether it's a traditional European carp on Christmas Eve, a hearty fish pie or a bit of smoked salmon, fish can make up just as important a place on the festive table as a roast. The perfect white wines for this season should balance clean crispness with good weight and depth:
Domaine des Cognettes, Muscadet Sevre-et-Maine Sur Lie 2020 - £12.99
Large volumes of mass produced and machine harvested wine have sullied the reputation of Muscadet, which is a great shame as when treated well it can be one of France's most delightful white wines. The Perraud family farm their 28ha organically and harvest exclusively by hand. This extra care and attention translates to a wine with brisk green apple and lemon fruit, subtle saline minerality and a lovely texture and weight.
Weingut Seehof Riesling Steingrube, Rheinhessen 2021 - £26.99
Exemplary dry Riesling from the Erste Lage (the German equivalent of Burgundy's Premier Cru) Steingrube vineyard. Winemaker Florian Fauth's wines represent remarkable value compared to his neighbours in Westhofen, including his brother-in-law Klaus Peter-Keller whose single vineyard wines now all command three figure pricetags. This has intense grapefruit, lime and white peach fruit, notes of wild herbs and a seemingly never-ending finish.
Roast Turkey
The roast turkey as a celebration meal has got to be one of America's finest cultural exports, but it has certainly been improved by the addition of British roast dinner trimmings! While lighter red wines can pair nicely with turkey, I favour a generous and creamy white wine to bring out the best of Britain's favourite Christmas dinner:
Lanzerac Chardonnay, Stellenbosch 2022 - £13.49
This full-bodied and complex Chardonnay from the heart of South Africa's wine country punches well above it's price point. Fermented mostly in oak barrels with a small portion in stainless steel tanks, then aged a further 8 months in barrel, it has developed a round and creamy mouthfeel. There is a nice balance of peach and citrus to the fruit flavour, along with toast, vanilla and ginger notes. 
Redoma Branco, Niepoort Vinhos, Douro Valley 2020 - £25.99
From very old vines (65-85 years old) at high altitude this white wine from Dirk Niepoort is really very special. With it's white flower and hazelnut perfume and perfect balance between richness and bright clean acidity there is something reminiscent of fine white Burgundy to it. But to praise it only by comparing it to Burgundy is a disservice, and the tight and limey fruit, cedar notes and mineral grip are distinctly Douro. 
Vegetarian Roasts
I am very fond of the earthy and savoury flavours of mushroom and chestnut that tend to run through popular plant-based alternatives to the typical meaty options of the holidays. They also happen to make fantastic partners for the more subtle medium-bodied styles of red wine I love to drink:
Rosso Piceno, Saladini Pilastri, Marche 2022 - £12.75
An organic blend of Montepulciano and Sangiovese from Italy's east coast, this has long been a staff and customer favourite here. It has plenty of fresh red cherry and plum fruit and notes of sage and leather all wrapped in a fresh medium-bodied package. It is smooth and juicy but has enough of a tannic bite to go perfectly with nut roasts or portobello mushrooms.
Cote de Nuits Villages, Bertrand Ambroise 2019 - £37.50
With red Burgundy seemingly getting more expensive every year it is becoming  more of a rare treat for many of us - and what are the holidays if not the time for that kind of treat?! From an organically farmed vineyard close to the Nuits-St-Georges Premier Cru Clos de la Marechale, this shows the dark and meaty character associated with that aristocratic village. Ambroise's wines have the silky texture that seems to dance on your tongue that draws many of us to Burgundy and a deep savoury character that keeps you coming back for another taste.
Roast Beef
Nothing embraces the indulgence of festive eating quite like roast beef, ideally with a proper crust on the outside and pink in the middle, it also happens to be the most beloved partner of many bold and powerful red wines. These pairings would work well for roast lamb as well.
Chateau la Coustarelle Cahors 2018 - £14.75
From Malbec's homeland in southwest France, this traditional style uses 20% Merlot for balance and roundness. The nose shows lots of black cherry and damson fruit, dark chocolate and floral notes of lavender and violet. On the palate there is plenty of ripe and grippy tannin, perfect for the fat of roast beef, with black berry fruit mingling with subtle aniseed and clove spices.
Vino Nobile di Montepulciano, Avignonesi - £25.95
Sangiovese and beef are truly a match made in heaven - in Tuscany they pair it with the emblematic Bistecca alla Fiorentina - and this top organic example from the town of Montepulciano is no exception. Complex and generous, with lots of red and black cherries, a touch of pomegranate, rosemary and woody notes on the nose. Full-bodied in the mouth with ripe tannins that hold the flavours to your tongue for an exceptionally long finish.
Cheese
Somehow after all of the canapes and roasts we can still find room for cheese! And few things feel more right at Christmas than a good glass of Port or dessert wine to go with it:
Eirados Fine Ruby Port NV - £14.50
I find that the sweeter and fruitier ruby styles of port suit cheese better than a more delicate tawny, especially if there are big flavours like vintage cheddar or stilton on the cheeseboard. The Eirados Ruby comes from Quinta Saint Eufemia, where grapes are still trodden by foot in the traditional stone lagares of the Douro. The wine is aged for 4 years in large oak casks and is packed with sweet black and red berry fruit with subtle raisin, fig and spice notes.
Tessari Tre Colli Recioto di Soave, Veneto 2013 - £22.50 (50cl)
Recioto is a labour of love requiring hand-selection of individual bunches of Garganega grapes to slowly dry on racks. The result is a lusciously sweet wine with aromas of wildflower honey, dried apricot and baked apple. The length and concentration on the palate are outstanding, leaving a lingering impression of marzipan and fruitcake.