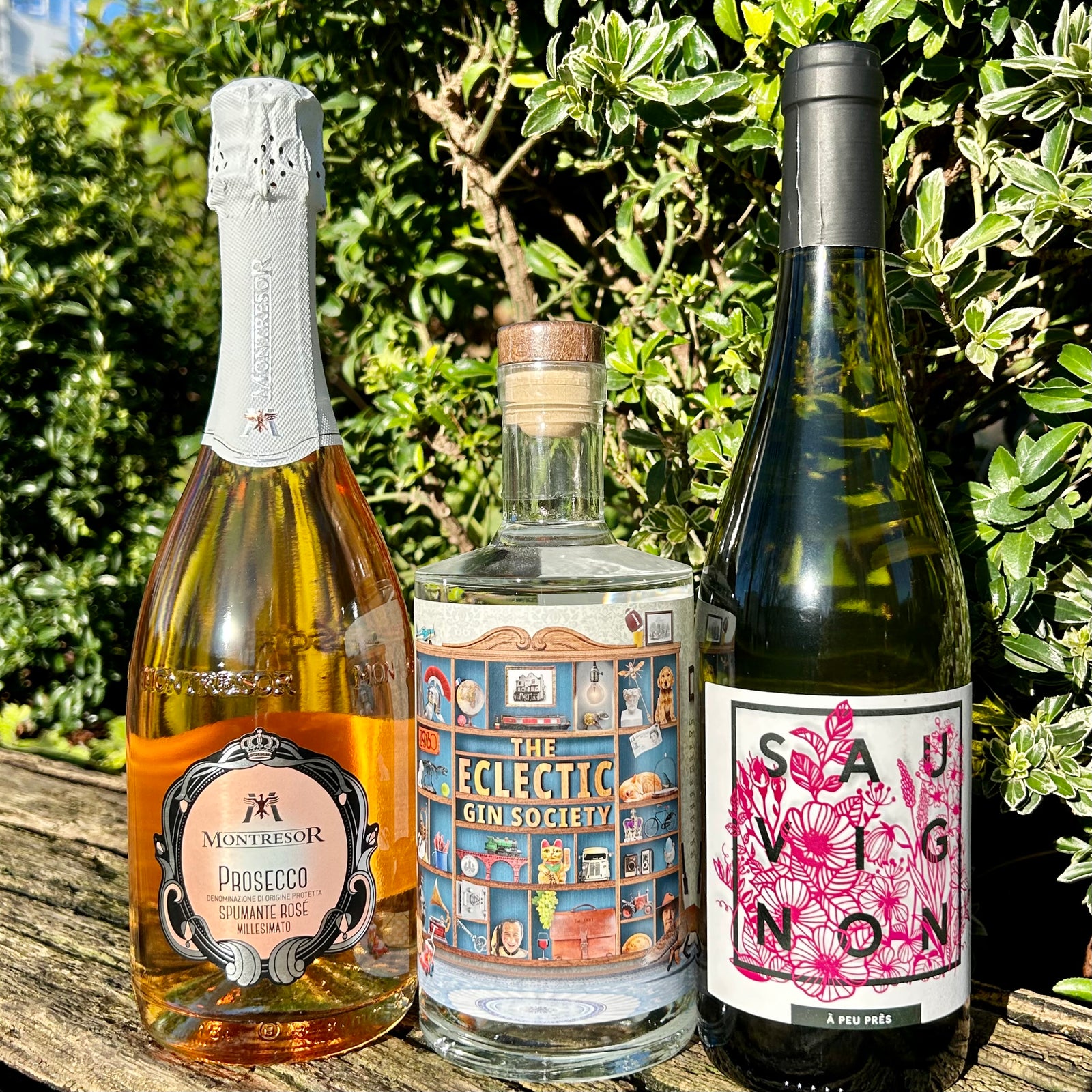 Mother's Day
Mother can mean different things to different people and whatever form the mother in your life takes, today is the day to celebrate them.
This 19th March is a day we dedicate to show appreciation for the people in our lives that take care of us and all of those that we consider mothers, and there are few better ways to show this gratitude than with some world class wine from Butlers.
We have two wines and a gin that will be a perfect gift for this special occasion.
Starting with a classic Sauvignon Blanc
À Peu Près Sauvignon Blanc 2021 - Based in Trace Sur Loire, at the heart of Pouilly Fume which is one of the most recognised wine labels in Europe and a staple on most restaurant wine lists made entirely from Sauvignon Blanc (not to be confused with the similar sounding Pouilly Fuisse, made from 100% Chardonnay, in Burgundy).
A new project started by David and Shirley Maudry, they specialise in getting the best from the Sauvignon Blanc grape, from small parcels of vines, expressing the local terroirs. 'A peu pres' which means "more or less", is made from Sauvignon Blanc, but from fruit outside the recognised appellation areas, so it has to forego the fancy label of Pouilly Fume. 
This is a real bargain. You have quality fruit, in the hands of talented winemakers, made in exactly the same way as a Pouilly Fume, but without the price tag that comes with the name. It has plenty of ripe, round citrus fruit flavours, with a steely, flinty spine and a long finish. A fantastic gift that won't break the bank and will show off your knowledge of the French classics, it also has a beautiful label that is sure to be appreciated.
If you want to step it up a notch and show off with a bit of fizz we have something for you.
Montresor Prosecco Millesimato Rose NV- This pretty pink marvel is a new iteration for the classic fizz. Additions of red grapes to Prosecco to create rose was only legalised in 2020. This release from Montresor which includes the maximum 15% of Pinot Nero allowed in the blend shows what can be done!
The vines are grown in chalky soils on a 10 hectare, south-east facing vineyard plot. After harvesting in early September when the grapes are ripe but still retain acidity, they are fermented in stainless steel for around 10 days. Produced predominantly from Glera, with some Pinot Nero (Pinot Noir) added to give colour, the wine spends a few months on lees before bottling.
Red berry and currants on the nose, red apple characters with a touch of raspberry on the palate. Fruity, crisp and a great aperitif drink! A real crowd pleaser and not something that we have seen a lot of.
Don't panic if wine isn't what you're looking for we have an incredible gin that is absolutely guaranteed to impress.
The Eclectic Gin Society The Spice Blend - This exciting spirit was put together by a group of independent wine merchants (ourselves included) from across the UK, each having their own special input. Every contributor imparting their own unique character to create a beautiful drinking experience. 
Distilled and produced by the excellent Kinrara distillery, with blending guided by Noel Young. The gin itself is distilled in 140 bottle batches at Kinrara distillery in the Scottish highlands. This iteration of gin is more focused on a savoury element to compliment the juniper. With Cassia and grains of paradise added to the mix this is great with a regular tonic in the evening. 
All 3 of these items will be discounted by 10% from Friday 10th - Saturday 18th March just in time for Mother's Day
Whatever you choose, remember to show your appreciation this year to all the mothers in your lives.