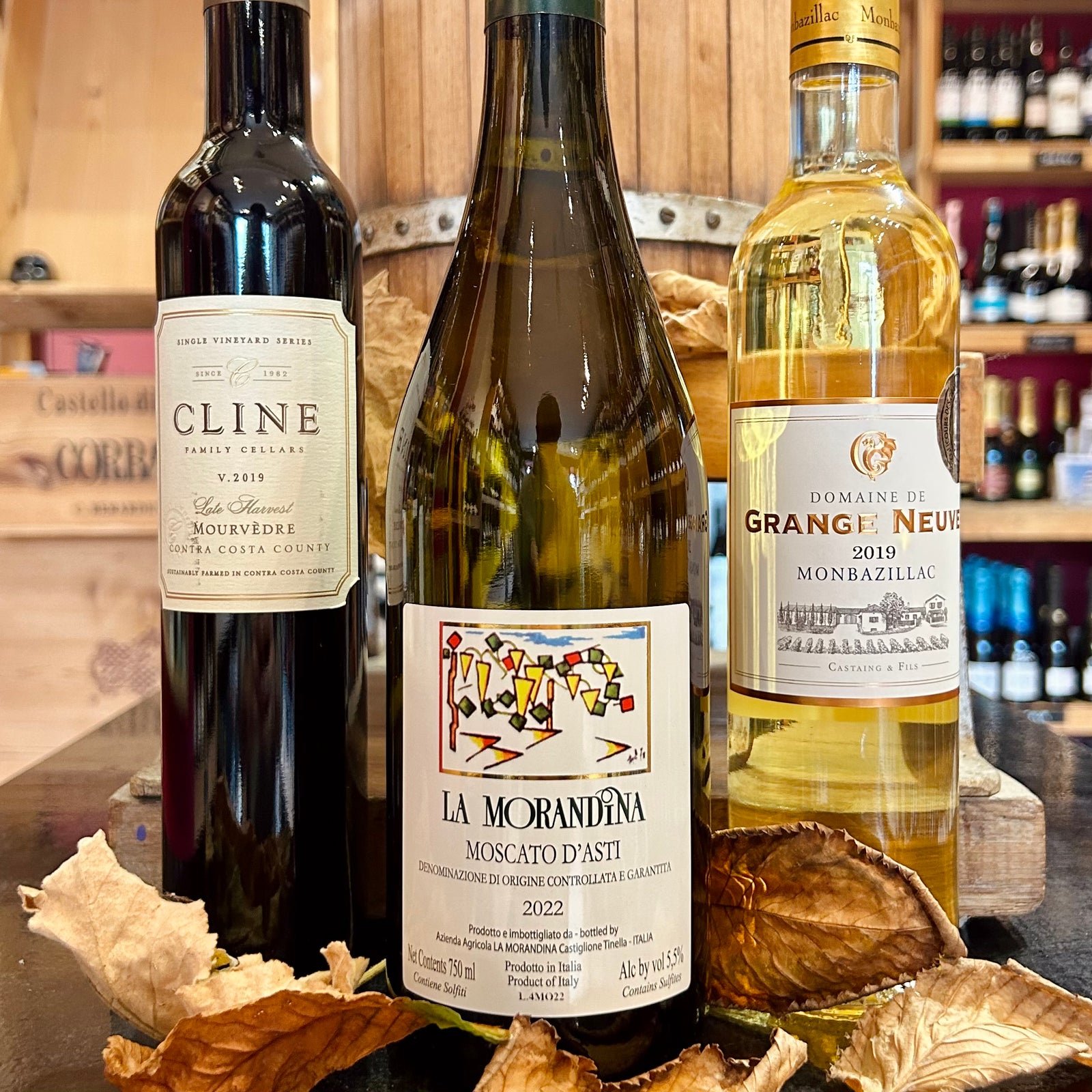 Is there a better time of year for puddings than autumn? Apples, pears, plums and blackberries are all in season, joined by the warm spiciness of pumpkin pie and rich nutty walnut cakes and pecan pies. The right pairing of dessert wine with pudding is a sure way to take a dinner party to the next level, or just give yourself a proper treat!
Apple Crumble - Domaine des Granges Neuves Monbazillac 2019
For me, an apple crumble is the definitive autumnal pudding. Crunchy on top, gooey apple sauce laced with cinnamon, and perhaps a slug of brandy, on the bottom and (if you're like me) served with lashings of custard. 
From the banks of the Dordogne river, the Granges Neuves Monbazillac is a,luscious and fruity dessert wine with notes of grilled peach, orange marmalade and a hint of toffee. It complements the crumble without overpowering, bringing out the sweet spice in the apple sauce and refreshing the palate with its fine acidity.
Pecan Pie - Cline Cellars Late Harvest Mourvedre 2019
With a rich brown sugar filling studded with crunchy pieces of roasted pecan, this is certainly one of the richest and sweetest puddings out there. I'm partial to this Southern Living recipe, baked in a skillet for an extra crispy crust. It's an American classic that is just the right level of indulgence for a chilly October evening and pairs beautifully with this Californian dessert wine.
Made from Mourvedre grapes ripened to near-raisins in the dry heat of Contra Costa County, this is a rich and powerful wine, showing fig and prune fruit alongside chocolate, coffee and vanilla notes. Just like the pecan pie, it is bold, very sweet and absolutely delicious.
Autumn Pudding - La Morandina Moscato d'Asti 2022
Making use of the lovely blackberries and raspberries in season, this autumnal version of a traditional summer pudding is a fresh, fruity and very easy to make dessert. It is also easily adaptable to whatever berries, currants, plums or other seasonal fruits you have available.Nigel Slater's recipe gives a good base to work from.
As this is a fresher, fruitier pudding a lighter style of sweet wine pairs beautifully with it, complementing the berry flavours. Lightly sparkling with aromas of rose petal and orange zest and a delicately sweet and refreshing palate. A dessert combination ideal for an Indian summer.