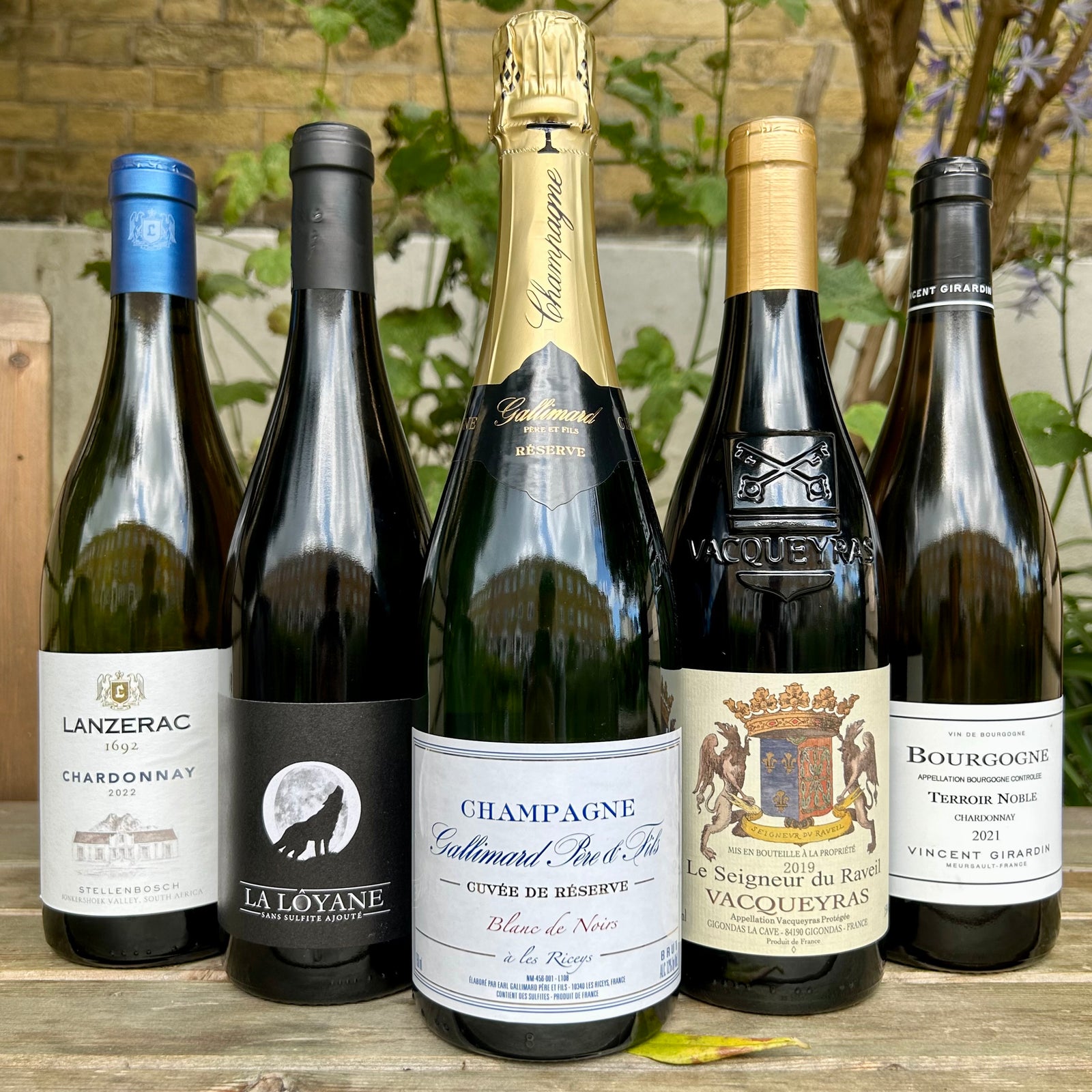 At Butler's Wine Cellar, we love to celebrate the arrival of fall with an array of delightful wines perfectly matched with the seasonal treasures of autumn. As the leaves change and the air turns crisp, we have carefully curated a selection of reds, sparkling, and whites to complement the earthy flavours of seasonal foods like butternut squash, kale, and cabbage. Join us on this journey of palate-pleasing combinations.
Exploring the Earthy Elegance: Rhone Reds
Rhone reds are renowned for their rich and robust flavours, which harmonize splendidly with the hearty autumn dishes. Picture the warmth of a crackling fire as you savour the luscious taste of this iconic French style alongside your favourite comfort foods. A fantastic wine that we love at Butlers is Loyane Lirac Rouge Sans Sulphite Ajoute 2021, a blend of Carignan and Grenache fermented and aged in stainless steel with no added sulphur. 
The family's 20ha family vineyard is 150 years old and is in the process of converting to organic production. Their wines are typical of this Rhone region showing strength, finesse, and elegance. Juicy fresh raspberries and herbs are dominant here with a good length and silky tannins. No added sulphur really lets the fruit shine through! As highlighted on their label the region of La Loyane is an area historically occupied by wolves. 
Recommended Pairings:
Roasted Butternut Squash with Herbs: The velvety texture and caramelized flavours of roasted butternut squash find their ideal companion in a Grenache-Carignan blend. The fruit-forward notes and spicy undertones beautifully balance the dish's sweetness.
Another wine perfect for this time of year is La Cave de Gigondas Vacqueyras Seigneur du Raveil 2019. Based in the Rhone Valley in France, Le Cave de Gigondas have vines in many of the major towns. This one comes from the famous Vacqueyras. It is smoky and full of flavour with black fruit and a spicy mouthfeel. Utterly delicious, with spicy, roasted meat and red berry fruit characteristics, it's a big and powerful wine, well suited to full flavoured dishes. 
Braised Kale and White Bean Casserole: A rustic Syrah with its dark fruit and peppery notes adds depth to the earthiness of kale and the creaminess of white beans, creating an inviting and satisfying combination.
Effervescence of Sparkling
The popping of corks echoes the excitement of autumn festivities! Embrace the season with the vibrant effervescence of full-flavoured sparkling wines like Blanc de Noirs. With their red grape varieties, these bubblies are a delightful match for your autumn feasts. A classic style like Gallimard Champagne Cuvee Reserve Blanc de Noirs NV is a great place to start! The Blanc de Noir Reserve is 100% Pinot Noir wine made by 6th generation winemaker, Arnaud Gallimard in Riceys, South Champagne.  The heavier soils of their vineyards tend to produce a richer style of wine and this one is no exception.
Unofficially organic, the Gallimard Family have embraced natural and sustainable farming methods with no insecticides or pesticides, no tilling of the soil and a minimal addition of sulphur.  The fruit is slightly macerated in the press and the result is an unusual orange tint as well as a rich and fruity bouquet. The process of malolactic fermentation also develops creamy and fruity flavours. 
Recommended Pairing:
Cabbage and Apple Slaw: This perfect autumnal side dish alongside a refreshing glass of Blanc de Noirs will complement the crispness of cabbage and the sweetness of apple, while its lively bubbles cleansing the palate between bites.
Captivating Creaminess of Chardonnay Whites
As the days shorten, indulge in the comforting embrace of Chardonnay whites. Their creamy texture and diverse flavour profiles are an excellent partner for autumn's seasonal produce. We have a huge range of Chardonay from all over and in a range of styles. A great bottle to get you in the Autumn spirit is a beautiful style from Lanzerac in South Africa. Lanzerac, based in Stellenbosch, is home to some of the oldest heritage farms dating back to 1692, and they bottled the first Pinotage in the world. The estate is steeped in history, and a fixture on most wine tours. This full-bodied Chardonnay explodes with intense citrus aromas on the nose followed by a complexity of deep flavours including lemon, clove, ginger, and vanilla. The palate goes even deeper with an excellent balance between fruit, acidity and softness followed by a lingering aftertaste.
Recommended Pairings:
Creamy Kale and Mushroom Risotto: The buttery notes of a lightly oaked Chardonnay beautifully enhance the richness of this risotto, while the wine's acidity cuts through the creaminess, creating an exquisite balance.
If you prefer a more traditional approach Bourgogne Terroir Blanc Girardin 2021 is a fantastic affordable white Burgundy. This Domaine originates in Santenay in southern Burgundy, the estate was split up between the four siblings. Vincent created his own brand and moved to Meursault to expand. He now has 22 hectares spread across numerous sites. In 2009 he converted the site fully to biodynamics. This is an approachable style best enjoyed young. All the best of Burgundy at a bargain!
Butternut Squash and Sage Pasta: Elevate this classic autumn dish with a medium-bodied Chardonnay like this Terroir Blanc that features hints of pear and vanilla, forming an elegant union with the squash and sage.
As autumn paints the world in warm hues, indulge in the season's best with Butler's Wine Cellar. These handpicked wines promise to elevate your autumnal culinary adventures, making each bite and sip a memorable experience. Whether you're hosting a festive gathering or enjoying a quiet evening by the fire, these pairings will ease you into the shorter days and colder months.
Come, explore, and celebrate the essence of autumn with us at Butler's Wine Cellar! Cheers to a season of delightful pairings and unforgettable moments!