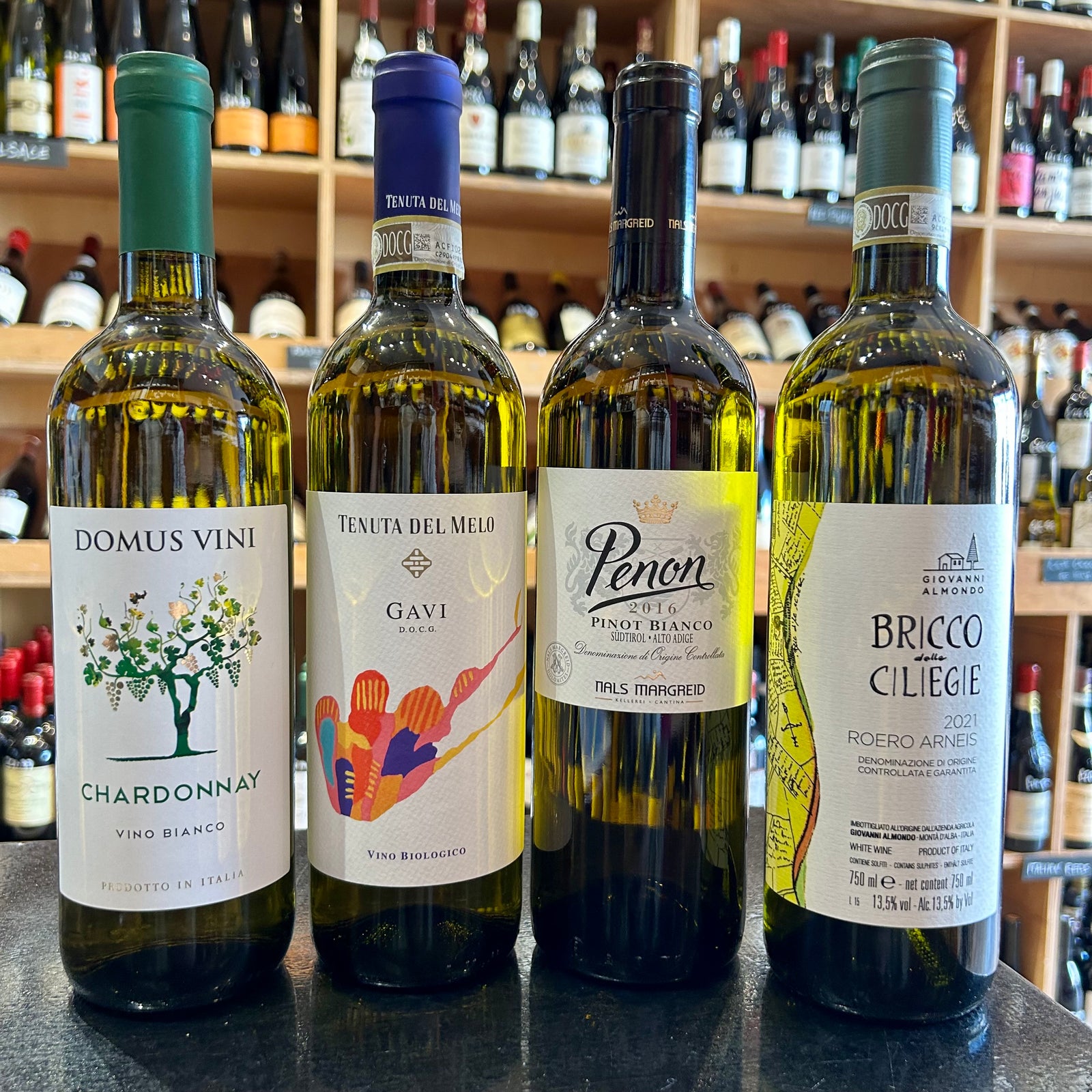 When it comes to Italian wines, most of us immediately think of the famous reds such as Chianti, Barolo, or Brunello di Montalcino. However, Italy is also home to a plethora of exquisite white wines that often go unnoticed and are under-appreciated. 
The world of Italian white wine is incredibly diverse, stemming from Italy's wide range of soil types, microclimates, and many indigenous grape varieties - at times this may seem a tad confusing but if you start to explore a little then you'll soon be rewarded. This versatility allows Italian winemakers to produce a fantastic range of styles, from the Chardonnay or Pinot Bianco of the Alto Adige region in the mountains of the north, to the sun-drenched vineyards in the south producing wines using lesser known varieties such as Coda di Volpe.
Italian white wines often fly under the radar, overshadowed by their famous red counterparts. However, their diversity, quality, and often attractive price points make them an excellent choice for any wine lover. From the elegant Veneto Chardonnays to the crisp Arneis and the timeless Gavi, these under-appreciated gems deserve appreciation for their unique flavours and ability to perfectly complement various dishes. Next time you're exploring Italian wines at Butlers, make sure to seek out these lesser-known white wines.
We've picked 5 of our favourites below, we hope you enjoy them as much as we do! Salute!!!
Domus Vini Chardonnay Vino Bianco IGP NV:
Produced in the Veneto region, Domus Vini Chardonnay Vino Bianco showcases the elegance and finesse of Italian Chardonnay. With delicate aromas of green apple, pear, and a hint of vanilla. On the palate, it displays a balanced acidity, fruity notes, and a smooth, lingering finish. Pair this Chardonnay with grilled seafood, roasted chicken, or creamy pasta dishes for a delightful culinary experience.
Nals Magreid Pinot Bianco Penon 2016:
Originating from the Alto Adige region, Nals Magreid Pinot Bianco Penon is a hidden gem. With aromas of white flowers, yellow apple, and citrus zest. A vibrant acidity on the palate and flavours of green apple, peach, and a touch of almond. This wine is a fantastic accompaniment to grilled vegetables, seafood risotto, or light vegetarian dishes.
GIOVANNI ALMONDO BRICCO CILIEGE ARNEIS 2021:
Hailing from Piedmont, Bricco Cilliegie Arneis embodies the unique characteristics of the less well known Arneis grape variety. It captivates with its delicate floral aromas, complemented by ripe peach and apricot notes. On the palate, its refreshing acidity is balanced with flavours of pear, citrus, and a touch of minerality. Pair this wine with fresh seafood, pasta with pesto sauce, or an asparagus risotto.
Lacryma Christi Del Vesuvio Bianco 2019, Terradora 
Coming from the coastal region of Campania, Lacryma Christi is a stunning white wine with an interesting history. It's made from the local Coda di Volpe grape variety and showcases an intriguing blend of floral and fruit aromas, including white flowers, citrus, and tropical fruits. With a vibrant acidity and a slightly savoury undertone, it pairs wonderfully with shellfish, grilled vegetables, or light salads.
TENUTA DEL MELO ORGANIC GAVI DOCG 2021 
Produced in the Gavi region of Piedmont, Tenuta Melo Gavi embodies the essence of Italian white wine. This wine delights with enticing aromas of green apple, white peach, and honeysuckle on the nose. And a lively acidity, soft citrus notes, pear, and a hint of minerality on the palate. This wine shines alongside grilled fish, or traditional Italian dishes like pesto gnocchi.