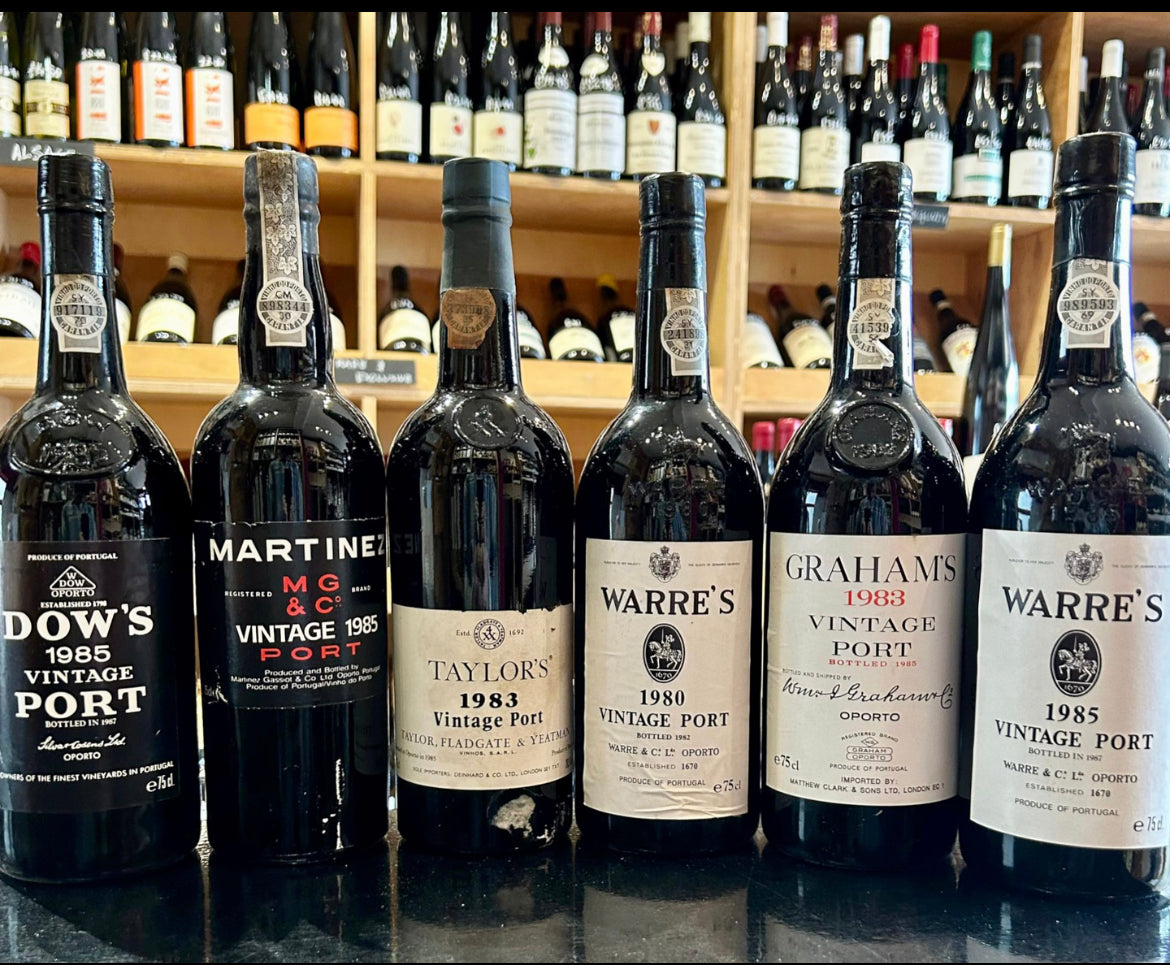 Port, a fortified wine with a rich history and exceptional aging potential, holds a special place in the hearts of wine enthusiasts around the world. Its origins trace back to the stunning landscapes of Portugal's Douro Valley, where centuries of tradition and innovation have converged to create a wine that epitomizes both craftsmanship and longevity. We have been fortunate enough to procure some excellent bottles from vintages ranging upwards of 30 years. These rare bottles are a fantastic showcase of Ports ability to stand the test of time and serve as a snapshot of days long past.
Port wine, known for its luscious sweetness and intense flavours, was first developed in the 17th century when English merchants sought ways to preserve wine during transportation. The Douro Valley's steep terraced vineyards, breathtaking landscapes, and diverse microclimates create the ideal conditions for growing the grapes used in Port production. The unique production process involves fortification, where grape spirit is added to the wine to halt fermentation and preserve the natural sweetness. This results in a wine with higher alcohol content and residual sugar, lending it the characteristic flavours and textures that distinguish Port from other wines.
Established in 1820 by siblings William and John Graham after receiving 27 barrels of the wine as payment for an outstanding debt, Graham's Port swiftly garnered a reputation as a purveyor of extraordinary port wines. This triumph reached its pinnacle with the establishment of Graham's Lodge in Gaia and the purchase of Quinta dos Malvedos in 1890. In 1882, Andrew James Symington embarked on a journey from Scotland to Porto, where he joined the ranks of the Graham family, initiating an enduring connection between the two families. Fast forward to 1970, when Andrew's grandsons assumed ownership of the company from the Graham family. Since then, they have steadfastly upheld and expanded upon its renown for crafting remarkable port wines. The house is known for its exceptional vineyard selection, rigorous grape sorting, and aging process in seasoned oak barrels. The resulting wines are marked by their deep complexity, robust structure, and potential to age gracefully for decades. Grab a bottle of their 1985 Vintage Port here
Taylor's, established in 1692, stands as the quintessential Port house with a rich history. Specializing solely in Port wine production, it's renowned for its superior Vintage Ports. These showcase elegance, restrained power, and remarkable longevity, blending the finest wines from its own estates: Vargellas, Terra Feita, and Junco. Additionally, Taylor's excels in wood-aged ports, boasting vast reserves of rare cask aged wines for its distinguished aged tawny Ports. The house pioneered the Late Bottled Vintage style and maintains its leading role in its production. Operating independently, Taylor's is characterized by family leadership across all aspects. Its continuous family tradition nurtures essential wine-making attributes and skills, passed down through generations. The company is actively engaged in every stage of Port production, ensuring high standards from vineyard to bottling. Committed to the future of Port, Taylor's invests in operations and champions sustainable viticulture in the Douro Valley. Click here for a bottle of their 1983 Vintage Port
For more than two centuries, the DOW name has been inseparable from the finest Port wines originating in the vineyards of the Upper Douro Valley. Across the span of the 20th Century and well into the 21st, the legacy of the preceding Silva and Dow families has been diligently cultivated by the Symington family. Successive generations of Symington vintners have dedicated themselves to the vineyards of Dow, namely Quinta do Bomfim and Quinta da Senhora da Ribeira. Through their efforts, these vineyards have given rise to Dow's exquisitely concentrated wines - vigorous and tannic in their youth, maturing over time into a supremely elegant vivacity, accompanied by fragrant hints of violet and mint. The distinctive and appealingly dry finish that lingers is the unmistakable hallmark distinguishing the products of this esteemed Port house. Pick up a bottle of their 1985 Vintage Port here.
WARRE'S VINTAGE PORT 1985                 WARRE'S VINTAGE PORT 1985
Upon his arrival in Portugal in 1729, William Warre initiated a legacy in family Port production that would bestow an unparalleled and distinctive contribution to both Port wine itself and to the essence of its adopted city and nation. In 1745, he married Elizabeth Whitehead, the sibling of John Whitehead, an esteemed British Consul renowned for conceiving and supervising the construction of the grand British Factory House. Among the proceeding generations, James Warre would etch his name into the annals of the Port trade as a notable figure for over five decades. Warre's Ports stand out for their remarkable potency, and delicately fragrant bouquet with a notably invigorating and refined character. The most exceptional offerings from Warre's collection originate from Quinta da Cavadinha and Quinta do Retiro Antigo, two of the most distinguished estates within the Douro valley. The Vintage Ports crafted by Warre's have achieved global renown for their exceptional quality and often outperforming similar styles in side-by-side tastings. Click here to get a bottle of either 1980 or 1985 Vintage Port (or even both!).
Founded in 1790 by Sebastian Gonzalez Martinez, a Spaniard based in London, Martinez initially traded sherry, cigars, and Port. They sourced Port from various producers, selling to British merchants who bottled it under their labels. By 1849, when Sebastian retired, Martinez had become the UK's largest Port shipper, owning lodges in Oporto since 1834. In the 1960s, British merchant John Harvey acquired Martinez and coincidentally Cockburn's, a key rival. Distinct from other family brands, their head winemaker highlighted Martinez's flexibility due to lacking ties to a specific quinta or terroir. They enjoy crafting intriguing, satisfying wines using grapes sourced from small producers in Pinhão and Rio Torto valleys, without historical quinta associations. Click here for a bottle of 1985 Vintage Port.
In the realm of fine wines, Port stands out as a testament to the enduring qualities of wine and it's ability to stand the test of time when made with dedication and skill. Its history, rooted in the picturesque Douro Valley, has given rise to a diverse range of Port producers, each contributing their own unique touch to the art of winemaking. As these renowned houses demonstrate, Ports place in the lexicon of wine culture comes down to craftsmanship, passion and the ability to adapt and modernise. These bottles give us an opportunity to share this with all of you and keep the tradition of Port alive, so grab a bottle while you can and have your own little time capsule perfect for opening up on a special occasion or gathering (especially Christmas).