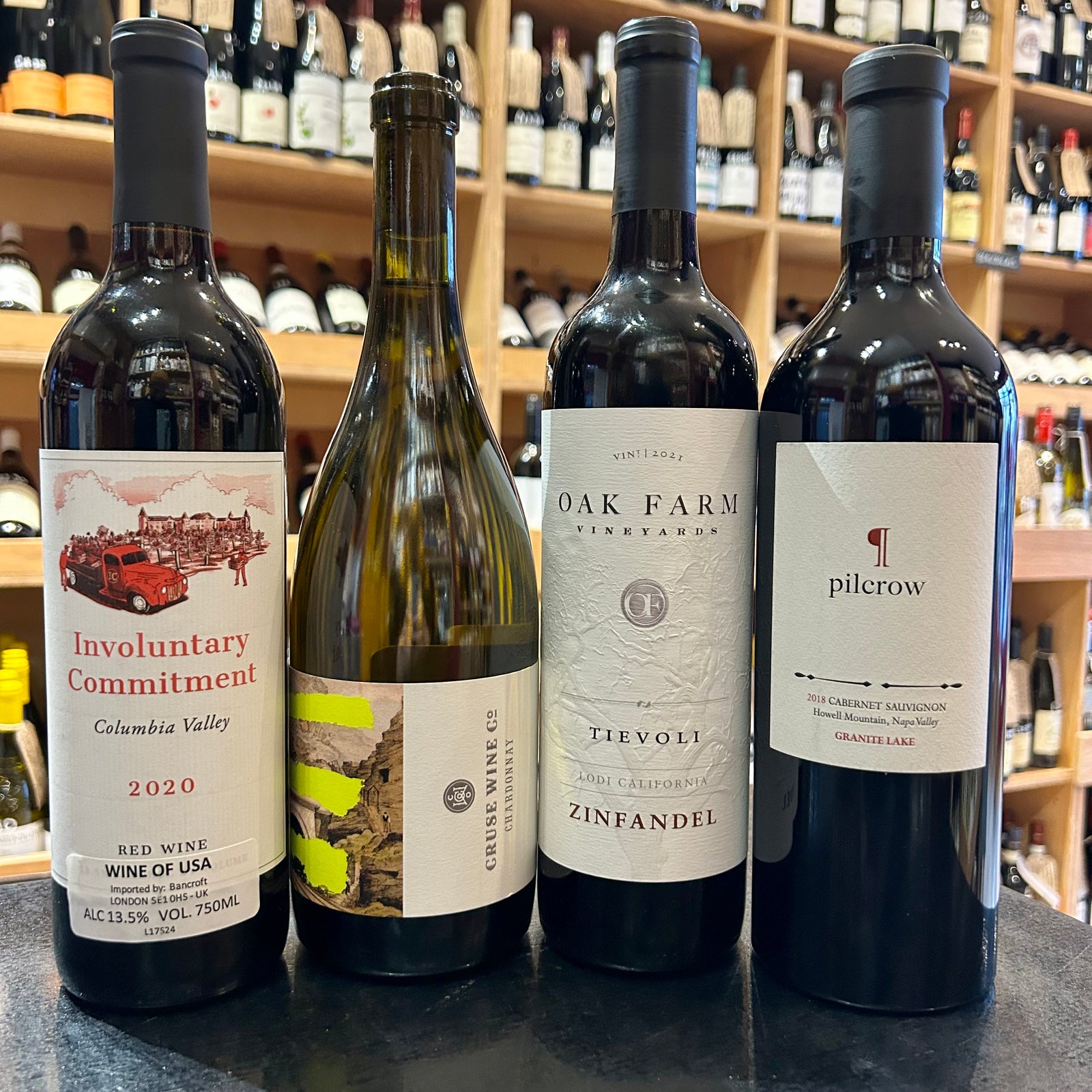 Since Abraham Lincoln, in the midst of the Civil War, called for Americans to take the fourth Thursday of November to celebrate all they were thankful for, Thanksgiving has been the biggest holiday in the American calendar. It may not be celebrated quite so widely here in the UK but I still see it as a great opportunity to share a big dinner with friends and family and dig into some delicious wine from the USA.
We have built a sizeable selection of wonderful wines from the USA, from the classic Californian Cabernet Sauvignon and Chardonnay to Riesling and Syrah from Oregon and Washington. Here are four divine bottles to try this Thanksgiving:
Oak Farm Tievoli Zinfandel Lodi, California 2021 - £25.49
Zinfandel is California's heritage variety, with many very old vineyards scattered around the state. The sun-baked Lodi region is home to many of these, including the 1944 and 1964 plantings used to make this generously fruity red. The nose shows fantastic concentration, with ripe raspberry and blackberry fruit alongside spicy clove and liquorice notes typical of this variety. The palate is full-bodied with very smooth tannins, softened from 14 months of oak-ageing. 
Cruse Wine Co. Chardonnay, Rorick Vineyard, Sierra Foothills, California 2019 - £34.95
Most famous for his highly sought after Ultramarine sparkling wines (now commanding jaw-dropping prices) Michael Cruse is one of the leading lights of contemporary California winemaking. He sources the Chardonnay grapes for this wine from the organically-farmed Rorick vineyard high in the Sierra Foothills, a rocky site that imparts wonderful freshness and minerality to the wine. The wine is fermented and aged entirely in neutral old barrels, allowing the flavour and complexity to develop without imparting the buttery vanilla notes often associated with Californian Chardonnay. The result is a full-bodied wine with intense lemon and navel orange fruit, hints of wildflowers and racy finish packed with stony minerality. An adventurous Chardonnay sure to please enjoyers of fine white Burgundy.
Andrew Will Involuntary Commitment 2020 - £32.50
A wine made by the excellent Andrew Will winery to celebrate the quality of fruit coming from Columbia Valley vineyards in Washington State. The cooler climate compared to California means this has a refined old world feel and while it has the potential to age more, is open and delicious now. A blend of 55% Cabernet Franc, 26% Merlot and 19% Cabernet Sauvignon fermented with only the wild yeast present on the grapes and aged in neutral French oak barrels, this has both power and grace. The bouquet is filled with black and red berries, fresh herbs and tobacco. The Cabernet Franc makes its impression on the palate, with fresh red currant and lots of spicy notes. 
Pilcrow Granite Lake Cabernet Sauvignon, Howell Mountain, Napa Valley, California 2018 - £99.50
It feels wrong to write a blog about American wines without including a Cabernet Sauvignon from California and we have been extremely impressed by the superb wines from Pilcrow's Sara and Jonah Beer. They produce exclusively single vineyard wines from the mountains at the edge of Napa Valley; Granite Lake is situated 640m above sea level on the ridgeline of Howell Mountain, imparting fantastic freshness and definition to the wine. The nose leads with classic Cabernet aromas of blackcurrant, menthol and cigar tobacco alongside floral notes of violet and lavender. The palate begins tightly wound but unfurls in the glass or decanter to reveal sensual black fruit, silky ripe tannins and a long finish with savoury herbs and an iron-like minerality owing to its unique origin. A truly remarkable wine that can be enjoyed any time from now to twenty years!