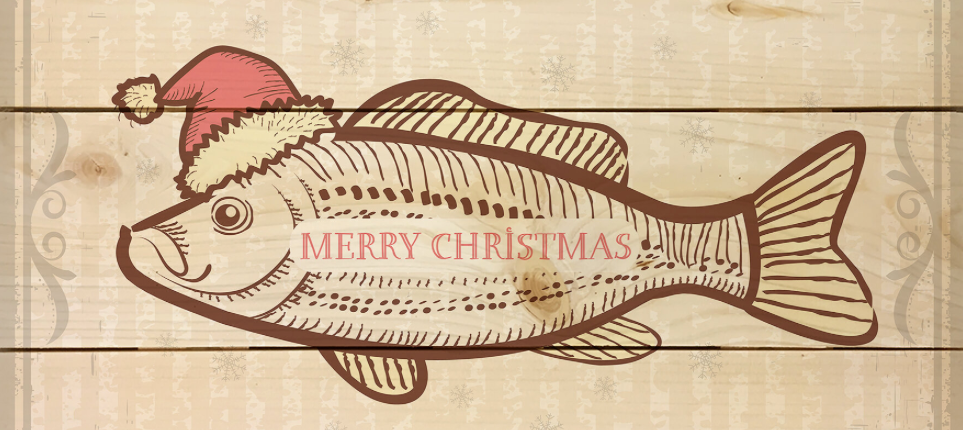 Here's a post from our friends over at Nutritious Fish who have put together some special Christmas recipes. We've provided the perfect pairings to serve with each dish!
Nutritious Fish provide restaurant-quality, seasonal fresh fish & shellfish, and delivery it direct to your door!
By Nutritious Fish
And so to Christmas...we never need an excuse to enjoy the best-quality fish and shellfish we can get our hands on, but Christmas, New Year's Eve and all those fun-filled days in between are when we pull out all the stops and treat ourselves to something really special. We've just created a special Christmas recipes section on our website, which we'll be adding to over the coming weeks. We've organised it into two sections: canapés & starters, and main courses. This is a nod to those super-organised amongst you who may already have your main courses sorted, but need some ideas of what to serve beforehand. Or perhaps you're still planning and are thinking of doing the double - fish & shellfish for both courses? What an excellent idea.
What we drink with our food matters a lot too, so we've asked those in the know - fantastic local wine supplier Butler's Wine Cellar - to recommend some wine pairings for our festive seafood dishes. We're pretty sure these will elevate your celebratory meals to something truly memorable.
Here's some highlights...to start...
The fresh, clean flavours of Beetroot Gravadlax (not to mention its wow factor!) are brilliant for both canapés and as a sit-down starter, with just a little horseradish cream and dill. Our Gravadlax Recipe Kit includes everything you need to prepare this eye-catching Scandi classic. We make ours with ChalkStream® Rainbow Trout from the Test and Itchen Rivers in Hampshire. Butler's Wine Cellar suggests this goes beautifully with Cremant de Bourgogne Manoir du Carra, a delicious fizz with a fruity richness that's also great on its own as an aperitif. Plus, you don't often see a sparkling Beaujolais – now there's a fun wine fact for your guests!
If you'd prefer less prep time but still want to impress, our Moules Marinière Recipe Kit is a really convenient way of making a restaurant-style dish that's great either individually portioned or brought straight to the table for sharing. All you need is good bread for mopping - which is lucky, as each kit comes with a crusty artisan baguette from our friends at Real Patisserie. Not to mention some Balland Sancerre – its fresh citrus and herbaceous flavours pair brilliantly with our sweet Westcountry rope-grown mussels.
Scallops are a real luxury, and our delicious and plump Shetland King Scallops always feature on our table over the festive season. We love this recipe for Scallops with curried parsnip purée, parsnip crisps and pomegranate where they're served with a gently spiced parsnip puree and sweet pomegranate dressing. This Verus Pinot Gris has fresh pear and gentle spices on the nose, with a stone fruit character and minerality on the palate – it should work a treat with this stunning dish.
If shellfish isn't your thing, what about some Shetland Mackerel instead? This Seared mackerel with beetroot, horseradish and watercress dish makes a great starter as two of the elements can be made ahead – saving you time in the kitchen. To tackle its strong flavours, try a Van Volxem Riesling with intense tropical and honeyed stone fruits. A dry, racy, luscious wine with great weight.
And to follow...
Moving onto the main event - and a salmon centrepiece has got to be the go-to dish for fish-lovers at Christmas or New Year. Easy to prepare ahead, great for sharing, impressive and so delicious, too – especially when made with our unrivalled Scottish Loch Duart salmon (it's great with ChalkStream® Rainbow Trout) too. Both of these are high-quality, high-welfare farmed fish which are guaranteed to elevate your cooking to the next-level.
If you like spicy warmth, Salmon Coulibiac sees this beautiful fillet pastry-wrapped with spiced rice – this complex Terlaner Cuvee, Cantina Terlano has layers of flavour which will balance nicely with the dish – honeyed and rich, with peach, apricot and a dry citrus finish.
If your guests fancy more traditional flavours, you can't go wrong with a classic Salmon En Croute, beautifully enveloped in puff pastry with lemon, dill and mustard. This would be great with a Blank Bottle Moment of Silence made by a funky South African producer – it's concentrated and juicy, full of ripe fruit flavours and balancing acidity: perfect for cutting though the richness of the Loch Duart salmon. In fact, this drinkable number stands up nicely to a lot of other powerful, rich foods you'll be enjoying over Christmas.
Another impressive dish to bring to the table is our Luxury Seafood Paella Kit featuring monkfish tail, fresh live Dorset clams, tiger prawns, Sussex squid and Cornish rope-grown mussels. It's hearty, colourful, packed with flavour – and particularly good with a Spanish white. This Barbuntin Albariño from Rias Baixas has a lovely minerality and fragrance, and is regarded as one of the best Albariños around with its clean citrus flavours and stoned fruit on the palate. Rosé also works well with paella, and this Provençal Domaine Rimauresq is a real treat – finely balanced with savoury, spicy red fruit, a bright acidity and a cleansing, long finish.
You can find our full range of fish, shellfish, recipe kits and ingredients here or head to our Christmas recipes section for all the inspiration you need. Can't find what you're after in our online shop? Drop us a line at hello@nutritiousfish.co.ukand we'll do our best to source it for you. It's best to book your delivery ahead as we're steadying ourselves for a busy time - but we're here to help lighten the load for your Christmas and New Year celebrations.
Finally, if you're already struggling for gift ideas for the foodie or fish-lover in your life, we've just launched our range of Nutritious Fish gift vouchers. They're available in £25, £50, £75 and £100 denominations - on sale now in our online shop.
Christmas & New Year delivery dates...
We've just added additional delivery dates on 23rd/24th December and 30th/31st December to ensure we can meet the extra demand and deliver your produce to you super-fresh, just before Christmas Day and New Year's Eve. Simply go to our delivery booking page and scroll down to the relevant postcode tiles decorated with festive holly!
Butler's Wine Cellar is an independent, Brighton-based business with a knowledge of and passion for premium wines and spirits that's second to none. Not only do they supply many of Brighton's best restaurants, they also offer national and international home delivery, and have two fantastic wine shops in Brighton and Hove - offering carefully selected, realistically priced, exciting wines to customers (it's impossible to leave either store empty-handed!). Their closing date for UK home delivery is Wednesday 18th December – so head here to place an order.