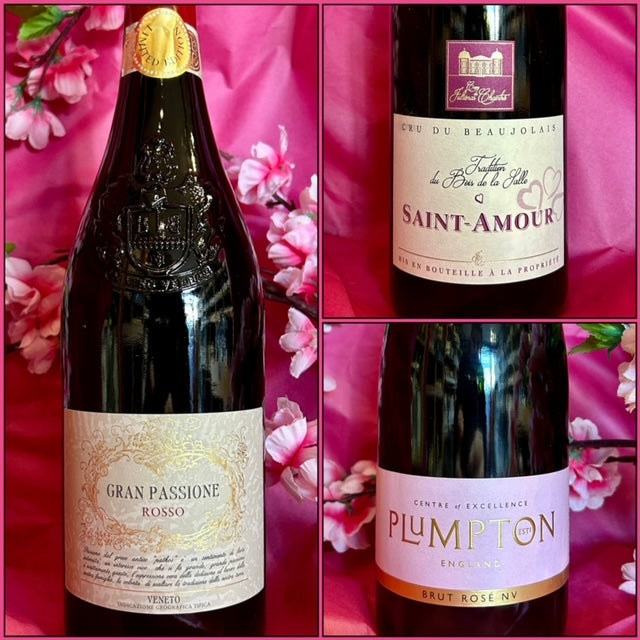 Valentine's Day…
Well, here we are again! Whether you have a new date, an old date or you just fancy an irresistible wine, we have highlighted some charming little numbers for you to get cosy with.
Gran Passione Veneto Rosso 2021 £14.50
Gran Passione Rosso is a blend of Merlot and the local Veneto variety, Refosco. The fruit is harvested on two occasions, half at optimal ripeness, and the other half a month later when the grapes have dried out a bit, which decreases the acidity and the water content, and concentrates the sugars. This results in a velvety wine which will 'kiss thy lips', as they once said in that famous story of the area.  Rich, luscious with ripe dark cherries, vanilla and spice.
Caves de Juliénas-Chaintré Saint Amour Tradition du Bois de la Salle 2021
 £14.99

Saint Amour (Holy-love) is one of the classified villages in the Beaujolais region. The Cave de Juliénas-Chaintré co-operative, is the largest producer of Juliénas with 25% of the appellation's production. Full of bright, crunchy red fruits, serve cool, with or without food. A very classic style from the excellent 2021 vintage.



Plumpton Estate Brut Rose NV
 £29.95
This local, sparkling Rose is a blend of Pinot Meunier and Pinot Noir made in the traditional Champagne method. This wine has an appealing salmon pink blush hue and displays delicate cherry white peach and strawberry notes with a creamy brioche roundness and a long elegant finish.





This style of Prosecco is a fairly new invention as it was only legalised in2020 - this release from Montresor with the maximum 15% of Pinot Noir in the blend shows what magic can be done! Produced predominantly from Glera, with some Pinot Noir added to give colour this is an easy drinking and great value pink Prosecco. Red berry and currants on the nose, red apple characters with a touch of raspberry on the palate. A great value fizz that is moreish and satisying.


Quaglia Orange Brandy
 £42.50 
If you want to express your love through the medium of chocolate, we have a simple truffle recipe to match this aromatic Orange Brandy from Distilleria Quaglia. The fourth generation grappa producers in Piedmonte now also produce an exquisite range of liquors and this very refined Orange Brandy. Made by infusing aged Italian brandy with fresh orange peel and spices for over two months it has lifted citrus, spice and herbal nuances, rounded out by an undercurrent of sweet, smooth vanilla.
Perfect for sipping or flavouring home-made chocolate orange truffles.
The Perfect Chocolate Truffle 
By Felicity Cloake

100ml double cream
40g light muscovado sugar
110g dark chocolate
25g butter, softened
250g milk chocolate
Cocoa, to dust

Heat the cream and sugar together over a gentle heat until it comes to the boil. Allow to simmer for a minute, then take off the heat and leave to cool for a couple of minutes.

Meanwhile, smash the chocolate into small pieces (slamming the bars against a work surface is a satisfying way to do this) and cut the butter into small dice. Put in a large heatproof bowl.

Pour the cream and sugar mixture on to the chocolate and butter and leave for a couple of minutes, then stir until smooth and glossy.* Add a pinch of salt and allow to cool, then cover and refrigerate until set (about 2 hours).

Use a teaspoon to scoop out truffles, then roll them by hand into spheres. Chill your truffles while you temper the chocolate.

Put two thirds of the milk chocolate into a heatproof bowl over, but not touching a pan of simmering water and allow to melt. Remove from the heat and add the rest of the chocolate. Stir to melt, and use a thermometer to check when the temperature reaches 31C.

Once the chocolate has reached the right temperature, dip each truffle into it to coat, sprinkle with cocoa and place on a piece of greaseproof paper to set.

Felicity Cloake's perfect chocolate truffles for the Guardian