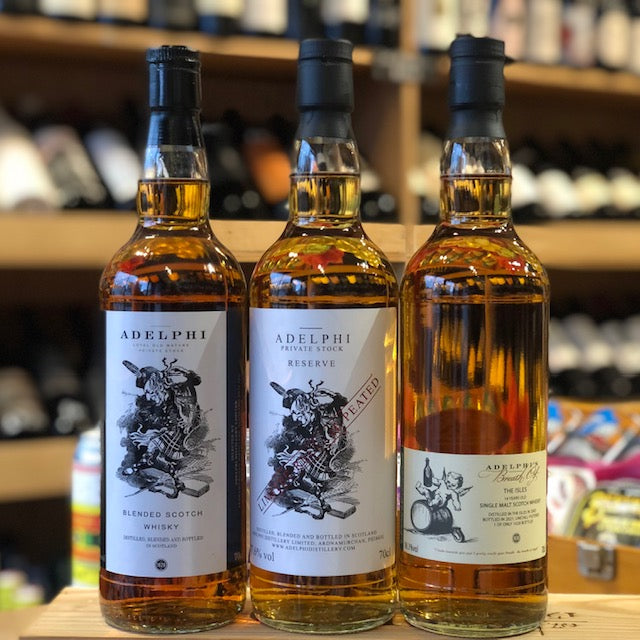 Remember remember this Scotch whisky blender…
 We've got a firecracker of a Bonfire Night promo lined up for you this week. To celebrate the bonkers point in the year when the whole of Sussex goes pyrotechnic, we're knocking 10% off one of our favourite autumnal spirits.
Adelphi fired up its first distillery in 1826 and distilled its own whiskies right through to the 1970s. After production at the first distillery ceased, the company continued to hone its blending craft until its new Ardnamurchan distillery opened in 2014.
There have been a couple of hen's-teeth small-batch releases from the new distillery (more on that below) and we're delighted to have something from Adelphi's private stock as well.
This is a secret-sauce blend of whiskies from who-knows-where… but judging by the bonfire-friendly peat notes, we reckon Islay definitely comes into it.
It's such a delight to drink. The balance between the smoky peat, salty tang and fruity roundness is a masterpiece of blending… every sip is like a dreamy little journey round the Scottish coast. And on this special Bonfire offer it comes in at a frankly ridiculous £23.35. (Cue fireworks.)--- 
As for those rare releases we mentioned, we're also lucky enough have a few bottles of the latest Ardnamurchan Single Malt in. Bruised apples, lemon meringue pie and salted caramel on the nose; vanilla, smoke and sea salt on the palate. Definitely worth sniffing out.
---
One last thing worth noting is Adelphi's green creds. Distilling whisky can have a hefty environmental impact but Adelphi go above and beyond to cut their footprint. Local renewables are used to power the distillation process and the spent grains are returned to the land or used for animal feed. We'll raise a hipflask to that on Friday night.