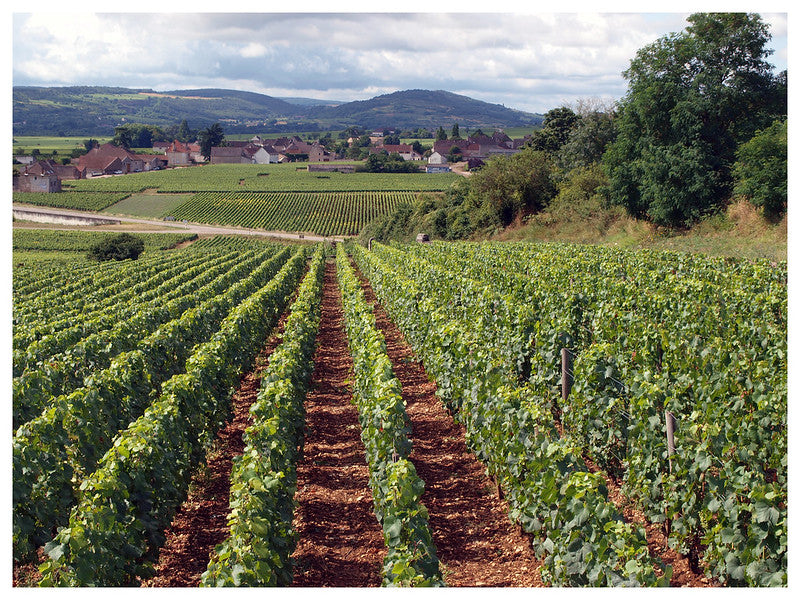 The Burgundian heartland of Chardonnay is home to some of the world's great white wines
Christmas is coming and turkeys everywhere are starting to look nervously over their wings. If only they knew they'd be served up with a bottle of Chassagne-Montrachet, they'd almost certainly feel a bit more relaxed about their fate. After all, roast turkey with white burgundy is a stone-cold classic food and wine pairing. The better the burgundy, the better the match. And they don't come much better than Chassagne-Montrachet.
Where exactly is Chassagne-Montrachet?
There is a hill between the villages of Chassagne and Puligny in the Côte de Beaune region of Burgundy called Le Montrachet. On that hill, in five Grand Cru vineyards, are planted many of the most prized Chardonnay vines on the planet.
This is no exaggeration - buy a wine made from these Grand Cru grapes and you'll get little change out of £1,000. But walk just a few steps south of Le Montrachet and you can find comparable quality at a far more affordable price point. This is the beauty of Chassagne-Montrachet - a village whose wines are typically said to sit halfway between the delicacy of Puligny-Montrachet and the weight of Meursault, both immediately to the north.
Grand cru? Grand who?
The quality indicators in Burgundy wines can seem confusing, but there's actually a pretty simple way of understanding them. In Bordeaux, all the credit goes to the chateau, or producer. So the top producers there are given Grand Cru status. However in Burgundy, it's the grape-growing plots that get the credit - the best vineyards, such as those on the slopes of Montrachet, are designated Grand Cru. 
The level below is Premier Cru, and there are many of these vineyards in Chassagne-Montrachet. Top-class Burgundian producers are using grapes from these and other 'lieu-dit' vineyards to make absolutely stellar wines that, because they don't have that mythical word 'Grand' on the label, don't command the same prices. Three of the five wines below come from Premier Cru vineyards.
What are Chassagne-Montrachet wines like?
There is an increasing weight of opinion that the soils in Chassagne-Montrachet are actually well suited to Pinot Noir and there is a proportion of red wine made in the area. However, it's white wines made from Chardonnay that garner serious attention in the wine world. They're often described as succulent and mineral, with a rich golden colour, floral-scented with hints of honey and hazelnuts. Once tasted, never forgotten.
Chassagne-Montrachet at Butler's
Any of our five Chassagne-Montrachets would take pride of place on your Christmas dinner table. Two are Premier Crus from the same producer, Domaine Bruno Colin - let's start with them.
The younger son of one of the best-regarded growers in Chassagne-Montrachet, Michel Colin-Deleger, is keeping the family name in the top echelon of the village's producers. Bruno Colin's wines are famed for being accessible - fresh, bright, intense and ready to be enjoyed without years of bottle age.
La Maltroie is a Premier Cru vineyard immediately south of Chassagne, with a slight south-easterly slope and stony clay soils providing the perfect conditions for Chardonnay to grow. The wine is fermented and aged in oak, adding some lovely spicy characters to the rich, opulent stone fruit, roasted almond and floral notes. It's quite savoury, utterly delicious and drinking beautifully right now.
Les Chaumées is a top Premier Cru vineyard on the upper slopes of the hill marking the border with Saint-Aubin. The clay-limestone soils are light and crumbly and the slope faces the morning sun, aiding ripening and bringing concentration and finesse to the wines. 
This is very fruity, floral and aromatic, with a glorious saline finish. It has lively citrus notes and some delicate floral aromas. Treads the line between richness and freshness impeccably. 
CHASSAGNE MONTRACHET BLANC LES ENCEGNIERES, DOMAINE ETIENNE SAUZET 2017 (£82.50)
This wine is a bit special for a couple of reasons. First, Etienne Sauzet has holdings in multiple Grand Cru vineyards and makes some of the most sought-after white wines in Burgundy. Second, this wine comes from Les Encegnieres, a vineyard across the road from fabled Batard-Montrachet.
You literally couldn't get closer to a Grand Cru white burgundy... and this complex, concentrated wine does a pretty spectacular impersonation. It's rich, buttery and exotic but so elegant and precise. The vibrant finish will stay with you until the New Year.
It's impossible to talk about Chassagne-Montrachet without mentioning the name Bernard Moreau. This celebrated producer vinifies and bottles some of the village's purest and most thought-provoking wines from both Chardonnay and Pinot Noir. Winemaking is best described as hands-off and the results are sensual, opulent and completely delicious.
This is taut, fresh and spicy on the palate, with touches of white pepper and fennel infusing the ripe citrus fruit. The moreish mineral finish lingers in the mouth.
The Paquet family has been making wines in Burgundy since the early 1950s but it was in 2000 that Agnes took over the vineyards and set up her domaine. Since then her low-intervention wines have received a devoted following and been poured at length in France's three-Michelin-star restaurants.
This deep and complex little beauty has lively aromas of white flowers, ripe citrus and nuts, plus flinty minerality. The palate is broad, ripe and expressive - all tangerines, exotic pears and tasty toasty notes. It feels wonderfully rich, round and textured in the mouth. 
--
So there we have it. Five gooooooooooold wines that you couldn't help singing about if your true love gave any one of them to you! Trust us, Chassagne-Montrachet is one Christmas treat you'll be glad you splashed out on this year.