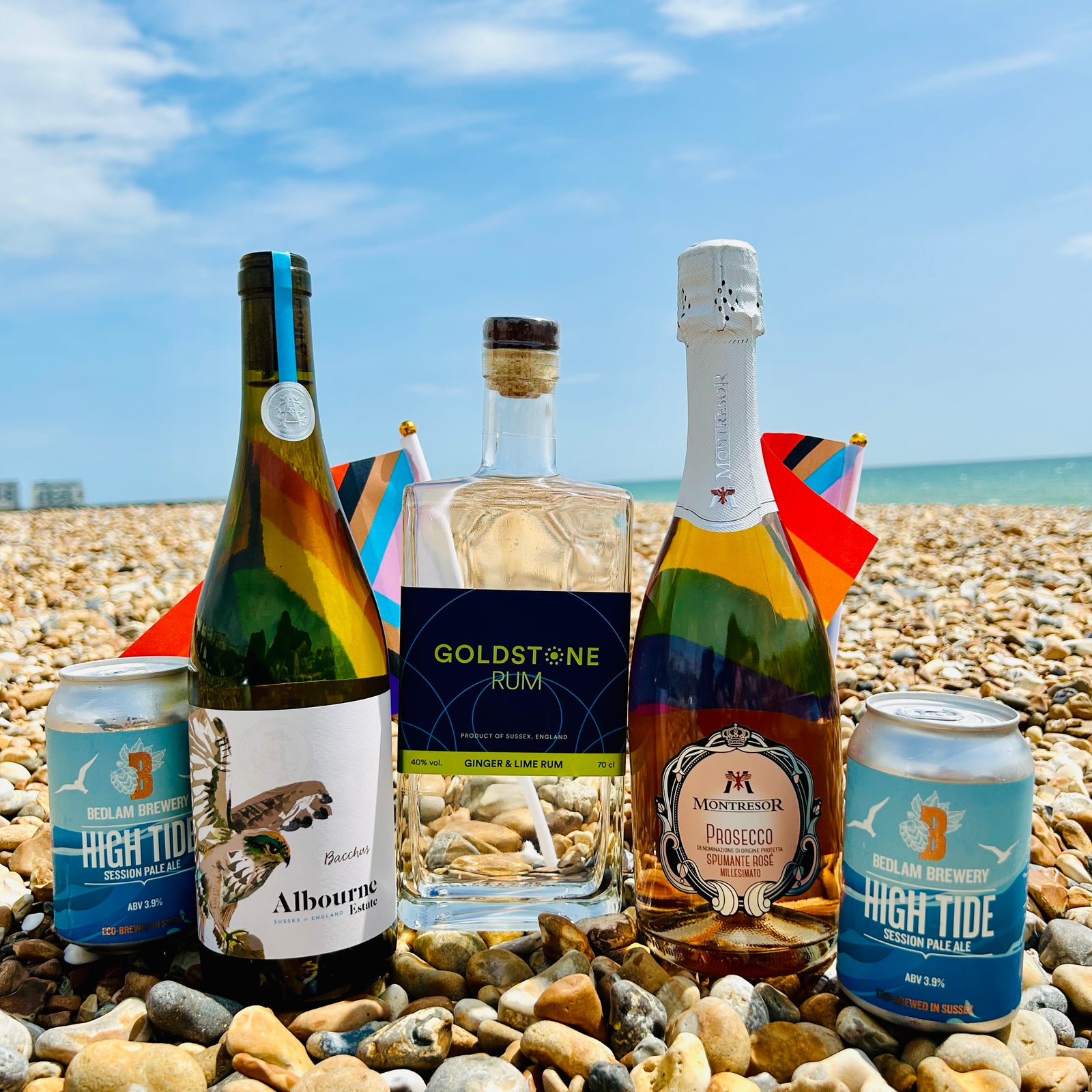 Brighton Pride is a vibrant and inclusive celebration of love, diversity, and equality. As the city comes alive with colourful parades, lively music, and joyful festivities, it's the perfect time to raise a glass and toast to the spirit of Pride. We have a selection of delightful wine and beer pairings that will enhance your Brighton Pride experience. From crisp Bacchus and sparkling Rosé Prosecco to tantalizing Lime & Ginger Rum and craft beer, let's explore the world of flavours and celebrate love in all its forms.
When it comes to embracing the essence of Brighton Pride, Albourne Estate Bacchus stands out as a wine that captures the vibrancy of the occasion. This locally produced Bacchus showcases bright and refreshing flavours of citrus, elderflower, and freshly cut grass. Its zesty acidity and aromatic profile make it a perfect companion for the summer festivities. Sip on this Bacchus as you dance through the streets, immersing yourself in the joyful ambiance of Pride and savouring every crisp and invigorating sip.
Add a touch of effervescent elegance to your Brighton Pride celebrations by popping a bottle of Montresor Rosé Prosecco. This sparkling Italian Rosé is one of only a few in this relatively new style. It delights with its delicate pink hue and playful bubbles, you'll have to stock up on extra, with its elegant notes of red berries, rose petals, and hints of citrus, it creates a delightful symphony on the palate. Raise a glass of this enchanting Rosé Prosecco
Brighton Pride is a time to explore new flavours and indulge in unique experiences. For those seeking a distinctive libation, Goldstone Lime & Ginger Rum is an excellent choice. Made in the heart of Sussex using natural ingredients, this flavoured rum infuses the warmth of ginger with the zestiness of lime, creating a harmonious blend of tropical flavours. Savour its vibrant notes as you mingle with friends and engage in the festivities. Whether enjoyed neat, on the rocks, or mixed into refreshing cocktails, this rum brings a touch of spice and excitement to your Pride experience, leaving a lasting impression with every sip.
Craft beer enthusiasts attending Brighton Pride can raise their glasses to unity and togetherness with Bedlam Brewery's High Tide. This American Pale Ale represents the spirit of Pride with its refreshing and hop-forward profile. It captivates the palate with vibrant citrus flavours, floral aromas, and a satisfyingly crisp finish. Brewed with dedication and craftsmanship, this beer is a symbol of the strength found in diversity and the power of unity. Raise a pint of High Tide, celebrate love and acceptance, and toast to the collective spirit of Brighton Pride.
Brighton Pride is a celebration that embraces love, diversity, and equality. As you immerse yourself in the vibrant atmosphere and colourful festivities, remember that Pride and recognising love in all its forms is not just reserved for this weekend but for every day. So, join the parade, raise a glass, and celebrate in whatever way feels best for you. Cheers to Brighton Pride! May it be a memorable and uplifting celebration of inclusivity, acceptance, and togetherness.