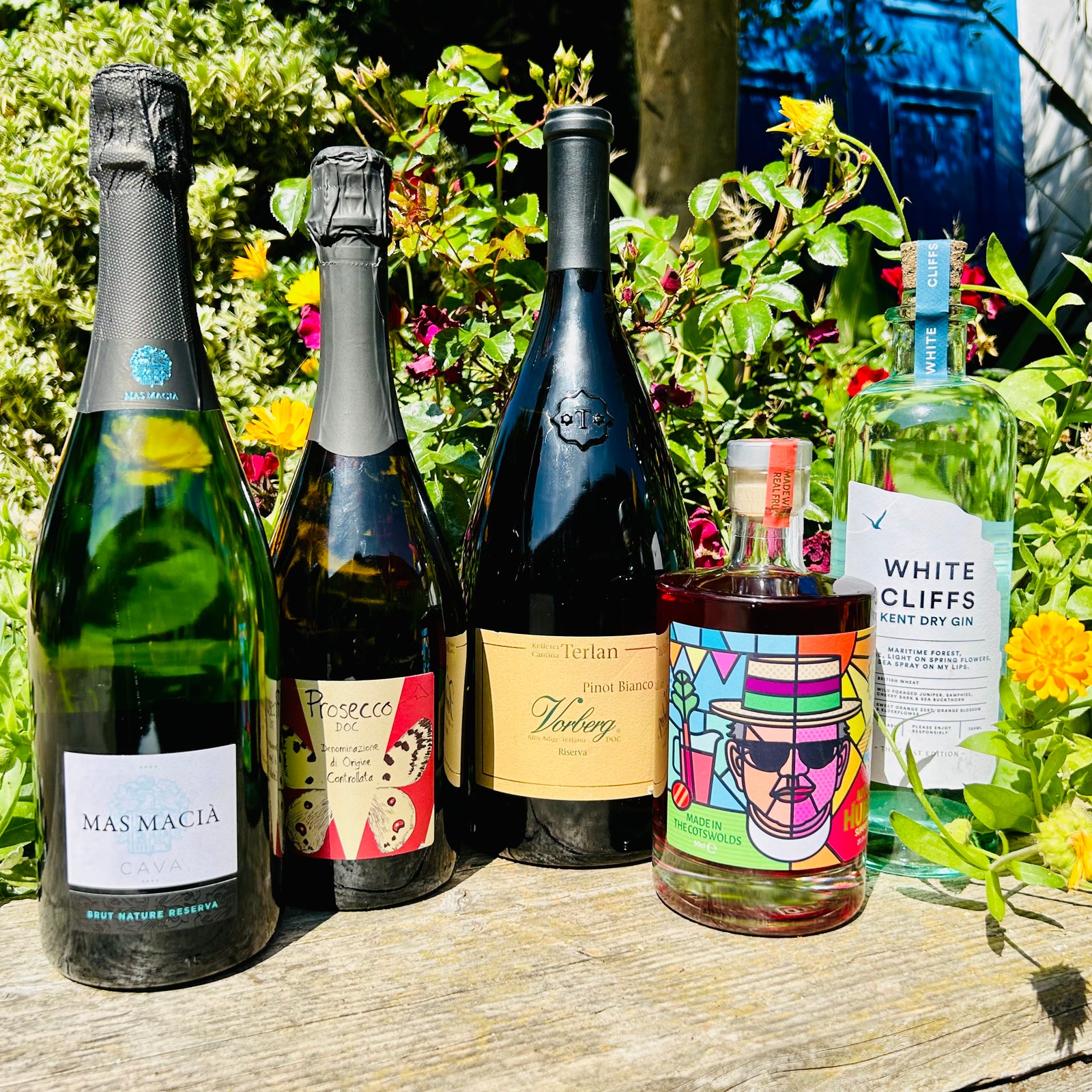 As the holiday season approaches and staycations become increasingly popular, there's no better time to indulge in the finer things in life. Whether you're hosting a lively gathering, seeking relaxation in the great outdoors, or simply looking to share special moments with loved ones, Butler's Wine Cellar is here to guide you through the art of selecting the perfect wines. In this blog post, we'll explore the ideal choices for parties, outdoor relaxation, and sharing, featuring the sparkling delight of Prosecco, the refreshing allure of gin and summer cup, and the grandeur of Magnum-sized bottles.
When it comes to adding effervescence and a touch of celebration to your holiday gatherings, Prosecco and sparkling wine are unparalleled choices. Known for their lively bubbles and vibrant flavours, they effortlessly uplift the spirits of any gathering. Proseccos like Cantina di Gambellara V Valfonda Prosecco NV, from the first cooperative winery in the province of Vicenza, established in 1947. With its crispness and fruit-forward profile, offers a versatile option that pairs well with a variety of dishes. From appetizers to desserts, it's refreshing notes of green apple and citrus make it a crowd-pleaser. Consider stocking up on different styles, such as extra dry or brut, to cater to various palates. Additionally, exploring other sparkling wines like Cava, Champagne, or some local Sussex sparkling wine will add an extra touch of luxury and sophistication to your parties.
Summer staycations call for moments of relaxation under the sun, and what better way to unwind than with a refreshing gin cocktail or a glass of Summer Cup? Gin's botanical infusion and versatile nature make it an excellent choice for crafting delicious mixed drinks. We have an exciting range of gins made in unique styles from the UK and beyond with a couple of local heroes in their too. Combine it with tonic water, fresh herbs, and citrus slices for a classic G&T or experiment with fruity concoctions featuring berries or tropical flavours. For a twist, try a Reverend Hubert Summer Cup, originally made in 1904 by Reverend Hubert using prizewinning fruit from the vicarage garden for his congregation's Christmas party and summer village fete. These recipes have been improved by his great-grandson Thomas Lester. An award-winning Summer Cup, hand-made in the Cotswolds, containing a balanced quartet of natural real fruit. Sweetness from luscious plums and bursting pomegranates is balanced with tart rhubarb and sharp cranberries. These light and aromatic libations are perfect for sipping while lounging outdoors or enjoying a picnic in a nearby park. Remember to garnish with fresh herbs or fruits to enhance the visual appeal and aromatic experience.
The art of sharing is an integral part of any group holiday, and there's no better way to embrace it than with a Magnum-sized bottle of wine. These larger-than-life bottles not only make an impressive statement to friends and family but also provide a generous pour to be savoured with as many people as possible. Magnum-sized bottles are available in various styles, including red, white, and rosé. One of our favourites is Cantina Terlano, Vorberg Riserva, Pinot Bianco 2015, from iconic Italian producers Cantina Terlano in Alto Adige. Sparkling straw yellow colour, the multifaceted aroma of this wine derives from a combination of ripe fruit, including honeydew melon, white peach, pear and Golden Delicious apple, together with the aromas of quince jelly and dried fruit such as pear, orange and pineapple, perfect for summertime sipping. Sharing a Magnum ensures that everyone has ample wine to enjoy throughout the evening, fostering a sense of togetherness and celebration.
If you're summer vacay plans involve a hard to please group of friends or family and the stress of picking the beverages are looming, we have you covered. Our expertly chosen range of mixed cases (selected by the man himself Mr. Butler) will have something for everyone. From tantalising Italian trios, quirky quartets, and summer specific six boxes there is sure to be something for even the hardest to please drinker. Check out our website for our full range of exciting cases and grab one (or two) for your next trip. One less thing to think about.
As you prepare for your holidays and staycations, Butler's Wine Cellar invites you to explore the world of wine, embracing the joy of celebrations, relaxation, and sharing. Prosecco and sparkling wines will infuse your parties with effervescence, while gin and Summer Cup provide a refreshing escape for outdoor moments. And when it comes to sharing, the grandeur of Magnum-sized bottles will create unforgettable memories with loved ones. Cheers to a holiday season filled with incredible wines and cherished moments!
Remember, our knowledgeable staff at Butler's is always ready to assist you in finding the perfect wines to suit your preferences and occasions. Visit us today and embark on a delightful wine journey for your holiday celebrations and staycation indulgences.