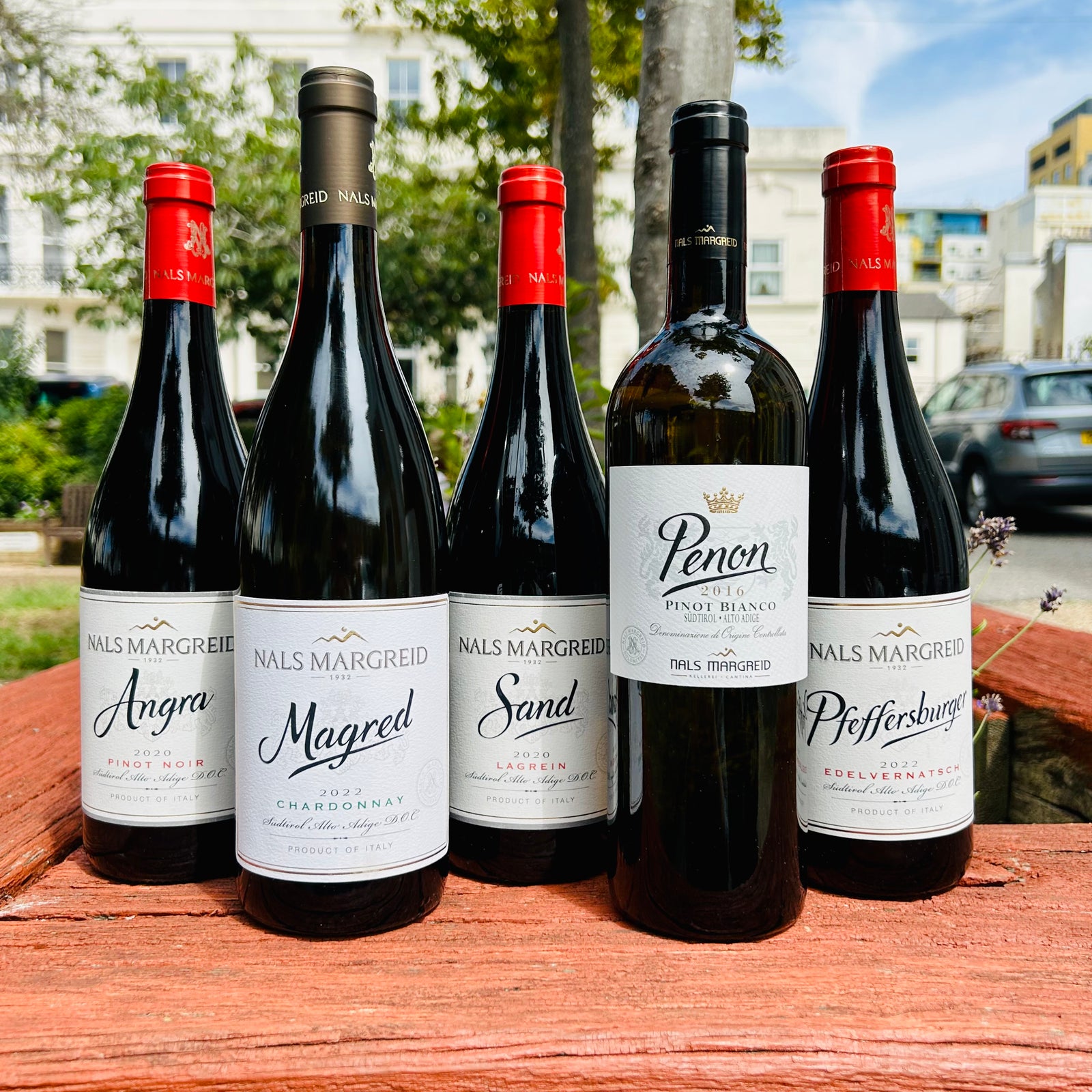 Let us help you in discovering a rare and unique wine producer from Northern Italy that we cannot get enough of.
Nestled in the enchanting landscapes of South Tyrol, Italy, the Nals Margreid winery stands as a living testament to the region's rich winemaking heritage. With a history spanning centuries, this esteemed winery has perfected the art of crafting exceptional wines that reflect the unique terroir of their vineyards. We are more than excited to give you a run down of the history of Nals Margreid and delve into their winemaking practices while exploring some of their standout wines, all of them incredible to drink and something you're not likely to find often.
The roots of Nals Margreid can be traced back to the 12th century when it was founded as a monastery. Through the ages, the winery experienced several transformations, most notably when Nals Winery was founded in 1932 and with the merge of Margreid Winery in 1985 that it took on its current form as a cooperative, uniting the villages of Nals and Margreid. This cooperative model of 138 wine-growing families cultivating around 160 hectares of vineyards has allowed local grape growers to pool their resources and expertise, fostering a strong commitment to producing wines of exceptional quality.
Nals Margreid's winemaking philosophy is deeply rooted in respecting the land and preserving the heritage of the region's indigenous grape varieties. The winery's vineyards span over 150 hectares, each characterized by different altitudes, orientations, and soil compositions, contributing to the diversity and complexity of their wines. They have a focus on being ecologically aware and allowing the unique vineyard sites to show through the wines with minimal intervention in the winemaking process, they farm biodynamically and limit the use of sulphur which results in wines that are truly raw and unmasked.
"Everything I do is based on a fundamental principle: to create wines that distinguish themselves by their expressive character and uniqueness.
Nature is my passion, its terroir and microclimate are our greatest assets.
I follow the work from the vineyards and, with consistency, dedication and experience, I pursue the development of our wines.
And I am delighted when our wines leave an indelible mark on the World."– Harald Schraffel Head Winemaker
Lagrein, an indigenous grape variety of South Tyrol, finds its finest expression in Nals Margreid's Sand. Cultivated in vineyards with sandy soils and crafted with utmost care and expertise, the Lagrein grapes are carefully hand-harvested, ensuring only the finest selection. Maraschino cherry and blackberry dance on the palate, accompanied by delightful hints of pepper leaf and a lingering aroma of liquorice in the finish. The wine's density and freshness awaken your senses, while full-flavored tannins and balsamic undertones add layers of complexity and elegance. All of this makes it a perfect accompaniment to hearty dishes and roasted meats.
The Penon vineyard based in the warm town of the same name, characterized by its steep slopes and clay-limestone soils, is home to the Pinot Bianco grapes that give life to this exquisite white wine. The grapes here turn out small and concentrated, as they ripen late in the high altitudes. The wine spends 6 months in steel tank and big oak barrels. Although vinified into a wine with fresh and elegant acidity, it is a generous, with aromas of apple, citrus and ripe pineapple. Alpine flowers and subtle spice notes make this wine complex and inviting.
Angra Pinot Noir is a true representation of Nals Margreid's mastery in producing international styles as well as indigenous grape varieties. The grapes for this 100% Pinot Noir are harvested by hand. After being carefully destemmed, the must is fermented in stainless steel tanks with gentle maceration. On the nose hints of raspberry and cherry, with undertones of black pepper. The palate is full and juicy, with a beautiful freshness and persistent finish. With its medium body and smooth tannins, Angra Pinot Noir is a sophisticated choice for enhancing memorable moments and pairing with flavourful cuisine.
Nestled in the charming region of Magrè, where gentle slopes meet altitudes ranging from 220 to 350 meters, these vineyards get the best of the Northern Italian sun. The unique white chalky gravel soils, lend their distinct character to this extraordinary wine. Crafted with utmost care and precision, the Chardonnay grapes of Margred are meticulously hand-harvested, ensuring only the finest selection. It undergoes a gentle fermentation process, lasting approximately three weeks, within carefully selected 30 hl wooden barrels. To further enhance its quality, the young wine is then aged on the lees for an additional eight months, allowing it to develop remarkable depth and complexity. A straw-yellow hue in the glass. On the nose an exquisite harmony of pineapple, melon, and passion fruit, accompanied by delicate undertones of aromatic herbs. With each sip a fresh, rich sensation on the palate with a beautiful velvety texture, culminating in a lingering and satisfying finish. Pair with spaghetti with clams, or swordfish tortellini, where the wine's depth and finesse harmonize with the delicate flavours.
Nestled near Bolzano, the steep slopes of Santa Maddalena provide the perfect terroir for cultivating the exceptional Schiava grapes, a relatively unknown indigenous variety. Firmly rooted in gravely porphyry soil, these vines flourish, creating a wine of unparalleled quality. The grapes are hand-harvested and after gentle destemming, the must undergoes fermentation in stainless steel tanks, with careful pumping over to enhance its character. The wine then undergoes ageing for seven months in 80 hl wooden barrels. A pale red hue with captivating copper highlights, the nose bursts with fresh notes of undergrowth, blackberry, blueberry, and hints of pepper leaf. On the palate, experience a refreshing, juicy sensation, complemented by a full-bodied presence, and a delicate touch of almond that lingers on the finish.
In the heart of South Tyrol, Nals Margreid winery epitomizes the harmonious fusion of tradition and innovation. Through their cooperative approach and meticulous winemaking practices, they have earned a reputation for producing wines that capture the very essence of their land and its grape varieties. Each bottle produced is a testament to the passion and dedication of the winery's team in crafting wines that embody the terroir of South Tyrol. Whether you're a seasoned oenophile or a wine enthusiast eager to explore new flavours, a sip of Nals Margreid wine will undoubtedly leave an indelible mark on your palate.
Explore our full range here or drop into our Kemptown shop and ask our team to show you these incredible wines!