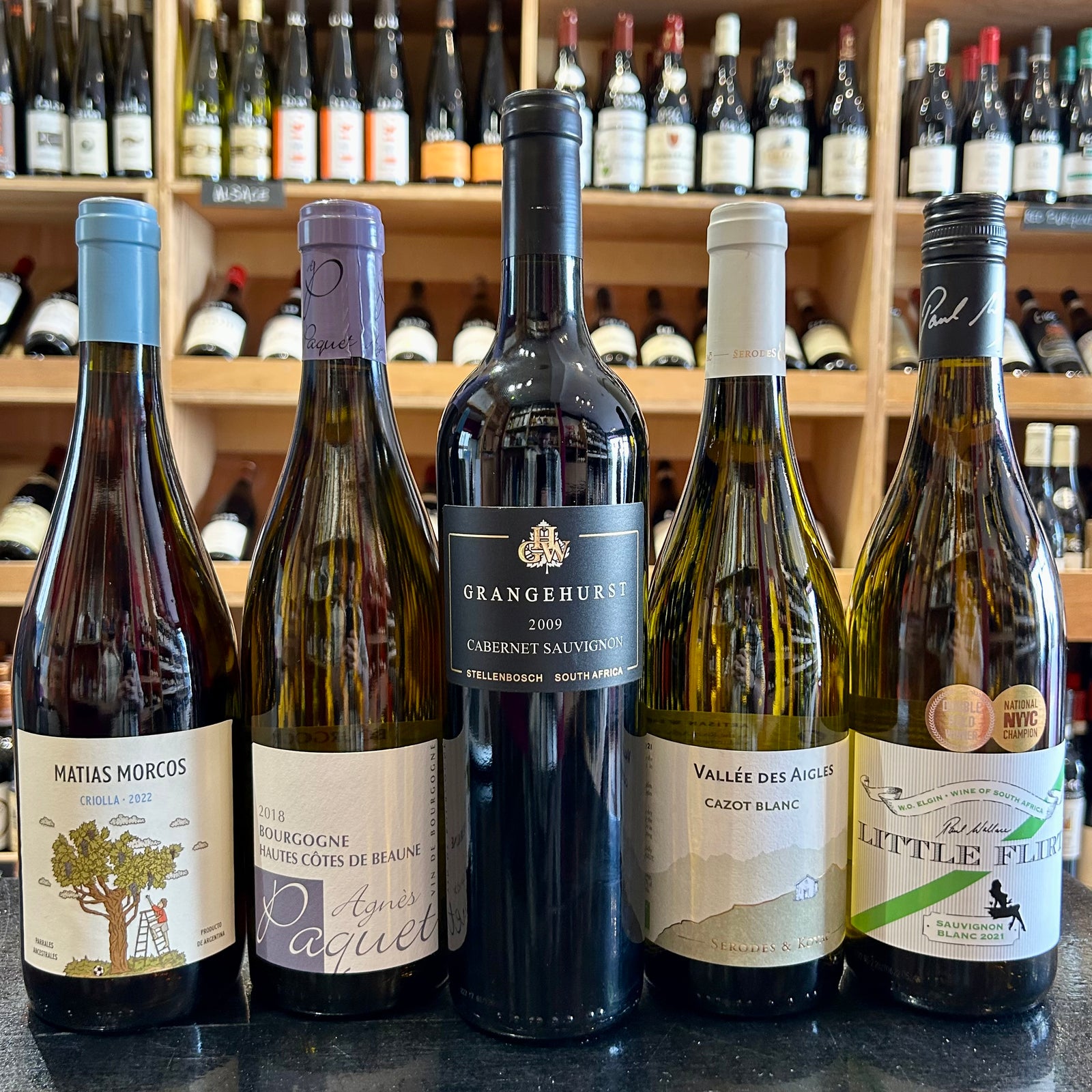 Here at Butler's Wine Cellar we have been hard at work tasting lots of interesting wines from around the world to bring you some wonderful new things. With recent arrivals from across France, South Africa and South America we are sure to have something thrilling for any palate.
Paul Wallace 'Little Flirt' Sauvignon Blanc 2021, Elgin, South Africa
After advising other vineyards across the country for decades, Paul Wallace and his family purchased a small farm in the cool coastal region of Elgin to plant his own vines in 2003. We had the pleasure of meeting his son, Bobby Wallace, who is now in charge of the winemaking for the estate. The Little Flirt Sauvignon Blanc manages to harness the best aspects of Marlborough and the Loire Valley together into one delicious Elgin style. The nose is bursting with gooseberry, passion fruit and cut grass aromas while the palate has lovely ripe lime fruit and a flinty minerality. A fantastic pairing for fresh fish or salads.
Vallee des Aigles Cazot Blanc 2021, Cotes du Roussillon, France (Organic)
Named for the eagles (Aigles in French) commonly seen around their high-altitude vineyards, this project seeks out exceptional organic vineyards across the Roussillon. The Serbian and French winemaking duo spent years working as consultants in the region so brought their exceptional knowledge together to make their own label. The Cazot Blanc blends rich honeyed Grenache Blanc (65%) and Grenache Gris (15%) with fruitier Vermentino (15%). 30% of the wine is aged for 9 months in oak barrels to develop more creaminess and add some subtle spicy notes. The overall result is a luxurious and complex white wine, with peach and tropical fruit notes and a nice fresh acidity due to the elevation of the vineyards. 
Agnès Paquet Hautes Côtes de Beaune Blanc 2018, Bourgogne, France
Growing up, Agnès Paquet's family had always owned a small vineyard in Auxey-Duresses. However, the plot was always rented out to larger winegrowers and in 2000 her parents decided to sell. Agnès then made the big leap, taking over the vineyard and becoming a winemaker. The estate has grown a little since then, acquiring a few other vineyards in the Côtes de Beaune, and farmed with organic principles (certified since 2021). The Hautes Côtes de Beaune Blanc is an exemplary white burgundy, with a little bottle age, that easily rivals wines from the region's more famous villages. A blend of two plots, La Lie in Meloisey and Sous Le Chateau in Baubigny, fermented and aged in 456l French oak barrels. The nose balances hazelnut and fresh cream aromas with white peach and a little tropical fruit. The mouthfeel exudes elegance, with a silky texture and a long finish with plenty of tension and freshness. 
Matias Morcos Criolla 2022, East Mendoza, Argentina
The young Matias Morcos is part of a new generation making thrilling wines from alternative and heritage varieties in Argentina. Coming from a family of winemakers in East Mendoza, an area known mostly for producing large volumes of fairly unremarkable wine, Matias is highlighting the excellent potential of the region's old Criolla vines. Criolla Chica, also known as Pais in Chile and Mission in California, was one of the first European grape varieties to be planted in the Americas around 600 years ago. It is thought to have come from the Canary Islands, where it is still grown under the name Listan Prieto. But enough grape history geekiness; the wine itself is joyfully juicy and just bursting with violet, strawberry and pomegranate flavour. It's just 12.5% and has lovely fresh acidity so is absolutely delicious served lightly chilled. This is the red I will be drinking all summer long!
Grangehurst Cabernet Sauvignon 2009, Stellenbosch, South Africa
Grangehurst's founder Jeremy Walker makes wine by three principles: 'Handcrafted. Traditional. Unhurried.' Unhurried is certainly the case, Walker doesn't release any wines from his cellar until he thinks they're properly mature, such as this extraordinary Cabernet Sauvignon from the 2009 vintage. From a single low-yielding vineyard in the greater Simonsberg region of Stellenbosch, they hand-sort the berries after de-stemming to ensure only perfect fruit makes it to the fermenters. The wine shows all of the hallmarks of excellent aged Cabernet Sauvignon; a nose packed with savoury notes of dried meats, tobacco, spices and dark cherries, and beautifully softened tannins framing its rich and bold palate. This still has the structure to enjoy with red meats but is best savoured on its own with good company.