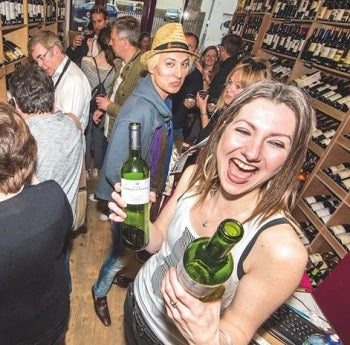 This Saturday sees the Brighton Wine & Tapas trail kick off across town. Over the weekend a spread of venues will be offering great wines paired with some delicious snacks from Hove to Kemp town. Butler's in Kemp Town will be participating in this on Saturday the 7th April, with a couple of great bottles open to try and buy, paired with some delicious finger foods from our friends at the Spice Circuit and Fourth & Church.

Get hold of a Wristband to get involved at the Brighton Wine Week page here :
https://brightonfoodfestival.com/news/brighton-wine-tapas-trail/

Quinta Da Raza Vinho Verde, 2017      

Origin: Vinho Verde, Portugal

Character: Super fresh, lively and bright with a hint of spritz through it. Tonnes of citrus and fresh apple make this a fine option to brighten up the day. A perfect partner for snacks, nibbles, shellfish or sunshine.

Paired With: A selection of three flavoured Poppadoms, Tamarind Dip & Mango Chutney from the sensational Spice Circuit.



Bodegas Castano Monastrell 2016




Origin: Yecla, Spain

Character: Deep cherry red, packed with fruit but still retaining a kind acidity throughout. There's great depth, and with the added bonus of Organic production this is a splendid bottle that punches clear above its weight.

Paired With: A couple of masterful Pinchos from our friends at Fourth & Church, with Roast Aubergine, Squash & Kalamata squaring up to Marinated Courgette with Feta & Caper Berry.