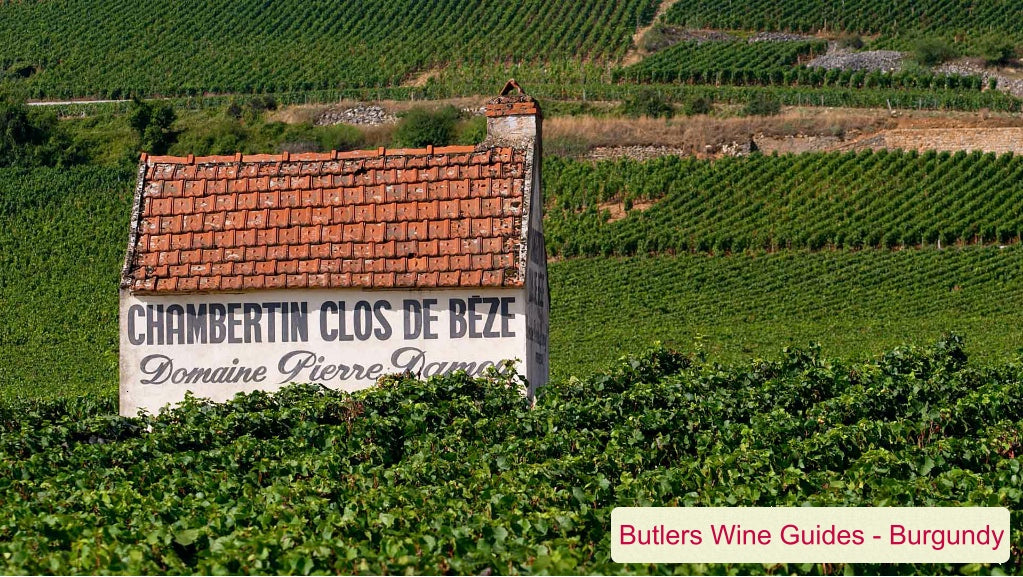 Introducing the wines of Burgundy
Last March already seems like a lifetime ago. Times have changed and wines have changed, so we've taken the time to update our original Butler's Wine Guide to the iconic red wines and white wines of Burgundy.
It's still a mammoth task. As the wine maps in this guide show, Burgundy is one of the most complex regions in the world, let alone France. It's a topic that could easily fill a 10-volume book series, but definitely worth getting your head around as the best Burgundy wines are undeniable world-beaters. So I will try to keep it simple!
The beauty of Burgundy
What makes Burgundy different to other wine areas in France? The region has a rustic feel: it's the definition of a simple life, a relationship between a grower and his or her vines. It does not feature any grand chateaux and unlike larger wine regions the average grower has only 4 hectares (10 acres) to work with.
Indeed, Burgundy isn't one big mass of vineyards. It's actually split into five distinct areas. At the top is Chablis, producing steely, mineral, world-famous dry white wines from Chardonnay. South-east of Chablis is the Côte d'Or, which itself divides into the Côte de Nuits and the Côte de Beaune (we'll get to that soon). Further south are the Côte Chalonnaise, Mâconnais and Beaujolais.
For this post we're going to focus on the first four subregions on this list. The wines of Beaujolais deserve a blog post of their own!
---
Chablis
Chablis sits about 100 miles north of the rest of Burgundy. It's closer to Paris than the Côte d'Or and was originally part of a massive 50,000-hectare production region supplying wines for thirsty parisiens. But Chablis wines suffered a drop in fortunes from the late 19th century to the 1940s. First a louse called Phylloxera decimated the region's vines, before motorways and new train lines changed France's transport routes. Two world wars later, Chablis was in a bad place, with vineyard plantings down to 1,000 hectares. But it still meant something to see Chablis in the label of a wine bottle and its reputation has resurged in the last few decades.
All classified Chablis wines are made from Chardonnay and nothing else. There are four classifications for the region's vineyards, each indicating its favourability for growing quality grapes. The best are all south-facing, which maximises sun exposure, and planted on the fabled Kimmeridgean limestone-clay soils said to tease out the best mineral, stony expression of Chardonnay.
From the top down, the four classifications are:
Grand Cru
Premier Cru
Chablis
Petit Chablis
Take a look at the Chablis wine map below to see the southerly aspect of the top Cru vineyards.
Côte d'Or
The Côte d'Or produces the most highly-prized wines of Burgundy. The only grape varieties permitted are Pinot Noir for red wines and Chardonnay and Aligoté for white wines.
There is a clear geographical split in the Côte d'Or. To the north is the Côte de Nuits; the Côte de Beaune is to the south. Each area contains many villages whose names feature on the label, indicating where the grapes were grown (the big thing to remember about Burgundy is that it's the vineyard that gets the credit, not the producer like in Bordeaux). If a vineyard within the village is especially prized, Premier Cru or Grand Cru will also appear on the label. There are only a few special sites with Premier Cru status and even fewer Grand Crus.
Côte de Nuits vs Côte de Beaune!
In simplest terms, the Côte de Nuits is the king of Grand Cru Pinot Noir red wines; the Côte de Beaune rules for Chardonnay-based Grand Cru white wines. In the Noir north the pick of the Cru villages are Gevrey-Chambertin and Vosne-Romanée. In the Chardonnay south, look out for Meursault, Chassagne and Puligny-Montrachet and their signature notes of popcorn and flint.
The two maps below demonstrate the village system. On the left is Puligny-Montrachet in the Côte de Beaune, with Gevrey-Chambertin in the Côte de Nuits on the right.
Côte Chalonnaise and the Mâconnais 
South of the Côte d'Or sit two regions also growing Pinot Noir, Chardonnay and Aligoté, but without the prestige of the Côte d'Or. The Côte Chalonnaise and the Mâconnais have the same rustic Burgundian feel, but while they feature Premier Cru sites among their villages, there are no Grand Crus.
In the Côte Chalonnaise the areas to look out for are Rully and Mercury, and their quality red and white wines made with Chardonnay and Pinot Noir. Being further south, these wines are softer with riper fruit. The whites are full of stone fruit; the reds often are light with red berries and earthy notes.
Below is a map of Rully, note the similar layout to the Côte d'Or with individual vineyards. Premier Crus from these towns are the ones to hunt out for a bargain.
In the northern part of the Côte Chalonnaise is a small town called Bouzeron, noted for white wines made from Aligoté. Bouzeron is the only appellation for single-village Aligoté, granted in 1979 to the co-owner of Domaine Romanée-Conti. These wines are worth searching out but can be hard to find. If you are interested in Aligoté grape though, there are producers throughout Burgundy making small quantities labelled as Bourgogne Aligoté.
Between the Côte Chalonnaise and Beaujolais is the Mâconnais. Being dominated by large co-operatives making bulk wines, it has struggled to establish an identity - but there are some great exceptions. The small town of Pouilly-Fuissé in the south is a prime example, making well-priced, easy-drinking ripe styles of Chardonnay. Look out for wines with a village suffix such as 'Roche de Solutré', which offer quality at a lower price and make a good starting point for anyone looking to drink decent Chardonnay.
---
Butler's buying tips and recommendations
Burgundy is a mammoth topic that it's important to work out which area suits your needs first. Some areas offer great value and easy-drinking wines, others offer complexity but require more research. We recommend getting a few examples from each region and see what you like most. If you're already a Burgundy lover, come and see us or get in touch, and we'll help you pick out the gems we have to offer.
Finally, here are three Burgundy wines well worth reading this far for!
1. Nuits St Georges, Domaine Henri Gouges 2015
Domaine Henri Gouges is one of the most important domaines in Nuits St Georges. The Gouges family have been there since 1919, now the domaine has 14.5 hectares including vines on 6 different Premier Crus. Production is small, with demand invariably outstripping supply and consequently wines from this domaine are becoming increasingly difficult to find.
2. Puligny-Montrachet, Domaine Pernot Belicard 2015
Puligny has had its name on labels since 1879 and the history of this village is legendary. The ones to look out for come from its four Grand Cru sites: considered the best white wine in the world. Philippe (grandson of Meursault legend Paul Pernot) and his wife established this domaine in 2009 from her inherited vineyards. From this he creates terroir expressive styles, the oak is kept to a minimum to give the wines freshness. At its best it has an intensity, complexity and elegance that make you wonder how such a wine could be made from mere grape.
3. 
Mercurey Blanc La Brigadiere, Francois Raquillet 2018
The history of the estate goes back a few more generations that your average family, records show that François is the 11th generation to make wine in Mercurey. With 11 hectares under vine, reduced yields and the introduction of higher-quality oak barrels, the wine from this domaine has never been so good. 'La Brigadiere' is a proper grown-up Burgundy, with serious aromas of rich fruit and nuts plus a delightful lift of citrus.
Thanks for reading to the end!
Written by Dan Orton