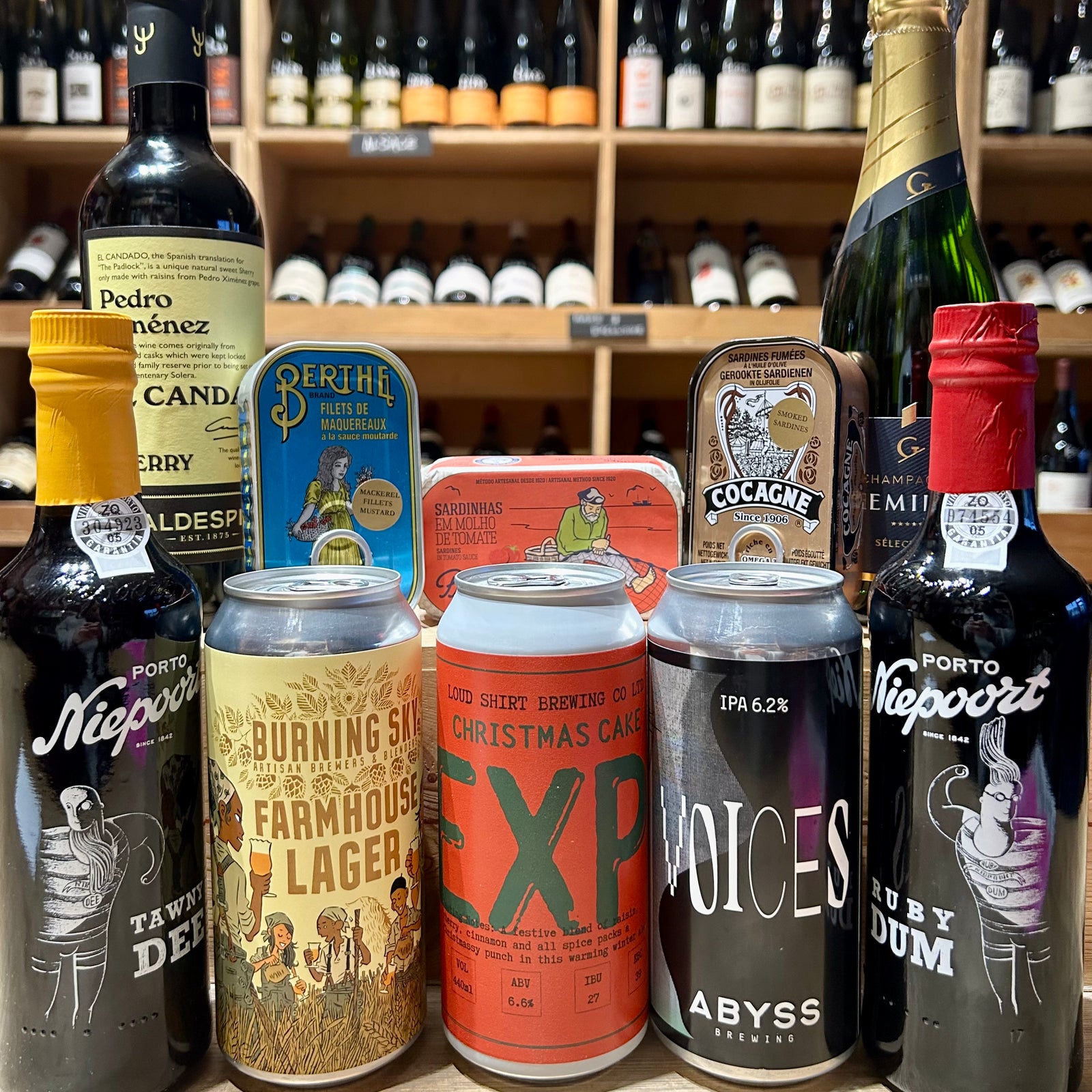 Christmas is drawing closer and every little helps in making this festive season as special as possible. We're not just offering you the big gifts, we also have everything you need for topping up those stockings, secret Santa and all the little extras to keep the Christmas energy flowing throughout the day.
If you're looking for stylish snacks to impress your friends and family, conveniently packaged and the perfect size to slip into a Christmas stocking we have a fantastic selction of tinned seafood products from the best Mediterranean suppliers.
Pinhais sardines in tomato sauce - The best sardines are chosen, then hand prepared and packed into the tins, along with the secret-recipe tomato sauce. Fortifying and delicious on toast or stirred through pasta.
Berthe mackerel fillets with mustard - Premium tinned mackerel from France. One of our treats from La Belle-Iloise. The cannery works with fishing fleets which follow sustainable practices such as fishing in the right season and using environmentally friendly techniques to catch the fish.
Sardines in smoke-flavoured olive oil Cocagne - Portuguese tinned sardines with a delicious smoked taste from this Portuguese cannery. A good complement to a cheese board, with eggs on the side for breakfast, or in a tomato salad dressed with lemon juice.
Follow this link for our full range of tinned seafood.
Sometimes great things come in small packages, this couldn't be more accurate when discussing our half bottle selection. World class wines that won't break the bank or the back! 
Gremillet Champagne Selection Brut NV half bottle- This certified sustainable, award winning producer, uses a classic blend of 70% pinot noir and 30% chardonnay. A little bottle that packs a fruit heavy punch. Wonderful value for money – it has been aged for a longer period than most adding to its finesse and toasted notes. This is wine with elegant mousse and a creamy texture backed by its fruitful nature.
Niepoort Ruby Dum 37.5cl - If you know us you know we can't get enough of this Portuguese icon; Ruby Dum is classically foot trodden and fermented in granite lagares, it is then aged in large old vats but retains its youthful, strong character. Dominated by red cherries and plums with great freshness from ageing in large wooden vats in the cool cellars of Vila Nova de Gaia. Perfect with soft cheese or chocolate.
Niepoort Tawny Dee 37.5cl - With an average age of three and a half years, originates from low yielding vineyards in the Cima corgo region of the Douro Valley. Delicate nutty aromas and a hint of dried fruits.On the palate, very well balanced with a youthful fruity, luscious character, which integrates well with a long finish.
El Candado Pedro Ximenez Valdespino 37.5cl - From one of the top Sherry houses in the region, this delicious Pedro Ximenez has a liquid Christmas cake character, great depth and a lovely flick of acidity on the finish which serves to emphasise the unctuous sweetness and flavours of dried fig and raisins.
We know that wine isn't everyones favourite so we have got you covered with our expansive selection of Sussex craft beers. We have no doubt that we have a style to fit everyones taste and below is just a glimpse of what we have on offer.
Abyss Voices IPA 6.2% - Hailing from right next door in Lewes, Abyss are an innovative microbrewery creating something really special and already raking in the awards. Voices is a Simcoe & Citra IPA, big on flaked oats, torrified wheat and dry hops.
Burning Sky Farmhouse Lager 4.8% - Located on the beautiful South Downs, occupying renovated farmhouse buildings, Burning Sky are a true farmhouse brewery. If Lager is your preferred tipple this is the one for you; a delicious collaboration with Black Isle Brewery. A spelt-heavy rustic farmhouse lager using traditional methods and ingredients. 
Loud Shirt Christmas Cake 6.6% - A new addition to our shelves and an obvious choice for this time of year. Loud Shirt started brewing beer in a garden shed, but now have a 10 barrel brewery in Brighton with a capacity of 6,000 pints per week. A dark ruby pale ale that creates layers of depth and complexity through notes of rum, tawny port, cinnamon and raisins – really capturing the feeling of Christmas for those avoiding mulled wine this year. 
Follow this link to browse our entire range of beers and ales.
This is just a little taste of all of the fantastic gift options we have for you this year. So browse through our website or head into our shop in Kemptown and get your hands on some really top notch stocking fillers.