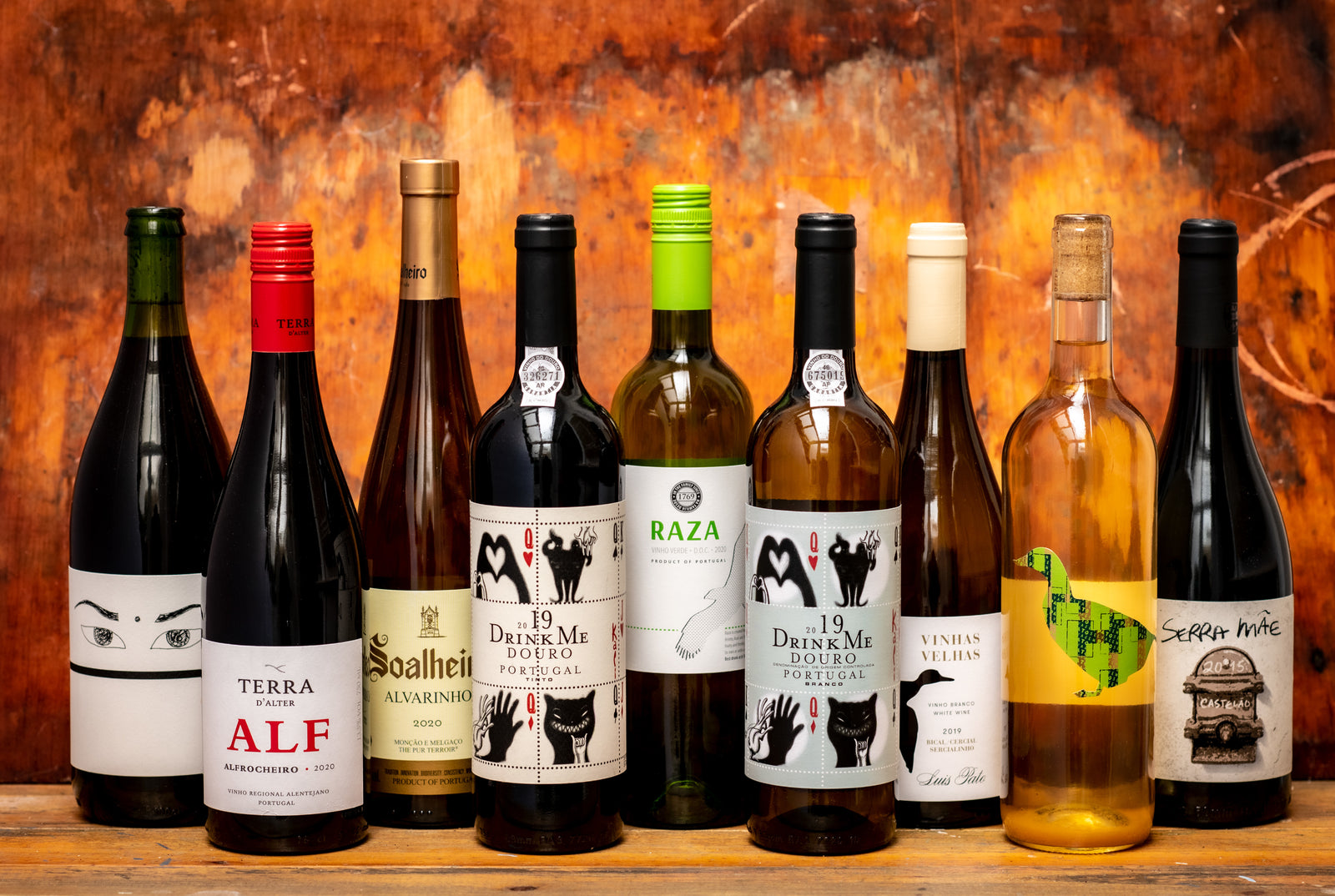 Revealing the exciting world of Portuguese wines 
Portugal is undoubtedly one of the sweet spots in the Butler's Wine Cellar range. We've been selling Portuguese wines for over 40 years but we especially love the wines coming out of Portugal right now. Every month we're uncovering more great reds, whites, oranges and others, at every price point. As a result, a growing portion of our customer base is rapidly being converted to the many and varied joys of Portuguese wines. 
What's all the fuss about with Portuguese wines?
Glad you asked. We've written this latest Butler's Wine Guide all about the wines of Portugal to give you some valuable tips on buying Portuguese - key varieties and styles, regions to look out for, plus some recommendations from our range. 
Portugal can be a bit confusing to navigate at first, largely because its regions, producers and grape varieties are not widely known. But actually, there are only a few key things to look out for with Portuguese wines, and finding a style you like is really a bit of a doddle.
What kind of wine is Portugal most famous for?
Historically, Portuguese wines have been all about the country's first syllable. Port is arguably still Portugal's hero wine and it casts a long shadow over the vinous landscape. But the fortified wines of the Douro are absolutely not the only story. Since gaining EU entry in 1986, Portugal has been on the long march to quality dry wine production, aided by massive investment and modernisation in vineyards and wineries right around the country.
Over the last 20 years, the focus has been on rich reds and fresh fruity whites, typically offering brilliant value for money. More recently there has been a drive towards premiumisation. And an explosion in innovation means that Portugal is now a European hotspot for experimental styles like skin-contact wine, natural wine and amphora wine. 
What are the best Portuguese wines?
In terms of unfortified wines, there really is no claim to the title of undisputed best Portuguese wine. Each region imparts its own character in its wines, partly because each region has its own indigenous grape varieties. That said, there is one common factor in many quality Portuguese wines... Blending.
Some of the wines we recommend below are mono-varietal but as a rule of thumb, Portugal is about blends. As a wine drinker, this is good for you in a couple of ways. First, it means you don't have to worry too much about learning the local varieties - the region of origin is far more important in helping you figure out the wine styles you like. And second, well-blended wines typically offer great consistency in quality, so once you know what you like, you can happily return to it again and again. 
What are the main Portuguese wine regions?
Vinho Verde
Map available from https://www.cellartours.com
In the rainy northwest Atlantic corner of Portugal lies the country's most famous white wine region. Vinho Verde is the traditional home to light, fresh, low-alcohol, seafood-loving whites typically finished with a puff of CO2 before bottling to leave a delicate spritz on the tongue when drunk. Nowadays, more premium styles are also made, with the focus on the Alvarinho grape (known as Albariño just across the Spanish border to the north).
The map above shows the many subregions of Vinho Verde. Each of these brings different soils and climatic influences to the grapes grown there, offering either more options for blending or the potential for more expressive single-varietal wines.
Here are two textbook examples of the easy-drinking and premium styles of Vinho Verde wines available in the Butler's range.
Raza Vinho Verde Escolha 2019 (£9.99)
This all-time customer favourite is great fun... and dangerously easy to drink. It's 11.5% abv and comes with a few grams of residual sugar for added weight and quaffability. Great food wine too - perfect with oily fish or a salad, and tackles spices well.
Soalheiro Alvarinho 2020 (£18.99)
This is a very different beast from most Spanish Albariños, although it's equally delicious with seafood. It has the same base notes - citrus, stone fruits and pure minerality - but with the volume dialled up to 11. There's something riper and more exotic in here too, with a beautifully rounded mouthfeel. Well worth splashing out on. 
Douro
The home of Port is the largest wine-producing region in Portugal, and has been turning out quality dry wines since the early 1980s. The Douro is a warm inland region with some really hot areas to the east, so it's particularly adept at big, full-bodied, tannic reds. However, there are also some great white wines coming out of the region's high-altitude vineyards.
The Douro is also home to one of our favourite Portuguese winemakers - the legend that is Dirk Niepoort. Here's a pair of Dirk's wines bottled under the Drink Me label, inspired by Alice In Wonderland and created to showcase the fun, easy-drinking side of Douro wines.
Niepoort Drink Me Tinto 2019 (£13.99)
This is a red Douro blend that melds depth, weight and complexity with crunchy red fruit flavours and refreshing minerality. Open a bottle and see why it continually flies off the shelves here at Butler's, especially during BBQ season.
Niepoort Drink Me Branco 2019 (£13.99)
The white version of Drink Me is all about balance and complexity, just like the red. It has a lovely citrus, floral and stone fruit nose, leading on to a palate of juicy peaches with a very long, refreshing and slightly salty finish.
Bairrada
To the south of Vinho Verde and the west of Dão lies one of Portugal's most exciting and experimental wine regions in Bairrada. A significant part of its reputation for innovation is built on the work of two generations of one Bairrada wine family - the legendary Patos.
Luis Pato is a proper maverick, known mainly for championing Bairrada's signature grape variety Baga and bringing the precision mindset of a chemical engineer to his work in the vineyard. His daughters Filipa and Maria-João have taken Pato radicalism to the next level, becoming two of Portugal's best-regarded producers of biodynamic and natural wines.
Luis Pato Vinhas Velhas Branco 2019 (£16.49)
This is a fiendishly complex white blend of old-vine Bical, Cercial and Cercialinho from vineyards near the coast in Bairrada. The way it drifts between honeyed ripeness and elegant freshness is really quite remarkable. And its best days are yet to come - this wine will continue to age gracefully for well over a decade. 
This funky, defiantly cloudy natural wine is an amalgamation of traditional and hyper-modern winemaking techniques. The Bical grapes are fermented in French oak using native yeasts, then bottled without filtering. Yet the zesty lemon peel, herbal and mineral flavours are so so precise. A spec-quackular Bairrada wine!
Nat'Cool Drink Me Baga 2020 100CL (£19.99)
Dirk Niepoort has established a natural wine movement, Nat'Cool, that started out in the Douro but has now spread across Portugal and beyond. This is from his Bairrada outpost. It's a brilliantly easy-drinking take on the region's Baga variety, bursting with berries and even fresher when served lightly chilled. 
Setúbal

Immediately south of the capital Lisbon is Península de Setúbal, a wine region traditionally known for sweet, fortified Moscatel de Setúbal wines. However, as in so many other areas of Portugal, Setúbal is now home to many brilliant dry wines - big, full reds made from Castelão, Touriga Nacional, Aragonez, Cabernet Sauvignon and Merlot, and crisp, clean whites from Fernão Pires, Arinto, Verdelho and Alvarinho.
SIVIPA Serra Mae 2015 (£14.99)
SIVIPA is one of Portugal's top cooperatives (a group of growers who pool their resources to make and bottle their wines under a collective label). This bright, juicy wine is probably our favourite wine from their range. It's made from 100% Castelão grapes grown on free-draining, sandy soils then fermented and aged in concrete vats using native yeasts. So fresh and delicious.
Alentejo
In the heart of southern Portugal is a hot, dry inland wine region making big, warm, spicy reds, as well as interesting whites in the cooler, higher sites to the north. We're particularly fond of the redsof Alentejo, which showcase to perfection the quality and value that Portuguese wines from this region consistently offer.
Peter Bright, the highly regarded Aussie winemaker behind the Terra d'Alter label, has been making wines in Alentejo since 1982. ALF is Peter's take on Pinot Noir - the variety Alfrocheiro is most often compared to. It's lovely and soft, packed with red berries and finishes with a warming lick of spice. A real crowd pleaser that shows the value for money Portugal regularly delivers. 
--
We hope this has been a useful taster of the many and varied wines of Portugal. It's a country definitely worth exploring further, as the level of consistency in its wines means pleasant surprises are always around the corner and bad bottles are very few and far between. 
If you have any questions about the Portuguese wines in our range, please don't hesitate to get in touch. As ever, your trusty Team Butler is here with the answers!