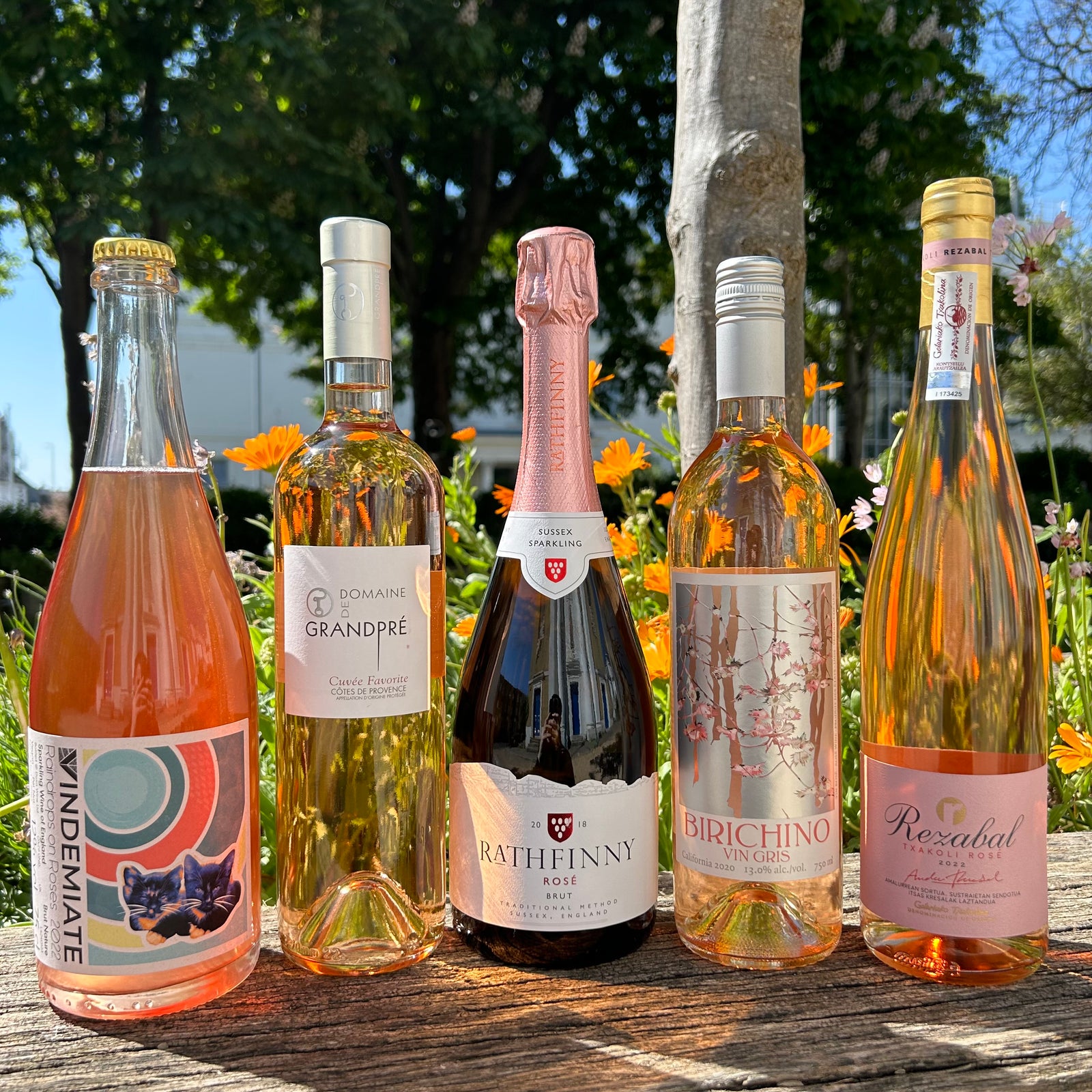 When it comes to refreshing and vibrant wines, nothing quite compares to the delightful pink hues of a well-crafted rosé. Rosé wine has gained immense popularity in recent years, and for good reason. It offers a unique combination of flavours, a versatile production method, and a perfect accompaniment to warm summer days. Throughout this post we will share with you some of our top picks to suit any palate or occasion.
Rosé wine has a rich and intriguing history that spans centuries. Its origins can be traced back to ancient winemaking traditions in the Mediterranean region. The Greeks and Romans were among the first to produce rosé-like wines by allowing grape skins to come into contact with the juice for a short period. In the 14th century, the French wine region of Provence became renowned for its production of pale, dry rosé wines. It was during the 18th century that the popularity of rosé started to spread across Europe, with French rosé wines being highly sought after by nobility and aristocracy. Over time, rosé wine production techniques evolved, and different regions around the world began embracing this style of winemaking. Today, rosé continues to captivate wine enthusiasts globally, with an ever-growing range of styles and flavours.
Domaine Grandpre Cuvee Favorite Rose 2022:
This is a delightful expression of a classic rosé. Crafted with care and precision, the vineyards are interspersed with the estates olive trees and beehives and the vines are farmed organically with very little sulphur used in production. They harvest the fruit very early in the morning, when there is a chill in the air, which preserve freshness and minimises oxidation. This wine showcases a beautiful pale pink hue and exudes an elegant bouquet of fresh red berries and floral notes. On the palate, it offers a crisp acidity and a delicate balance of flavours, including ripe strawberries, citrus zest, and a hint of minerality. This rosé is a perfect companion for warm summer days, picnics, and light seafood dishes. With its vibrant character and well-structured profile, this instantly recognisable Provence style is a no-brainer.
The magic of Rosé is all in the production, which revolves around maceration, where red grape skins remain in contact with the juice for a shorter period compared to red wine production. This process gives rosé its distinctive pink colour. The skins are removed earlier to avoid deep pigmentation, resulting in a lighter wine. Winemakers carefully monitor the maceration time to achieve the desired hue, flavours, and aromas.
This is a unique and vibrant expression of rosé from the Txakoli region in Spain's Basque Country. Senor and Senora Rezabel are originally folk singers, but their family history lies in winemaking so they abandoned singing to focus on producing wine and we are grateful they did. Made predominantly from the local Hondarrabi Beltza grape variety, this rosé boasts a brilliant pink colour and offers an aromatic bouquet filled with notes of fresh red fruits, green apple, and a touch of herbal essence. On the palate, it surprises with a lively and crisp acidity, coupled with flavours of wild berries, citrus, and a hint of saline minerality. The Rezabal Txakoli Rosé 2022 is a perfect choice for those seeking a refreshing and slightly effervescent rosé that pairs harmoniously with Basque cuisine, seafood, and tapas.
One of the most appealing aspects of rosé wine is its versatility. It bridges the gap between red and white wines, offering a unique flavor profile that can complement a variety of dishes. Its lighter body and acidity make it a refreshing choice during warm weather. Rosé can be an excellent alternative for those who find red wines too heavy or white wines too light. It strikes a delicate balance, delivering a crisp and refreshing taste that is perfect for both casual gatherings and elegant occasions. There is a rosé out there to suit everyone and we are always on hand to help you along the way.
A captivating rosé hailing from California's Central Coast. Birichino was founded in Santa Cruz in 2008 by Alex Krause and John Locke who each bring a combined forty years of winemaking experience in California, France, Italy and beyond. Crafted from a blend of heritage grape varieties with a focus on minimal intervention, this wine showcases a pale salmon colour and entices the senses with its aromatic notes of juicy watermelon, wild strawberries, and hints of citrus zest. On the palate, it offers a refreshing acidity and a harmonious balance of flavours, including fresh berries, peach, and a touch of herbal undertones. The Birichino Vin Gris Rosé 2020 is a versatile and easy-drinking rosé, perfect for casual gatherings, outdoor picnics, or simply enjoying a glass on a sunny afternoon.
Rosé wine and summer go hand in hand, forming a perfect union of flavours and atmosphere. The vibrant pink colour of rosé evokes feelings of joy, sunshine, and relaxation. Its lively and fruity character makes it an ideal choice for outdoor picnics, barbecues, and beachside gatherings. The refreshing nature of rosé, coupled with its ability to pair well with a wide range of summer dishes, such as grilled seafood, light salads, and fresh fruits, adds to its charm. Sipping a chilled glass of rosé on a sunny patio or by the pool is an experience that captures the essence of summer in every sip.
We wouldn't be Butler's without dropping in a local sparkling. This is an elegant sparkling rosé from Rathfinny, one of our favourite Sussex producers. This incredible 2018 vintage is crafted using the traditional method and showcases a delicate salmon-pink hue. An enticing nose filled with aromas of red berries, brioche, and a hint of floral essence. On the palate, it offers a fine mousse and a rich, creamy texture, with flavours of ripe strawberries, cherries, and a touch of toasty complexity. The Rathfinny Rosé Brut 2018 combines the freshness and vibrancy of a rosé with the refined elegance of a traditional sparkling wine, making it a perfect choice for celebrations and special occasions.
Vindemiate Raindrops On Roses 2022 Pét Nat:
Another local star and something a little different this wine is a unique and playful expression of rosé made using the ancestral method. Vindemiate are all about exploring expression through low intervention and preserving the harmony of our natural world. This unfiltered and naturally sparkling wine presents a beautiful coral-pink colour, reminiscent of a summer sunset. Bursting with aromas of fresh berries, citrus blossoms, and a hint of earthiness, it captivates the senses. On the palate, it offers a lively effervescence, a zesty acidity, and flavours of strawberries, pomegranate, and a touch of herbal undertones. Vindemiate Raindrops On Roses 2022 Pét Nat is a versatile and refreshing choice for those seeking an adventurous and joyful rosé experience. Enjoy it chilled, and let the tiny bubbles dance on your tongue, adding a touch of whimsy to any occasion.
Rosé wine has carved a unique place in the world of wine lovers. Its production method, which allows for creativity and experimentation, results in a wide array of flavours and colours. Rosé serves as a versatile alternative to both red and white wines, providing a refreshing and balanced taste. With its undeniable association with summer, rosé adds a touch of elegance and enjoyment to any outdoor gathering. So, as the temperatures rise and the sun shines brightly, raise a glass of rosé and savour the delightful essence of summer in every sip. Discover our full range online or drop by our Kemptown shop and chat with a member of staff.