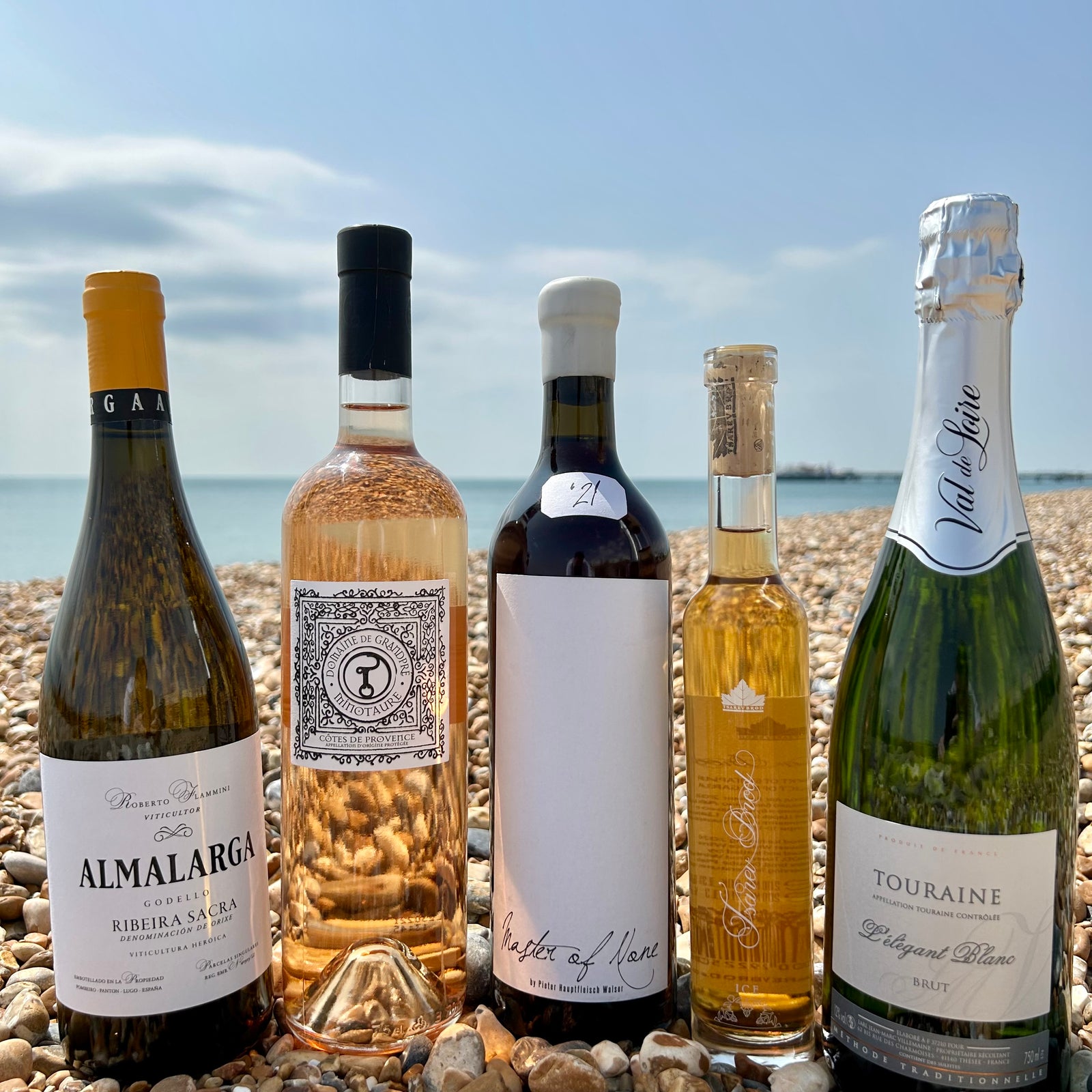 It's finally here!
Summer is synonymous with outdoor festivals, music-filled days, and a vibrant atmosphere that embodies the essence of joy and celebration. As the sun shines brightly and the temperatures rise, it's time to embrace the festival vibes and elevate your summer experience with the perfect wine selections. At Butler's we have everything you need to experience the magical fusion of summer and wine. We have the absolute best recommendations for wines that perfectly complement those sun-kissed moments of joy and relaxation.
When it comes to summer wines, nothing beats the crisp and refreshing qualities of white wines. Opt for vibrant varietals such as Sauvignon Blanc, Pinot Grigio, or Vermentino. These wines typically boast zesty citrus notes, subtle herbaceous undertones, and a delightful acidity that provides a palate-cleansing effect. We have a lesser-known alternative if you fancy stepping out of the box; Alma das Donas Almalarga Godello 2021, a captivating white wine that beautifully showcases the unique character of Godello, a grape variety native to the Northwestern region of Spain. With a vibrant and pale-yellow colour, this wine entices the senses with its aromatic bouquet of citrus fruits, green apple, and delicate floral notes. On the palate, it offers a refreshing and well-balanced experience, with crisp acidity and a medium body. The flavours of ripe pear, zesty lemon, and hints of minerality intertwine harmoniously, leading to a long and satisfying finish. Pair with fresh seafood, light salads, or simply enjoy it on its own as you bask in the sun during a music festival.
Rosé has become the ultimate symbol of summer, with its delightful pink hue and versatile flavour profile. Embrace the festival vibes with a glass of chilled rosé in hand. Look for dry or off-dry styles that showcase a balance between fruity notes, floral aromas, and a crisp finish. One of our favourite recommendations is Domaine Grandpre Cuvee Minotaure 2022.  From the Provence region in France, the vines are grown on garrigues soil, which is quite rough terrain, so the vines must work hard, this results in concentrated fruit. The vineyards are interspersed with the estate's olive trees and beehives and the vines are farmed organically, with very little sulphur used in production. They harvest the fruit early in the morning, when there is a chill in the air, this helps preserve freshness and minimises oxidation. The fruit is chilled, macerated for a short period of time and allowed to rest on its lees. Notes of raspberry and pomegranate on the nose. Nicely rounded dry, summer fruit flavours with a soft minerality. Whether you're enjoying a picnic, dancing to live music, or mingling with friends, a well-chilled rosé will effortlessly enhance the festive ambiance.
While red wines might not be the go-to choice for hot summer days, certain red varietals offer a vibrant and refreshing experience. Explore lighter-bodied reds like Beaujolais, Grenache, or Dolcetto. These wines exhibit juicy red fruit flavours, gentle tannins, and a pleasant acidity that makes them ideal for outdoor summer festivities. One of our favourites is Blank Bottle Master of None 2021. This is wine maker Pieter Walser's answer to Cru Beaujolais, it's super bright and juicy, bursting with wild strawberry, cherry and with an earthy, smoky undercurrent. A madcap blend of Grenache, Cinsault, Pinot Noir and Pinotage, with 16% white grape varieties blended in too. A fun style of red perfect for summer and sharing with friends. Serve slightly chilled and enjoy their lively character alongside barbecued dishes or charcuterie boards.
No celebration is complete without a touch of effervescence, and summer get togethers are no exception. Sparkling wines bring a sense of elegance and festivity to any occasion. Opt for a traditional method sparkling from Sussex, a lively Prosecco, or a vibrant Cava to add a touch of sophistication to your summer revelries. We can't get enough of Touraine Domaine Jeremy Villemaine L'Elegant Blanc Sec, a stunning sparkling wine from the Loire. With a pale golden hue and a fine, persistent effervescence, it immediately catches the eye. The nose is greeted with delicate aromas of white flowers, citrus blossoms, and hints of green apple, offering a refreshing and inviting bouquet. On the palate, the wine unfolds with precision and balance, revealing flavours of crisp pear, lemon zest, and a touch of minerality.  Enjoy as an aperitif, pair with light canapés, or raise a glass during those magical festival fireworks.
For those seeking a touch of sweetness to accompany the carefree summer vibes, explore dessert wines or off-dry selections. Moscato d'Asti, Late Harvest Riesling, or a luscious Tokaji can be the perfect indulgence during a summer festival. These wines offer vibrant fruit flavours, honeyed notes, and a refreshing touch of sweetness that pairs beautifully with fresh fruits, creamy desserts, or artisanal cheeses. A fan favourite at the shop is Tsarev Brod Ice Riesling 2018. A fantastic discovery from Bulgaria it is 100% Riesling - The grapes are picked at the end of December in a semi-iced condition. They are then frozen completely, in order for the water in the grapes to be locked in and only the concentrated grapes' must to be extracted for fermentation after gentle pressing. After fermentation the wine is aged for 12 months in used French oak barrels. Beautiful golden colour with amber hues sophisticated and very tempting aromas of fig jam, dried flowers, raisins and orange peel. Amazing balance between the sweetness and the acidity and a lovely long finish with notes of bee wax, honey and acacia.
Summer festivals provide an opportunity to immerse ourselves in the energetic and uplifting spirit of the season. By selecting the right wines, we can enhance these magical moments, allowing the flavours to create lasting memories. Whether you're basking in the sun, swaying to live music, or indulging in delectable bites, these wine recommendations will effortlessly elevate your summer experience. So, gather your friends, embrace the festival vibes, and let the delightful summer wines make it the best one yet!