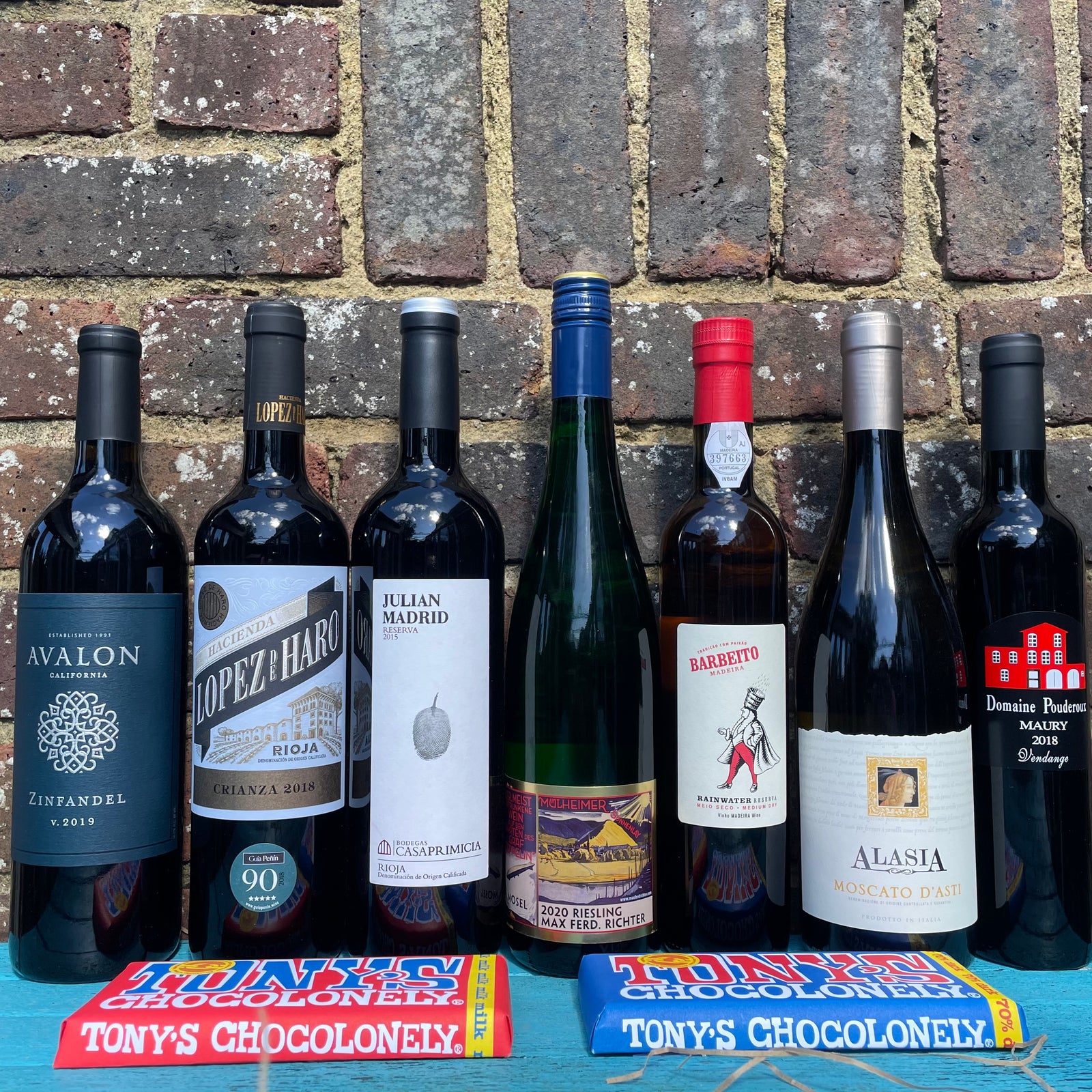 No doubt about it, it's a delicious time of year. With spring taking hold, not only is there a whole new season of freshness waiting to tempt your tastebuds, but we're also on the countdown to Easter.
That means sweet treats aplenty. Luckily for you, we've had a rummage in the Butler's cellar and come up with a selection of pitch-perfect partners for seven Easter classics. And not an egg pun in sight - that yolk isn't runny any more.*
Without further ado, let's get cracking.**
Drink with roast lamb: Rioja
The classic wine pairing for the traditional Easter Sunday roast. Succulent spring lamb needs a red that can slice through the richness of the meat and the natural acidity of Spain's signature Tempranillo grape is the ideal candidate. We're recommending a couple of Riojas - one affordable fan favourite and something more premium if you fancy pushing the boat out.
One of our top-selling Riojas, this is the smooth, fruity, youthful side of Rioja. 'Crianza' is an ageing term, meaning the wine has spent up to 18 months maturing in oak. That gives it a fine balance between ripe dark fruits and oaky flavours like coffee and vanilla. The tannins are lovely and gentle and it's deliciously creamy in the mouth. If you're serving your lamb pink with fresh herbs and/or spring vegetables, this is a great shout.
Rioja Reserva is Crianza's older sibling, spending longer in oak and, if you choose wisely, made from better-quality grapes. This example, from one of Spain's oldest wineries, is a very wise choice indeed. With Cabernet Sauvignon joining Tempranillo in the blend, it's a level up in terms of elegance and complexity.
Expect firm tannins, layers of black cherries and plums and a hint of smokiness. If you're going for the robust flavours of a big joint of lamb with all the trimmings, a bottle of this is definitely worth splashing out on.
Drink with hot cross buns - Riesling
Fruity, spicy, honeyed, moreish. Are we talking about the wine or the hot cross buns? Both, of course: that's what makes this such a dream pairing! The wine is a high-class Riesling from a top vineyard in the grape's spiritual heartland in Germany's Mosel region.
Citrus, apricot and apple notes ping off all the fruits in the bun, a lick of spice complements those cinnamon and clove flavours and the gorgeous zing of acidity will leave your mouth fresh however much butter you like to slather on. And it's only 10.5% ABV, so you could even have a glass with breakfast. You may as well, Bank Holiday weekend and all that.
Drink with milk chocolate - Maury
Here's a wine to turn any Easter Egg into a proper grown-up treat. It's a silky sweet red Vin Doux Naturel from the French foothills of the Pyrenees, chock-full of luxurious red berry flavours. It's medium-bodied, so a bit lighter than Port, but it's still wonderfully warming and sumptuous. Pop a bit of milk chocolate on your tongue and take a sip. We guarantee you'll go back for more!
Drink with dark chocolate - Zinfandel
Quality dark chocolate and velvety dark fruits: what a combo! This classic Zinfandel from California's Lodi region is big, expressive and super-approachable. It has ripe tannins to complement dark chocolate's bitter edge, while the ripe, round fruit flavours linger long on the oh-so-smooooooooth finish. A decadent pairing to curl up on the sofa with one Easter evening.
Drink with any chocolate - Rum
Given that rum is fermented from sugarcane or molasses, it makes complete sense that it matches up well with chocolate. As a rule of thumb, darker rums go with dark chocolate, paler rums with the lighter stuff. However, this amber-gold molasses-based rum is a brilliant allrounder. 
It actually smells of cocoa powder, along with allspice and toasted hazelnut. Those nutty notes follow through on to the palette, joined by marmalade, praline and toffee apples. So it's versatile enough to drink with dark or milk chocolate, plain or infused, fruity or caramel-filled. Rum with added yum.
Drink with Easter simnel cake - Rainwater Madeira
Easter isn't Easter without a slice of spiced-fruit simnel cake. And simnel cake isn't simnel cake without a glass of Madeira next to it. It's a massively overlooked fortified wine that comes in a huge range of styles - maybe that's one of its problems. But fear not, for we have picked out a winner for you here. 
Rainwater is a medium-dry style of Madeira and this one is so interesting. The moderate sweetness is balanced by good acidity, the nuts'n'caramel palette work a treat with marzipan and it has this slightly spicy, herbaceous edge that will go wonders with the warming spices in the cake. 
Drink with a Creme Egg - Moscato d'Asti
Creme Eggs are great, but with all that gooey fondant it's hard to eat one without the word 'cloying' popping into your head at some point. Here's the antidote, in the shape of the world's most perennially underrated sweet wine.
Let's cut to the chase: like Creme Eggs, Moscati d'Asti is FUN. It's gently sparkling, it's sweet and it bounces along on aromas of honeyed apricots, fresh grapes and flowers. So its flavours cosy up nicely with the innocent joy of a Creme Egg. But this Moscato also has a secret weapon - a zippy jolt of acidity that will de-clag your mouth in no time. That isn't an excuse to eat a second one...
--- 
So there you have it. Lots of fun combinations to try and maybe one or two new wines to get your tastebuds round. We hope you enjoy them and have a great Easter!
---
Pun-pologies:
* Sorry, had to get it out of our system
** Yeah, that one too