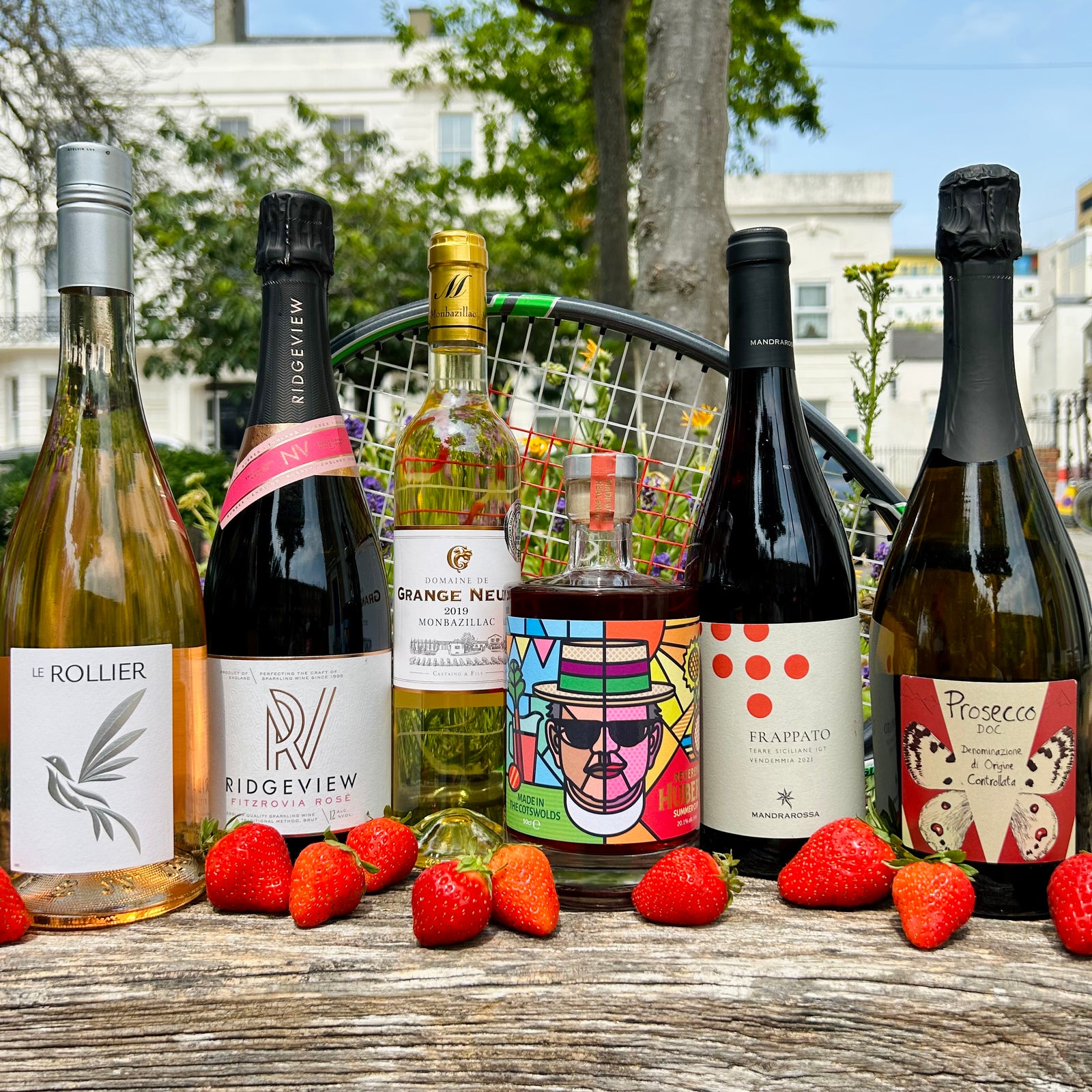 Wimbledon, the oldest and most prestigious tennis tournament in the world, is not only a thrilling sporting event but also a delightful celebration of British summertime traditions. As tennis fans gather to witness the fierce competition on the grass courts, there's so much more fun to be had off the court. A timeless tradition enjoyed alongside the tennis is beautifully ripe strawberries. These can be enjoyed in a myriad of ways and one of our favourites is pairing them up with a great glass of wine, luckily at Butler's we have a huge range of styles that make it impossible to not find your perfect match. So, let's raise our glasses and toast to Wimbledon, strawberries, and the joy of savouring these heavenly combinations!
When it comes to sweet wines, Monbazillac, a French gem from the Southwest region, shines with its golden hue and enchanting flavours. Crafted from a blend of Sémillon, Sauvignon Blanc, and Muscadelle grapes, Monbazillac boasts rich honeyed notes, luscious apricot, and exotic fruit flavours. The intense sweetness of this wine effortlessly complements the vibrant sweetness of strawberries, creating a harmonious pairing that dances on your palate. With Monbazillac's complex and balanced profile, it's a delightful choice to accompany the excitement of Wimbledon. One of our favourites is Domaine de Grange Neuve Monbazillac 2018 from Bergerac.
As the summer sun shines down on the Wimbledon courts, a refreshing beverage becomes essential to quench your thirst. Enter the Summer Cup, a delightful British tradition that combines fruits, herbs, and spirits in a refreshing concoction. Summer Cup often includes ingredients like gin, lemonade, and an assortment of fruits, such as strawberries, cucumber, and citrus slices. This light and effervescent drink pairs perfectly with strawberries, providing a zesty and invigorating experience that's perfect for enjoying the spirited rallies and graceful shots at Wimbledon. Our absolute favourite in this style is Reverend Hubert Summer Cup 50cl 20.1%. Originally made in 1904 by Reverend Hubert using prizewinning fruit from the vicarage garden for his congregation's Christmas party and summer village fete. These recipes have been improved by his great-grandson Thomas Lester. Prepare a refreshing Summer Cup cocktail by combining Reverend Hubert's with lemonade, a splash of gin, and garnishing it with sliced strawberries, cucumber, and citrus fruits. The cocktail's vibrant flavours and cooling effect will perfectly complement the juicy strawberries.
No celebration is complete without a touch of effervescence, and Prosecco is the perfect choice to add sparkle to your Wimbledon experience. Hailing from the Veneto region of Italy, Prosecco is a crisp and refreshing sparkling wine with delicate flavours of green apple, pear, and floral notes. Its fine bubbles and lively acidity create a palate-cleansing effect, making it an ideal partner for the juicy sweetness of strawberries. Sipping on a glass of Prosecco while watching a thrilling match is a sophisticated way to elevate your Wimbledon experience to new heights. We have a great range of stunning Proseccos that we recommend including Cantina di Gambellara V Valfonda Prosecco NV from the first ever cooperative winery in the province of Vicenza, established in 1947.
Additionally, when it comes to celebrating Wimbledon with a local touch, we cannot overlook the charms of Sussex sparkling Rosé. The rise of English sparkling wines has been remarkable, and Sussex has emerged as a prime region for producing exceptional sparkling Rosé. With its vibrant pink hue and delicate bubbles, Sussex sparkling Rosé offers enticing aromas of red berries, hints of citrus, and a crisp, refreshing palate. When paired with the juicy sweetness of strawberries, this delightful wine creates a perfect balance, enhancing both the fruit's flavours and the wine's elegant profile. Including a glass of Sussex sparkling Rosé like Ridgeview Fitzrovia Rose NV alongside a bowl of Wimbledon strawberries is a celebration of the tournament's heritage and the flourishing English wine scene. It's a toast to the marriage of local excellence and the quintessentially British tradition of strawberries and tennis.


For those seeking a taste of the Mediterranean while enjoying the excitement of Wimbledon, a Mediterranean rosé is an excellent choice. Rosé wines from this region exude the essence of sunny beaches and coastal bliss. Mediterranean rosés showcase a pale pink hue, delicate aromas of fresh fruits, and a crisp, dry profile that makes them incredibly refreshing on a warm summer day. When paired with the vibrant sweetness of strawberries, the Mediterranean rosé's fruit-forward notes and bright acidity create a delightful harmony. This combination transports you to sun-kissed terraces and adds a touch of Mediterranean flair to your Wimbledon experience. Sipping on a glass of Mediterranean rosé like Estandon le Rollier IGP Mediterranee 2022 while cheering for your favourite player is a delightful way to infuse the tournament with a taste of the Mediterranean.
If you're seeking a unique and intriguing wine to accompany your Wimbledon experience, look no further than Mandrarossa 'Costadune' Frappato. Hailing from the sunny island of Sicily, this red wine showcases the distinctive Frappato grape variety. With its vibrant ruby colour and enticing aromas of red cherries, raspberries, and floral undertones, Frappato offers a light to medium-bodied palate with soft tannins and a lively acidity. The wine's fruity and floral notes make it a fascinating choice to pair with the sweetness of strawberries. The combination creates a unique blend of flavours, where the wine's bright red fruit characteristics enhance the succulence of the strawberries especially when chilled. Adding a bottle of Mandrarossa 'Costadune' Frappato to your Wimbledon picnic or viewing party is sure to impress with its Sicilian charm and an unexpected twist on the classic wine and strawberry pairing.
As the Wimbledon tournament unfolds, there's no better way to immerse yourself in the spirit of this iconic event than by savouring the iconic combination of strawberries and fine wines. Whether you choose the honeyed elegance of Monbazillac, the refreshing twist of a Summer Cup cocktail, or the bubbly charm of Prosecco, these wine pairings elevate the experience of indulging in the luscious sweetness of strawberries. So, let's toast to Wimbledon's legacy, the thrill of tennis, and the exquisite symphony of flavours that strawberries and wine create together. Cheers!