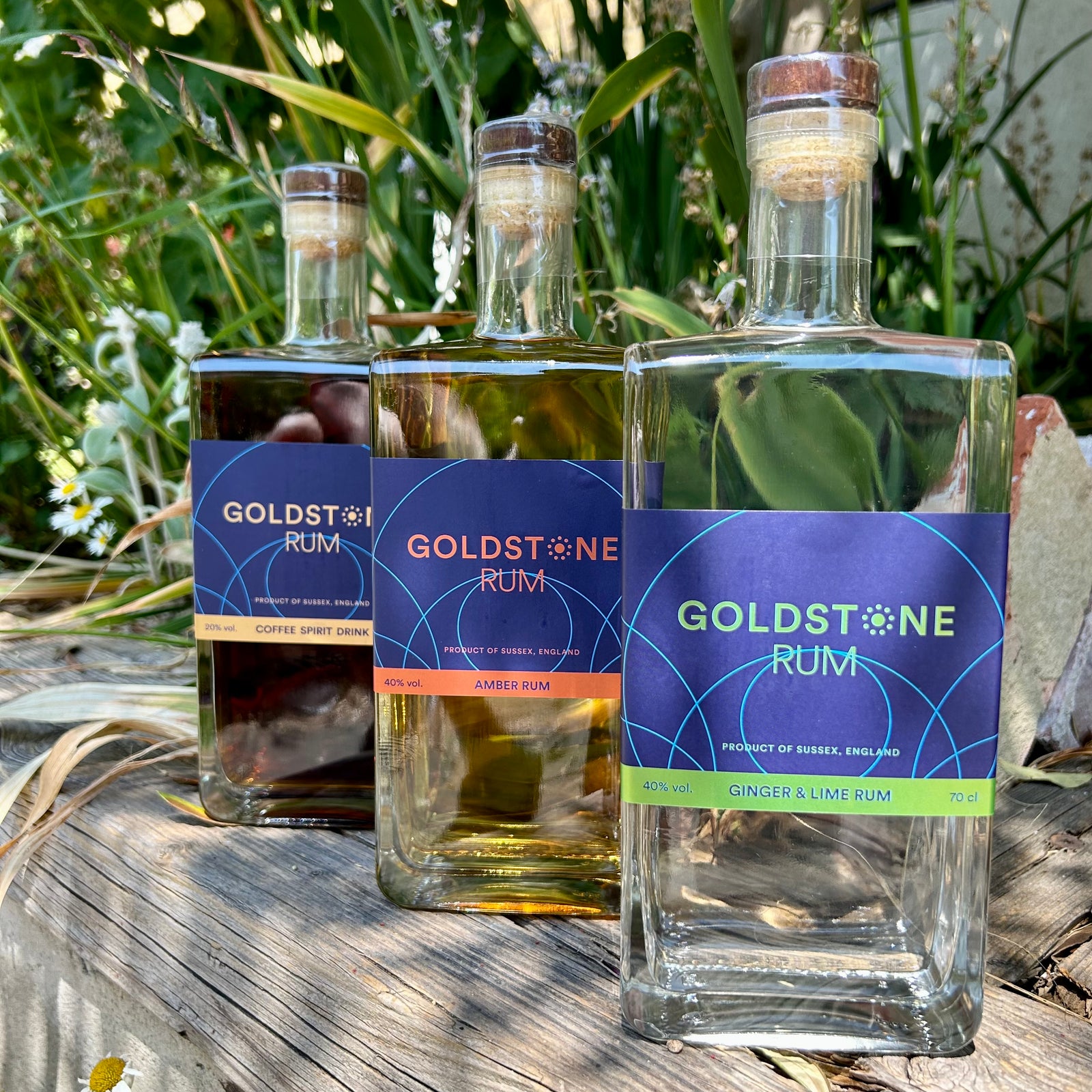 We are excited to introduce you all to an excellent new Rum producer based right here in Sussex!
A product of the Coronavirus quarantine, Goldstone Rum is an innovative family project from budding distillers John and Georgina. During the depths of a challenging lockdown, John and Georgina found themselves yearning for a more creative and fulfilling path. Tired of their corporate jobs, they aspired to break free and embark on an adventure that would grant them the freedom to nurture their creativity and spend quality time with their young family. Through countless late-night discussions and a whirlwind of ideas, they refined their vision and birthed Goldstone Rum, a testament to their newfound entrepreneurial spirit.
If we rewind 12 years, we'll find John, a classically trained chef, who has always possessed an unwavering passion for the world of food and drink. With a penchant for pushing boundaries and perfecting recipes, he spent hours in the kitchen honing his craft. On the other hand, Georgina, a marketing whizz, spent 13 years strategically promoting some of the UK's most renowned brands. Having grown up in a family-owned pub, she understands the inner workings of the drinks industry, witnessing first-hand what it takes to thrive in the field. Now, as a mother of two young daughters, she yearns to demonstrate the importance of daring to dream, embracing change, and taking leaps into the unknown.
Filled with enthusiasm, Georgina and John are eager to introduce their unique offerings to the rum market. Their products stand apart from the rest, offering an unparalleled experience. They firmly believe in doing things the right way, meticulously crafting their rum using top-quality ingredients in a Sussex distillery nestled amidst the scenic foothills of the South Downs. If you appreciate locally produced, artisanal goods crafted to the highest standards, then Goldstone Rum is the perfect choice.
We are lucky enough to be stocking a selection of some of their exciting beverages, below is a description of the styles and some delightful drink ideas for you to dive in to and really experience the spectrum of flavours these rums have to offer.
Ginger & Lime
This blew us away during our tasting! Goldstone have managed to take the classic Dark & Stormy and elevate it even further with this mouth-watering infusion. By taking fresh lime peel and freshly grated ginger then distilling the flavours into the rum, you are left with a great cocktail boosting rum or delicious on the rocks.
Authentic fresh lime and ginger give this rum a fresh and zingy flavour. Lime forward on the nose and palate with a lovely warm ginger zing on the back end. Takes all mixers well and works great over ice with a squeeze of fresh lime. 
Cocktail:         Pineapple & Ginger Daiquiri
A tropical twist on the classic
Method
STEP 1Make the sugar syrup by combining the sugar, coconut water and a thumb of peeled grated ginger in a saucepan on a low heat and stir until dissolved. Allow to cool.

STEP 2Combine the rum, pineapple juice and sugar syrup together in a cocktail shaker with ice. Shake well, strain and serve.
Ingredients
50ml Goldstone Ginger & Lime Rum ®
50ml pineapple juice
15ml ginger syrup
25ml coconut water
Juice of half a lime
Amber Rum
Double distilled using Nelmar (the name of their copper pot still) and a single run through a vapour infusion column to create a smooth, earthy rum with a hint of sweetness on the back end, great for cocktails or on its own over ice with a twist of lime. A beautifully clean style that is smooth and easy drinking.
Cocktail:          Dark & Stormy
A Caribbean classic with a refreshing ginger flavour.
Method
STEP 1Add the ingredients into a highball glass filled with ice, mix and serve with a wedge of lime.
Ingredients
50ml Goldstone Amber Rum
100ml ginger beer
The juice of half a lime
Coffee Rum
Working in collaboration with The Barista Project, Goldstone have carefully selected 100% fair trade arabica beans from Honduras and Colombia that create an elegant coffee which is blended with their white rum. The beans are classified as SHG (strictly high grown) which means they are grown over 1350 metres, coffee grown at high altitude and low temperatures produces a slower maturing fruit and denser beans create a deep and rich flavour.
As with all of Goldstone's products they don't use added sugars, flavours or syrups, just rum, coffee beans and vanilla beans. This gives the rum a lighter coffee note without being sweet and sickly. Elevates coffee-based cocktails to a new level of flavour and sophistication and is equally as good sipped over ice.
Cocktail:          Espresso Rumtini
A twist on the classic (try it with decaf if you're trying to be sensible)
Method
STEP 1:Add all ingredients into a cocktail shaker.
STEP 2:Fill with ice and shake vigorously.
STEP 3:Strain and serve.
Ingredients
50ml White Rum
50ml Coffee Rum
Double espresso
25ml sugar syrup