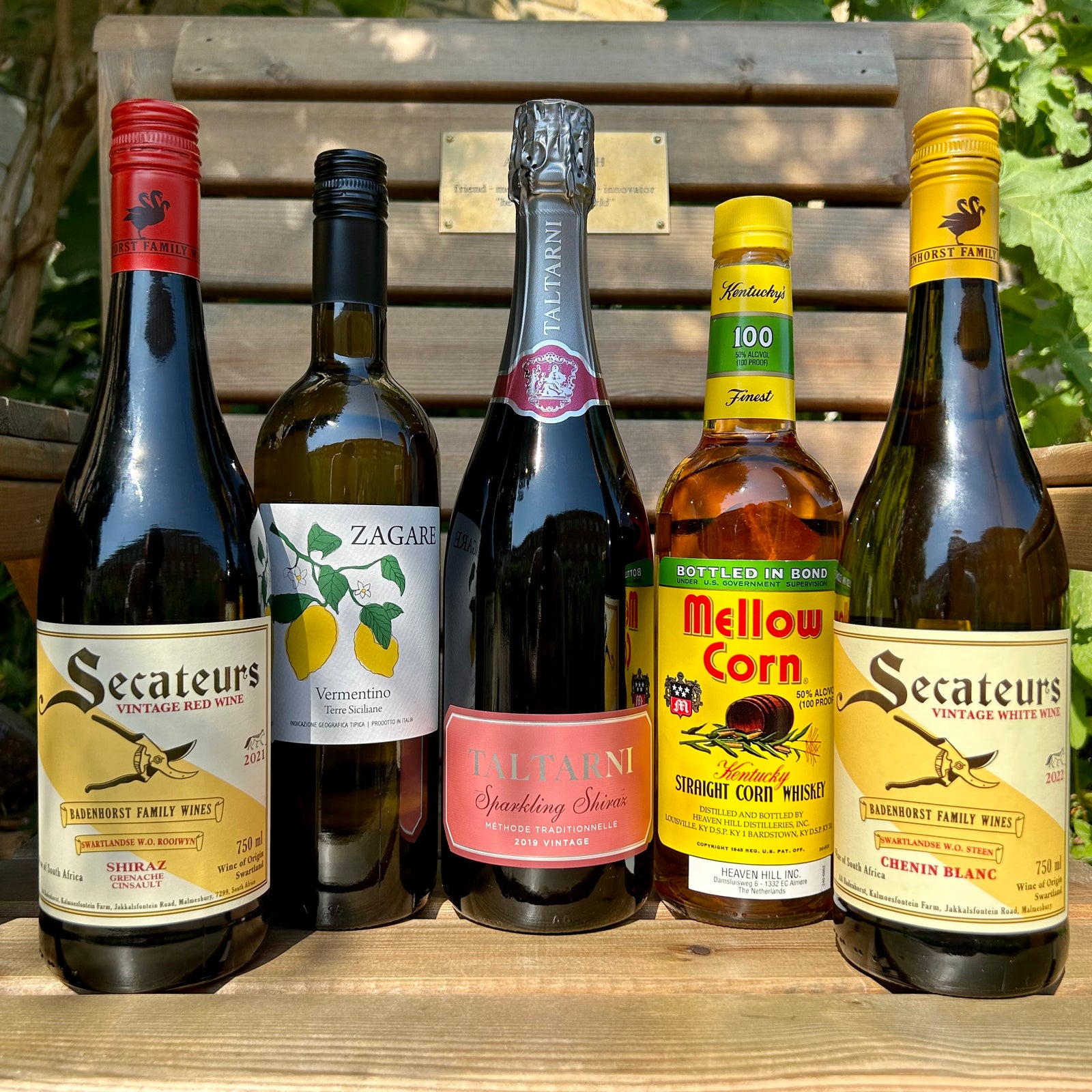 Summertime Madness
Summertime calls for outdoor adventures, basking in the sun, and indulging in memorable experiences. Whether you're hosting a garden party, going camping, or firing up the grill for a BBQ, there's no better way to elevate these summer activities than with the perfect wine pairings. In this blog, we're going to break down some of our favourite summer activities and give you some top-notch wine recommendations to make them unforgettable! So grab your glass and let's embark on a wine-filled journey through some classic sunshine past times.
 Garden Party
Nothing quite encapsulates the essence of a classic British summer quite like a garden party; the combination of tea, cake, and effervescent English fizz will instantly transport you into a stress-free world of fun and relaxation.
As the sun casts a warm glow over the blooming flowers, reach for a glass of Mary Delaney Chenin Blanc. The vines for this elegant white wine are grown in the Cederberg Mountain range in central South Africa. After fermentation, the wine is left on the fine lees in a mixture of stainless steel tanks and oak barrels for 9 months. Full of pear, citrus and stone fruit flavours, mouth-watering acidity and a mineral core. Its vibrant acidity and fruity notes of apple and pear perfectly complement the delicate flavours of a slice of cake. Raise a toast to the joys of summer as you savour the harmonious pairing of this enchanting wine with delectable treats.
For a powerful duo that will undoubtedly impress at any garden gathering we have some shop favourites from AA Badenhorst - A family run estate, owned by cousins Hein & Adi. Their family have over 50 years' experience in South Africa's wine industry, with their grandfather managing the iconic Groot Constantia. Their white and red Secateurs are made from the instantly recognisable Chenin Blanc and Shiraz and are both incredibly good value for money. The Chenin is full of pineapple and fresh green herbs with juicy lime on the nose, just gorgeous with a lemon drizzle finish. The Shirazhas gorgeous blackberry and apple compote with a tease of cinnamon and spice. It's juicy and nimble, but certainly not short on flavour. 
Camping
Escape the hustle and bustle of everyday life by embarking on a camping adventure in the great outdoors. Avoid the stress of airports and train stations, check ins and passports by creating your own little luxury getaway with a tent, some camping gear and of course some epic drink selections. After everything has been set up and you gather around the campfire, celebrate the serenity of nature with the Albourne MV Sussex Sparkling wine. Its crisp and refreshing character, combined with delicate bubbles, will create a sense of luxury amidst the wilderness.
As the night unfolds, indulge in the bold and captivating flavours of the Andreas Syrah 2019 from South Africa. With its intense aromas of blackberry, spice, and dark chocolate, this red wine will warm your soul as you revel in the peace and serenity of the outdoors.
For those seeking a different kind of indulgence, consider sipping on Mellow Corn Bourbon Whiskey. This smooth and flavourful
spirit, with its hints of vanilla and caramel, pairs perfectly with the rugged ambiance of a campfire gathering. Let the crackling flames and the rich whiskey transport you to a simpler time and create lasting memories under the open sky.
BBQ
Summer and barbecues go hand in hand, and finding the right wines to complement the smoky, charcoal flavours is essential. This is also a great opportunity to impress friends and family with memorable food and wine pairings, here are just a couple of examples to help you really wow the next time you fire up the grill. For those opting for an alternative to meat, a light and refreshing white like Zagare Vermentino is an excellent choice. With its zesty citrus notes and crisp acidity, this white wine acts as a refreshing palate cleanser while harmonizing with the charred flavours of BBQ fish. It's like a squeeze of lemon on the plate but in the glass!
When it comes to pairing wine with soft and succulent pork skewers or grilled earthy mushroom dishes, one of our favourite Spanish styles is the naturally made El Berrakin, turn to this versatile red wine for a combination of earthy flavours and the wine's fruit-forward profile which creates a delightful balance on the palate, highlighting the smoky and savoury elements of these meals.
To elevate your BBQ experience with steak and ribs, embrace the boldness of Taltarni Sparkling Shiraz. This Australian red sparkling wine offers rich notes of blackberry, chocolate, and spice, which amplify the succulent flavours of the meat. The fine bubbles add a touch of effervescence, creating a captivating contrast against the robust BBQ fare.
Summer is a season of joy, adventure, and exploration. As you immerse yourself in the sunshine, don't forget to enhance the experience with the perfect wine pairings. From garden parties with English fizz to camping trips accompanied by Bourbon and lively BBQ gatherings complemented by Vermentino and Sparkling Shiraz, these wines will make your summer moments truly unforgettable. So, embrace the warmth of the sun, the laughter of friends, and the clinking of glasses, and raise a toast to the beauty of summer!