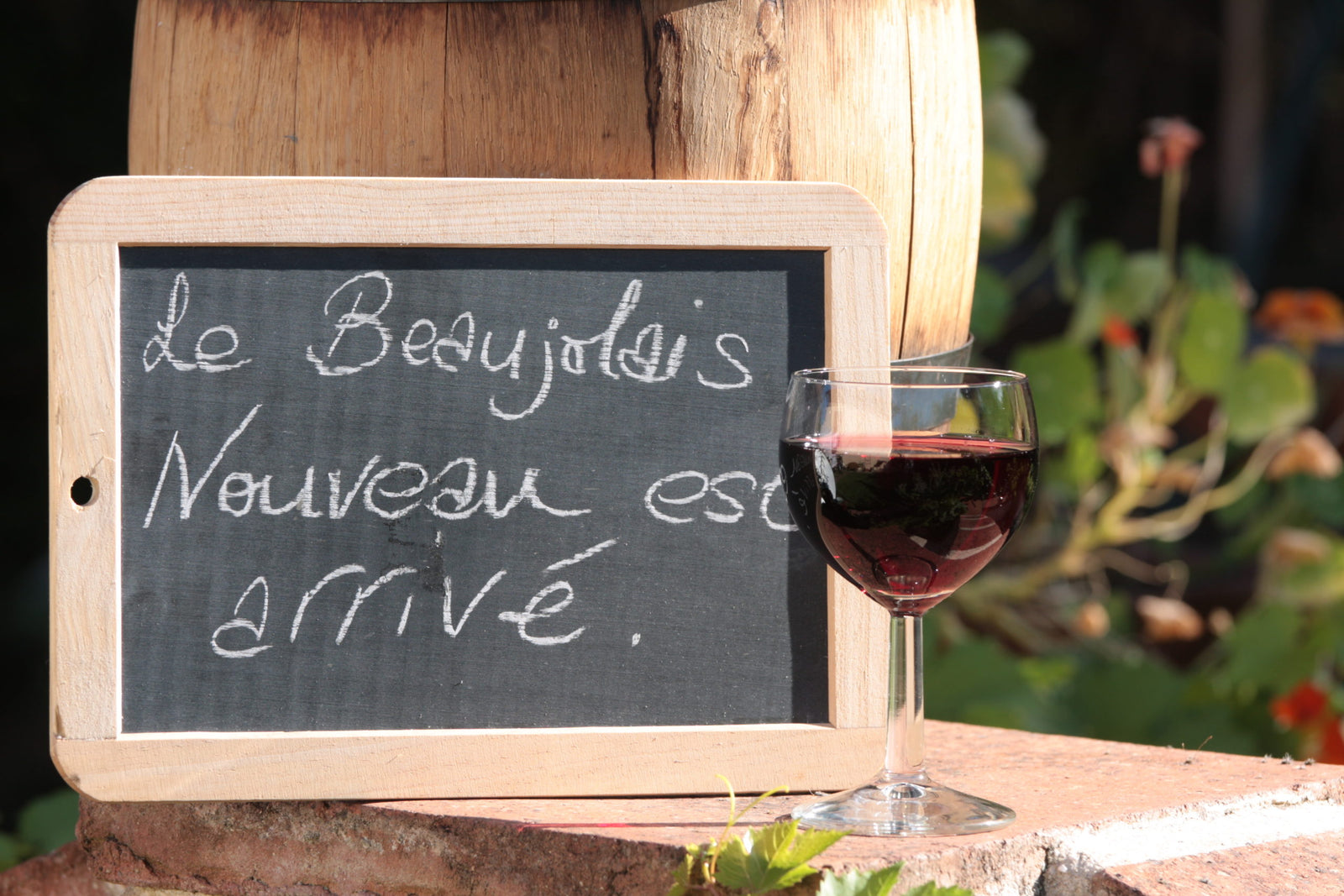 Beaujolais Day! Join us this Thursday to celebrate the worlds fastest wine.
Occurring annually on the third Thursday of November, Beaujolais Nouveau Day is something of an oddity in the wine world. Falling on the 17th November this year it is the celebration of the end of the harvest where new release wines picked that very month are enjoyed worldwide. 
Beginning as a welcome reward for vineyard workers to celebrate and unwind after working the harvest, the wines quickly spread throughout France and over the decades every corner of the globe was participating in Beaujolais Day with around 30 million bottles being shipped globally. If you find yourself in the region at this time of year you can participate in the 5 day festival celebrations that involve live music, local cuisine and of course barrels upon barrels of wine rolled throughout the streets straight from the vineyards.
Not to be taken too seriously the wine itself is fun and simple. Gamay grapes grown and handpicked in Beaujolais. Made in the classic Beaujolais style which involves the process of carbonic maceration and bottled just 6 to 8 weeks after harvest. This method gives you the wines distinctive character of light red fruits and expressive confectionary notes (think of the yellow bubblegum sweets from the shop) and produces a wine that is very low in tannin.
We have teamed up with winemakers Samantha Bailey & Guillaume Letang at Chateau de Belleverne to supply a limited release stunning Nouveau. Their Beaujolais Village Nouveau 2022 is 100% Gamay - Juicy, fresh and vibrant expression of the iconic Nouveau. By no means light and thin, it is bursting with character. It is vegan certified, it has bright cherry fruit, and candied notes, fans of this style will instantly be hooked! Great with charcuterie, sausages, vegetarian moussaka, grilled tuna and pork and duck.
If one Nouveau was not enough we have 2! 
Guy Breton is a revolutionary icon in the wine world. A Beaujolais native, born and raised, Guy has spoken openly about not feeling much passion for wine until he met the great late Jules Chauvet and fellow winemaker Marcel Lapierre in the early 80s and this lead to his obsession and love for Gamay. Together with a group of other winemaker friends, he embarked on a movement to change the winemaking landscape. They farmed their vineyards without chemicals, promoting natural agricultural methods, using natural yeasts only, and limited sulphur. It would not be overstating it to say this was the front lines of what we would soon come to call "the natural wine movement," or in French, "vin natur". This Nouveau is everything you would expect from this innovative producer, unfiltered and unfined, bursting with bright red fruit and a direct line to the terroir of Beaujolais.
Once the celebration is over feel free to discover more of what Beaujolais has to offer among our selection of silky smooth reds from the region.