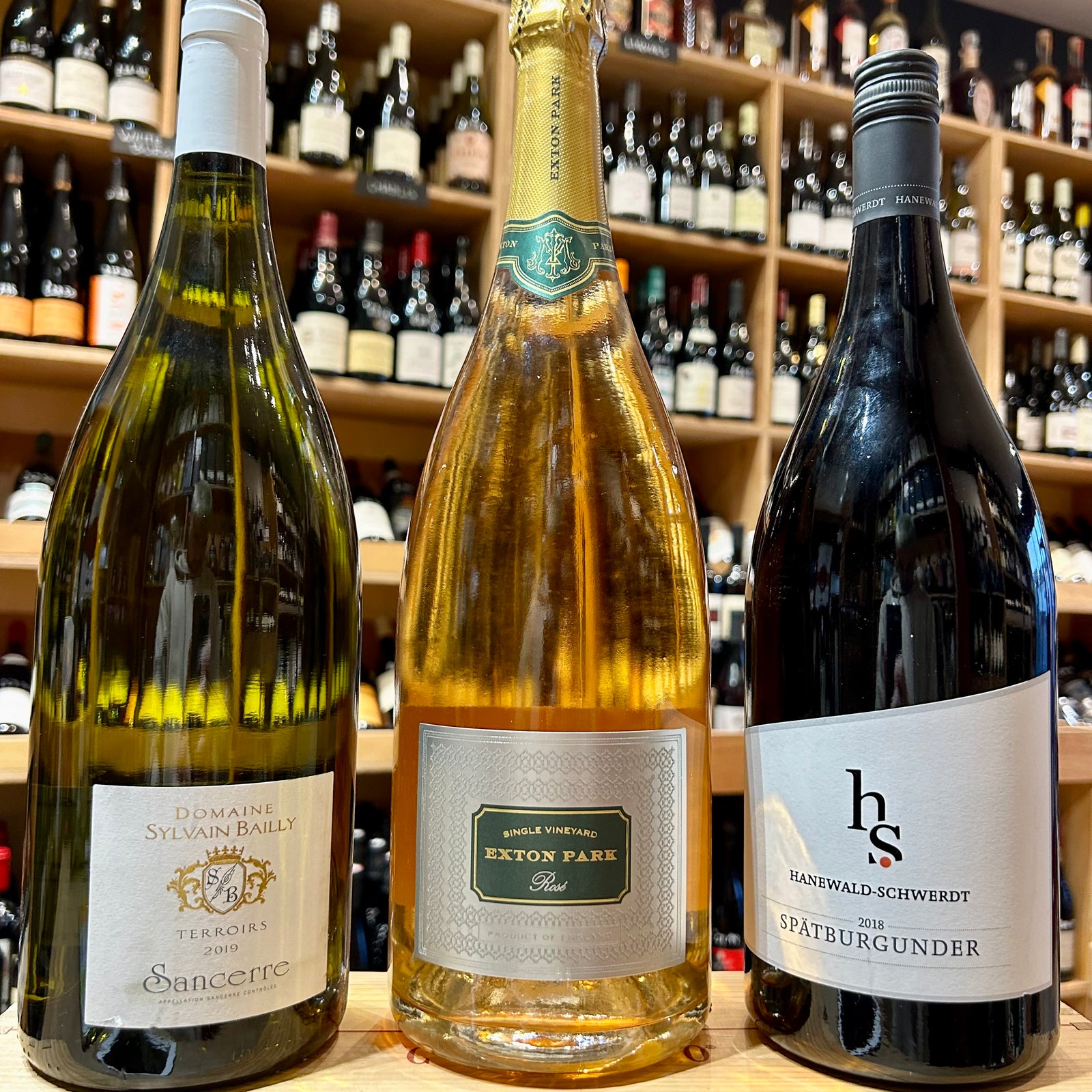 Go big or go home! Or should we say go big and take one home.
With the season of giving upon us a sure fire way to impress your friends is by gifting a stunning bottle of wine and why not go one step further and make it a magnum!
A standard magnum is 1500ml of wine which is two bottles in one convenient and impressive package. They look great and are also wonderful value for money which is something we know everyone can appreciate at this time of year. At Butlers we have been curating our magnum collection for years and have a selection to suit everyones taste and styles that will surely impress.
First up we're kicking off with a Butlers staple;
Hanewald-Schwerdt Spatburgunder Trocken Magnum 2018
Hanewald-Schwerdt is a partnership between Thomas Hanewald and Stephan Schwerdt who have taken over the running of their family winery. They are one of our favourite German producers and we are proud to be the first wine merchants to introduce them to the UK, you'll find many wines from their range in store. Thomas and Stephan are members of 'Generation Riesling' a body made up of the best young winemaking talent in Germany. This is a German Pinot Noir that is bright, vibrant, full of ripe fruit flavours, and not too heavy. It works just as well served at room temperature or lightly chilled. This is a great introduction to the wonderful red wines of Germany.
If you know us you know we love Portugal and this is a great example of a fabulous red from Alentejo.
Herdade Sao Miguel Tinto 2017 Magnum
The estate is owned by the Relvas family, who produce wines from an eye watering broad spectrum of varieties. But they continue to maintain focus and concentrate on making eco positive wines. They try to create a balance between investment, social and environmental sustainability, which we feel is worth supporting. The blend of this red changes slightly each vintage depending on what grows well and our current vintage hosts Alicante Bouschet and Tpouriga Nacional, making up the Portuguese half, topped up with french varieties Cabernet Sauvignon and Syrah. A real people pleaser and a great eco conscious producer.
If opulent whites with over a century of winemaking experience are more your thing we have you covered
Terlaner Cuvée, Cantina Terlano, 2020 Magnum
Cantina Terlano is a producer we've worked with for a long time and date to 1893 in Italy's Alto Adige region. This wine is the 'Terlaner Cuvee' 2020, a blend of Pinot Bianco, Chardonnay and Sauvignon Blanc showcasing the best aspects of all three grapes. The intense aromatic profile has the floral, herbaceous characters of Sauvignon Blanc, mixed with stony, salty minerality from the Pinot blanc, with citrus and crunchy apple from the Chardonnay. It is a harmonious combination, complex, yet delicate with a flavour profile that will please most palates. It makes the perfect aperitif, but will also accompany a broad range of dishes from fish and salads, to poultry and lightly spiced foods.
For a more recognisable label look no further than Sancerre.
Domaine Sylvain Bailly Sancerre Blanc 2019 Magnum
A classic Sancerre super-sized! Sylvain's granddaughter, Sonia Bailly, joined her father Jacques in 2007 to make wine. They now work together along with Sonia's husband Matthieu to produce wine with the regions renowned beautiful texture with a stunning precision and fruit. Most of Sonia's vines are situated in Bué but they also extend into the villages of Sancerre, Amigny, Crézancy and Montigny. Their Sancerre Blancs are based on limestone soils (small pebbles), hard and very stony, making fruity wines with finesse. The white earth (Kimmeridgian marl) with some clay adds body and structure.
Now we couldn't do a Christmas blog and forget bubbles so we've left (arguably) the best till last
A Sussex stunner to start from a vineyard just a stones throw away.
Wiston Estate Blanc de Blancs NV Magnum
Wiston Estate has built an impeccable reputation among English sparkling wine producers, with vines growing in ancient South Downs chalk, a sustainable approach in the vineyard and a solar-powered winery run by garlanded winemaker Dermot Sugrue, it has all the assets to create stunning sparklers. The Blanc de Blancs NV is one of our favourites, and it's double the fun in this magnum bottle. Made with Chardonnay grapes hand-harvested from low-yielding vines, this is a benchmark English Blanc de Blancs with prolonged lees ageing after the second fermentation, which adds beautiful complexity and texture to those tangy citrus and apple fruit flavours. The perfect accompaniment to your Christmas morning and sure to last at least until dinner.
If pink is your thing we have got you covered, all the grandeur of a South England estate in a magnum.
Exton Park Rose Brut NV, Magnum
This stunning sparkling Rose is guaranteed to get in anyones good books over the holidays. Exton Park is a single vineyard producer based in Hampshire specialising in reserve blends. The soil of their 60 acre site is at the heart of their winemaking ethos and this has lead to them becoming founding members of Sustainable Wines of Great Britain, they have also achieved the feat of offsetting most of their carbon footprint through the use of solar power. This Brut is pale pink, delicate yet with a surprising depth of fruit, made by pressing 70% Pinot Noir and 30% Pinot Meunier grapes, then leaving the juice in contact with the red skins for just the right amount of time to achieve the subtle colour and richness. Winner of Gold Medal, DWWA 2018 and Silver Medal, IEWA 2018.
Get your orders in fast and don't forget to pick up one for yourselves!
Click here for our full magnum range.