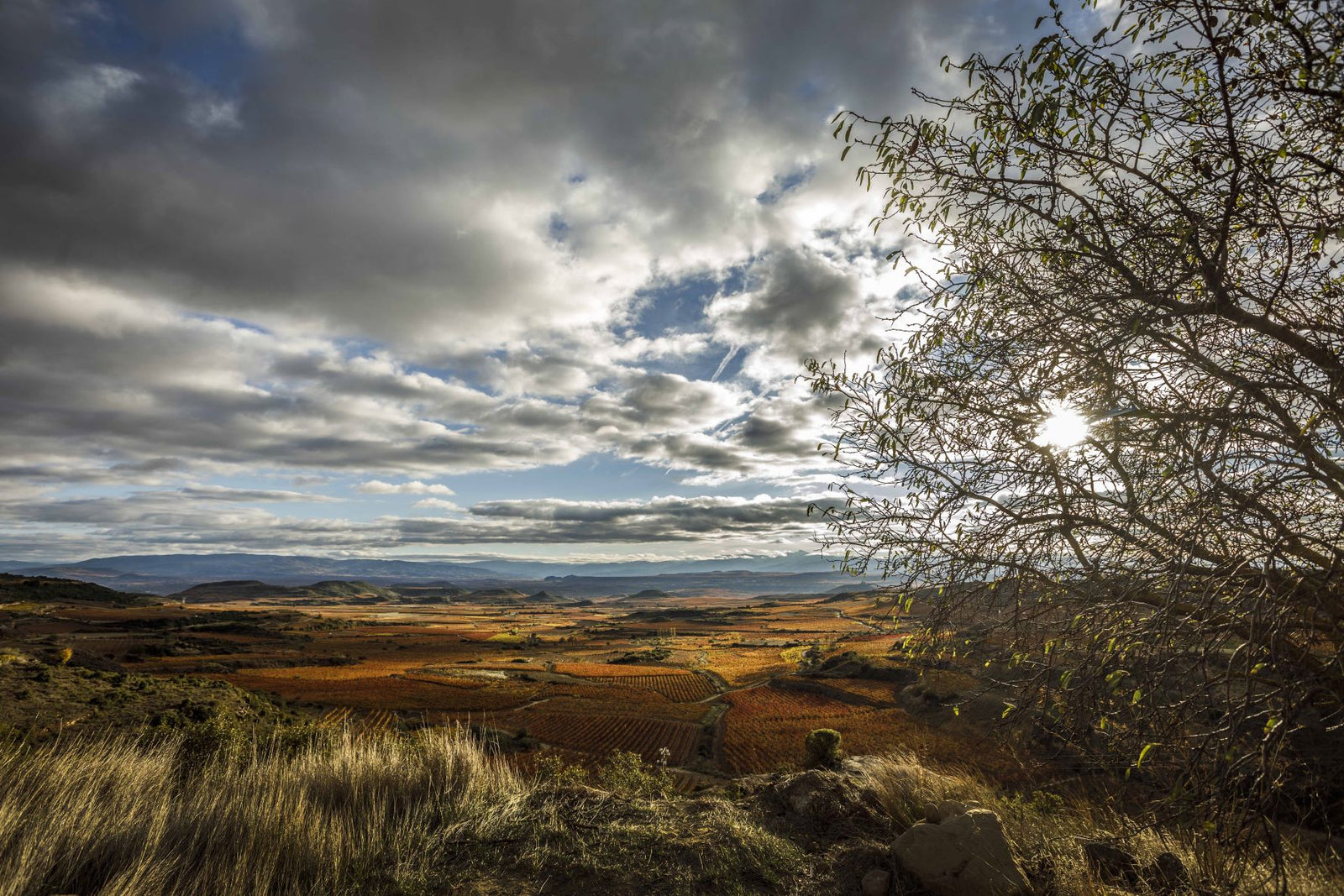 A month-long, national celebration of Spain's most renowned wine-producing region - RIOJA!
Throughout the month of October, along with many other independent shops and restaurants, we will be showcasing a diverse range of quality Rioja's available in the shop and online! 
So, a bit about Rioja...
Rioja DOCa is a wine denomination which straddles the Spanish regions of La Rioja, Navarre
 and Álava in the Basque Country.
The DOCa is also divided into three wine producing regions: Rioja Alta, Rioja Alavesa and Rioja Oriental (previously Rioja Baja). 
WHITE RIOJA
Rioja is a region renowned for its red wines and the whites can often be overlooked, which is a shame, because there are lovely wines to be had, and we happen to have some fabulous examples!
Permitted white Rioja grape varieties are:
Viura, Malvasía, Garnacha Blanca, Tempranillo Blanco, Maturana Blanca, Turruntés, Chardonnay, Sauvignon Blanc and Verdejo. 
Viura, blended with other permitted varieties. Aged three months in French oak barrels. It is fresh with fleshy fruits, dates and banana notes, citrus and a hint of vanilla. It finishes with a long, balanced and clean aftertaste.



Bodegas Casa Primicia Rioja Chardonnay 2018, £14.50 
Cassie's family mainly buy all of this wine, so get your hands on it quick before they stock up!

A superb barrel fermented 100% Chardonnay wine from Bodegas Casa Primicia, one of the oldest wineries in Spain. It is aged in both American and French oak making this a very generous wine.

A delightful nose of peach and citrus and hints of banana. Beautifully balanced on the palate with a rich texture and fresh, citrusy acidity. Serious, yet affordable white Rioja, capable of aging. 
RED RIOJA
Permitted red Rioja grape varieties are:
Tempranillo, Garnacha Tinta, Graciano, Mazuelo and Maturana Tinta. 
Because of its strict classification involving the use of oak in production, Red Rioja wines can be big and powerful with a nice bit of grip but there are a range of styles to be found. Here is a quick bit of Rioja terminology to help you find your ideal red wine:
Joven is a term used for young wines or wines which don't meet the necessary criteria for the other aging categories.  These tend to be very fruit driven Riojas.  

Crianza wines have to spend at least a year in oak and a year in bottle. This develops some spicy and vanilla notes. 

Reserva wines must spend three years aging before release. This adds greater complexity to the wine. 

Gran Reserva Riojas spend at least five years at the winery with a minimum of two years spent in oak. These are considered the most traditional in style and the most revered. 
RIOJA JOVEN
La Vendimia Palacios Remondo Rioja 2020, £15.99
Fantastic young Rioja from one of Spain's greatest producers, Alvero Palacios. This is a fresh, elegant, modern style of Rioja - no gold hair net on this bottle!

A blend of Tempranillo and Garnacha, lightly oaked. This is a beautifully balanced and irresistible Rioja. 
RIOJA CRIANZA
Palacio del Camino Real Crianza 2019, £10.99
A great value blend of Tempranillo, Garnacha and Graciano. The wine spends 18 months in French and American oak barrels. Ripe dark fruits mix with coffee, vanilla, balsamic and woody notes. This is a smooth and fruity Rioja wine with gentle tannins. 

La Montesa Crianza Palacios Remondo 2019, £18.99
Alvaro Palacios oversees the production of this crowd pleasing Rioja. This blend is 90% Grenache, with some Tempranillo and Mazuela. It spends 15 months in French oak. Rich black fruit, herbal characteristics. Another elegant and impressive Rioja from this superstar producer. 
RIOJA RESERVA
Julián Madrid Rioja Reserva, Bodegas Casa Primicia 2015, £25
Situated in the stunning medieval town of Laguadia, in Rioja. Julian Madrid founded the bodegas, which is now run by his grandchildren. Their aim is to make magical wines, accessible to everybody.

The Julian Madrid is the label used for their Reserva wine. It is Tempranillo dominant, aged in oak for twenty months. It is deep, rich and velvety smooth.
RIOJA GRAN RESERVA 
Martinez Lacuesta Rioja Gran Reserva 2010, £33.50
Bodegas Martinez Lacuesta have been making wine since the late 1800s, They are based in the Rioja Alta, the heart of traditional Rioja production. They have four main varieties Tempranillo, Garnacha, Graciano and Mazuelo. A lot of the winery work is still done by hand, relying on the wineakers experience. It's worth looking for some old Lacuesta marketing posters, they are fantastic.
THE MOST ENVIRONMENTALLY SOUND RIOJA! 
Bodegas Bhilar Phinca Lali Rioja Alavesa 2017, £47.50
David Sampedro Gil is a biodynamic wine maker in Rioja Alavesa, in the most northern subregion of Rioja DOCa. He he has been farming biodynamically since 1999, cultivating native varieties. He has replacing tractors for horses and eliminated chemical fertilizers and pesticides. He promotes biodiversity in his vineyard, leaving his plots looking wild and almost overgrown; a rewilding practice, reviving the overworked and chemical polluted soils. His sustainable approach doesn't stop in the vineyard but extends to his solar powered cellar and winery.

This 100% Tempranillo wine shows intense, dense black fruit and developing aromas of liquorice, clove and a touch of vanilla. Ripe cherry and dark fruits on the palate, firm tannins, crisp acidity and fabulous structure.

Cover image src: https://www.riojawine.com/en/production-area/production-area-rioja-alavesa/