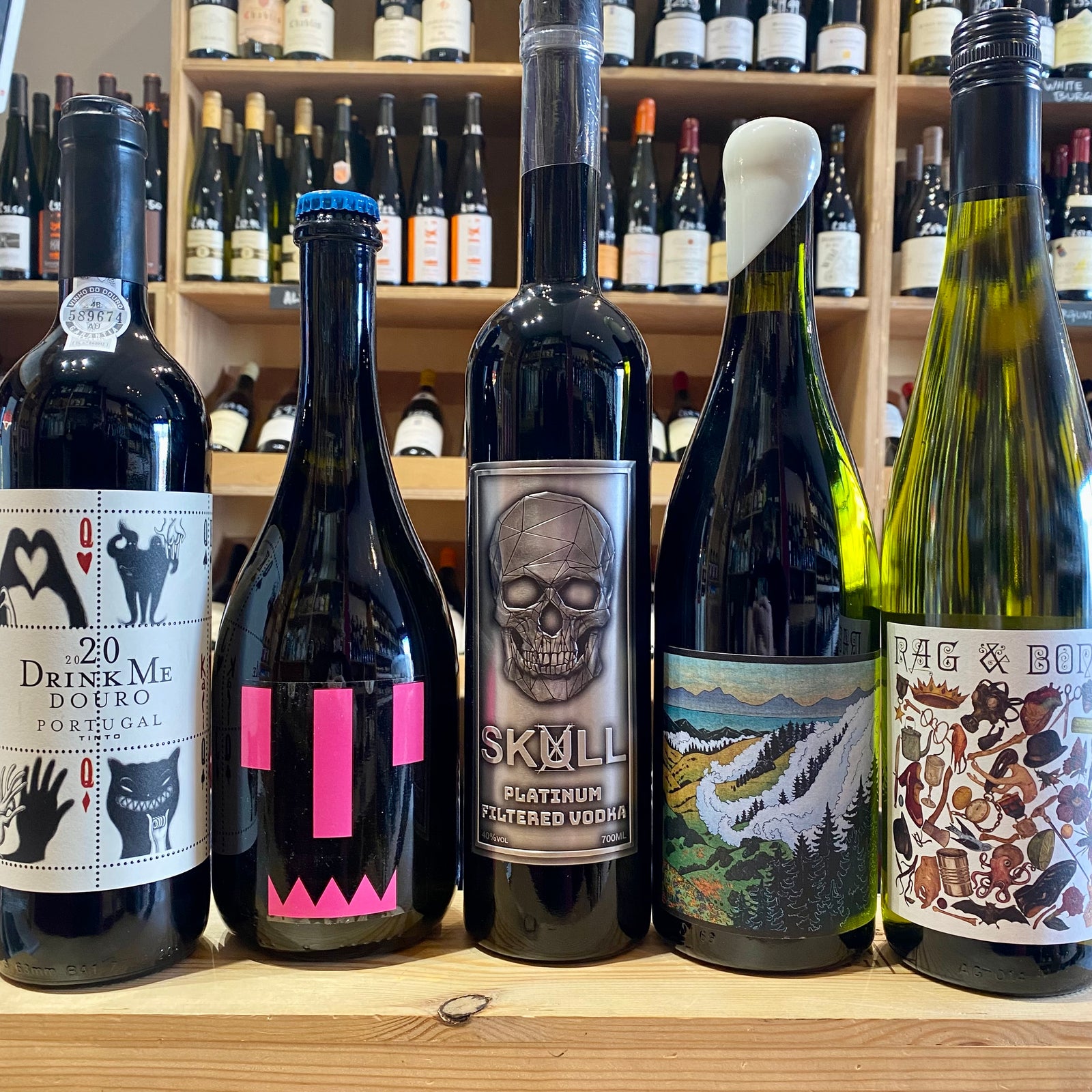 Halloween is not just for kids! At Butlers we can't think of a better way to face the knocking of costume clad trick or treaters than with some adult treats of your own.
We have curated a selection of our most spine-chilling spirits and bewitching wines to make the season all the more spooky.
First up we have Skull Vodka 
Looks can be deceiving and this is no exception; Skull X vodka is an elegant style, made by combining the purest water from natural aquifers 200 feet below the surface, and the finest white wheat in Slovakia. It is passed through platinum filters before finally being distilled five times to create a very pure vodka.
It is slightly creamy with a hint of sweetness and spice but no burn at all when drinking, even neat. 
If its mischief you're after then Il Pestifero (meaning mischievous) is what you need. It is a fiendishly good blend of Verdicchio, Malvasia and Sangiovese. It's a pet nat style of wine -  a method of production where the juice is bottled during fermentation so that it finishes in bottle, which creates a natural, light fizz to the wine. 
Il Pestifero is easy drinking and tasty, and that's its purpose. Full of bright floral and citrus fruits, fresh acidity and light bubbles. Despite its ominous appearance it is vegan.
Appearing through the mist is Petite Sirah, Fog Monster 2015
Reminiscent of Japanese woodblock art the label is inspired by the influence of the eerie Pacific fog that cloaks the central coast vineyards of California. The Fog Monster is a single vineyard 100% Petite Sirah, planted at a whopping 1800 metres above sea level and made with minimal use of sulphur.

It is refined, elegant and stylish, and has wonderfully complex, fresh fruit flavours, and really opens up when decanted. This wine will captivate you.
Creeping in next is Rag and Bone Riesling 2021
This wine will have no issues chasing the cobwebs away and bring you back from the dead. A cracking Eden Valley Riesling with a nose that classically expresses the vineyard... it's like having a fresh lime in your hand that you crush gently over minerals... literally lime on the rocks!! The palate is bright, zingy, singing with natural acidity and really textural. All of this is due the vineyard with its fine sandy texture that conjures bright, white pithy fruit. 
Last but by no means least; Niepoort Drink Me Tinto 2020
With a ghoulish label with instructs you will be powerless to not follow this wine is from one of the biggest names in Portugal. Innovator of the Douro, Dirk Niepoort, created the Drink Me label with the idea of an affordable, easy drinking red which does not compromise the complexity, minerality and depth of classic Douro wines. A field blend of native grapes matured with a mix of French oak barriques and stainless steel for about 6 months. A full bodied wine with uplifting redberry fruit, minty herb accents. With the trademark violet character, there is no doubt of the origin of this quaffable wine from the scenic, port producing valley. 
We hope this host of haunting Halloween treats sees you through the spooky season!