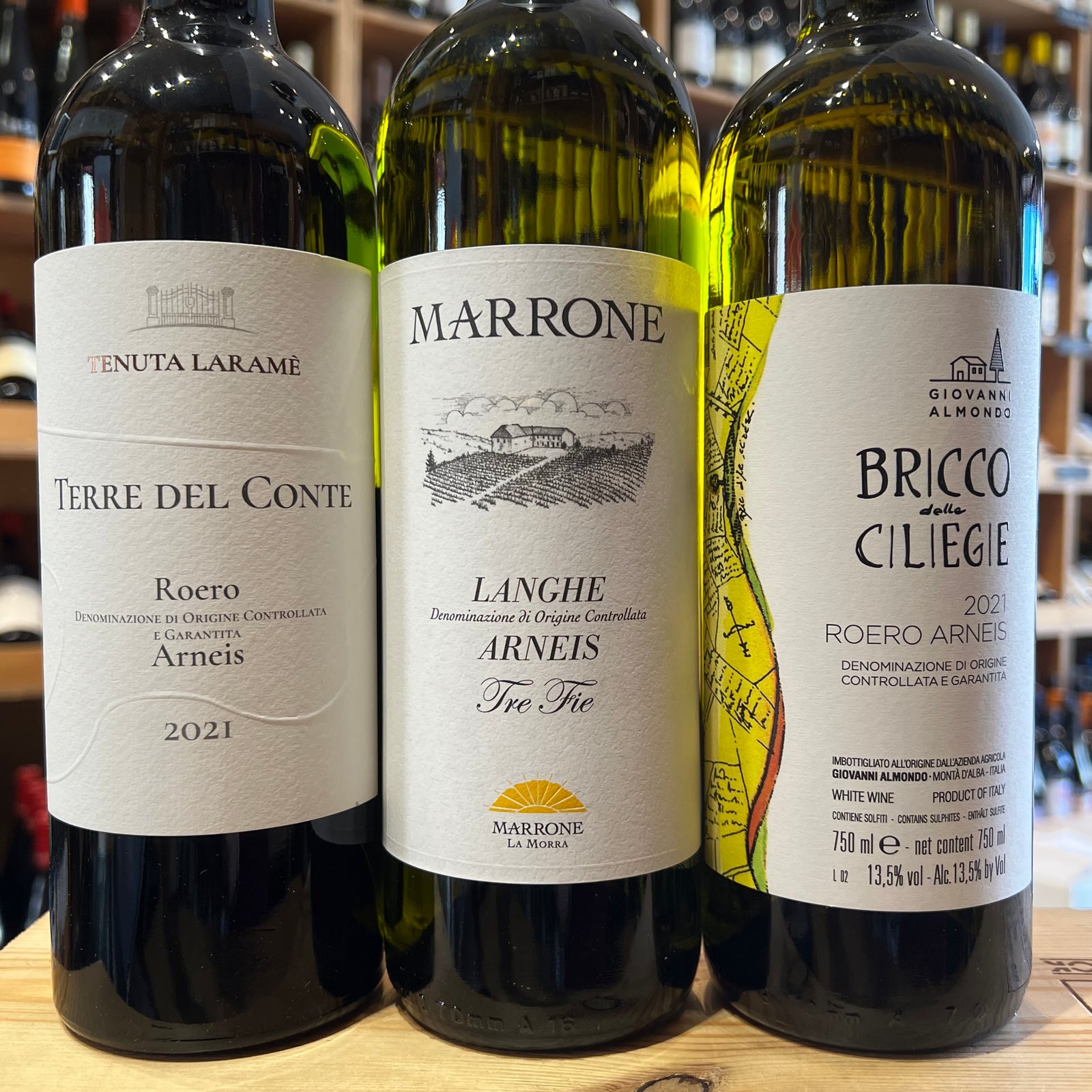 Im a big fan of Italian white wines, mainly because of their versatility in matching with food. They tend to be subtle, and restrained, not too in your face, but have an underlying richness, which makes them a perfect foil to most dishes. If well chosen, they won't over power lighter dishes, but also can have the acidity or power to cope with main courses. Arneis is an interesting example of a white Italian wine.
Arneis (pronounced Ahr Nase) is a variety, when well made, offer so much to the drinker. It is mainly found in the north west of Italy, specifically Piedmonte (we have also tried a couple of examples from California and Australia). In Piemontese Arneis translates as the little rascal, as it can be quite tricky to grow.
Historically there were many bland examples which would quickly oxidise. Modern day winemakers now have much more understanding about how to grow it and where to plant it. It thrives when planted on the sandy and clay soil of the sub regions Roero and Langhe, where acidity and elegance are preserved in the fruit. It is a variety which is quite easy to understand, they all tend to have ripe apple and pear aromas, the unoaked versions are light, crisp and floral, whereas oaked Arneis are more honeyed and richer. It tends to be unblended, as a single varietal.
Here are some examples which we have in stock.
Tenuta Larame Terre Del Conte Roero Arneis 2021£14.50
A small organic producer, who we import ourselves, this makes a great aperitif and is good value.
https://www.butlers-winecellar.co.uk/products/tenuta-larame-terre-del-conte-roero-arneis
Agricola Marrone Langhe Arneis Tre Fie DOC 2019 £19.99
A fourth generation producer based in Barolo, we also import this wine directly. It has had some lees contact which gives it a bit more richness and body.
https://www.butlers-winecellar.co.uk/products/agricola-marrone-langhe-arneis-tre-fie-doc-2019
Giovanni Almondo Bricco Ciliege Arneis 2021 £21.50
Single vineyard Arneis, this is intense with great acidity and minerality.
https://www.butlers-winecellar.co.uk/products/giovanni-almondo-bricco-ciliege-arneis-2021
Henry Butler