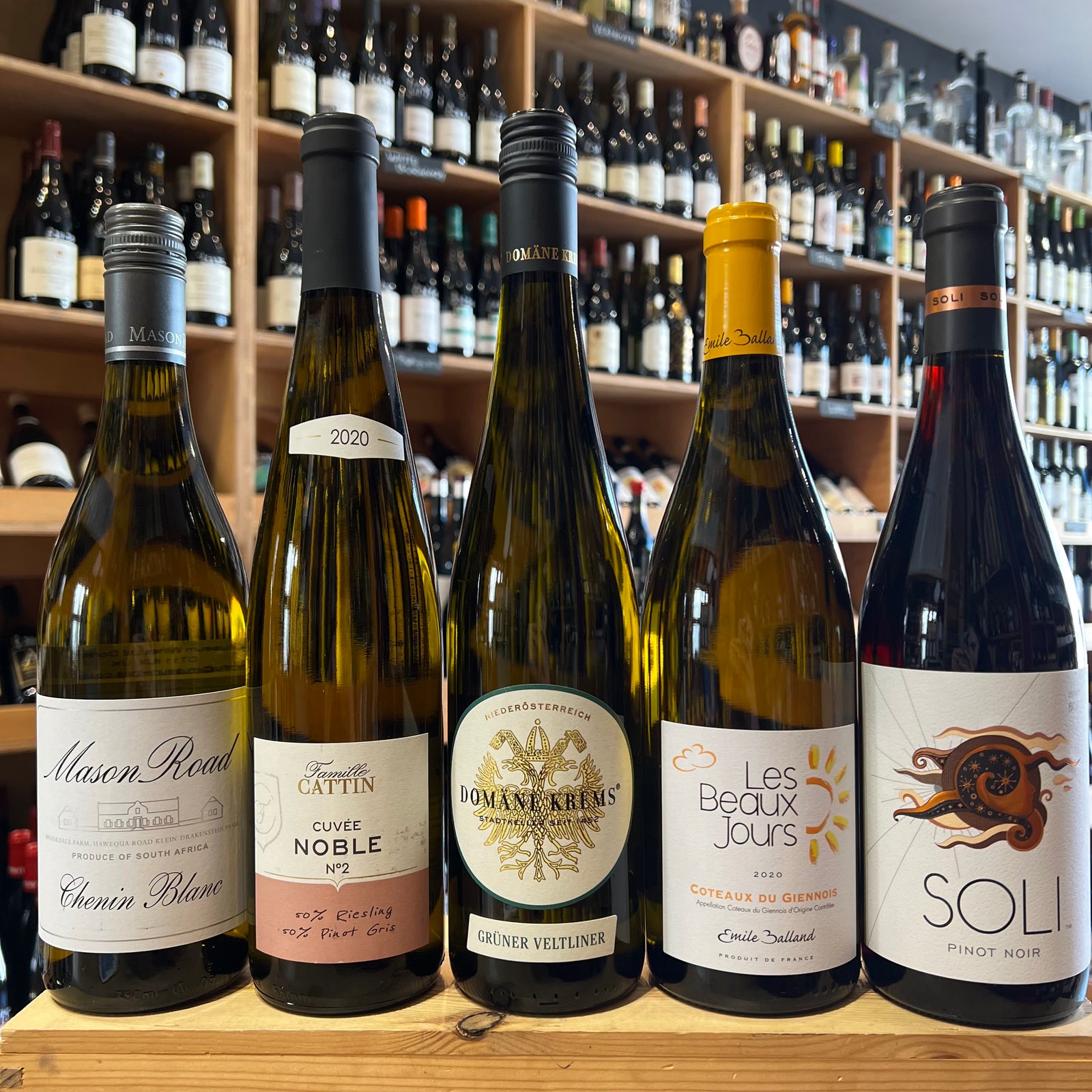 To celebrate the month of May, we have picked out a few springy wines to complement the produce of the season.
Trout, samphire and new potatoes will be available, asparagus ('Sparrow-Grass') should still be around, as well as the first fresh peas and broadbeans! 

I recently enjoyed the Sa Raja Vermentino di Gallura 2020 with baked trout so this seemed like a good place to start. With this kind of fish dish we recommend something with good clean acidity but also enough body to match the richness of the dish. 
Baked Trout
4 Sustainably sourced trout gutted and cleaned
Salt and pepper
Handful of Samphire and chopped flat leaf parsley
60g butter melted
Preheat the oven to 200c Degrees
Season the trout and lay in a buttered oven dish. Shove the herbs and samphire into the cavity and pour the butter over. Bake for 20-25mins. Serve with chipped or boiled new potatoes and your choice of seasonal spring green!  
Serve with
Mason Road Chenin Blanc 2020, £15.50
Mason Road vineyards are situated in a tranquil valley under theKlein Drakenstein mountains in Paarl, South Africa. Here the youthful Chenin Blanc vines are influenced by awarm climate and mountain breezes, producing a wine with invigorating freshness and full fruit flavours. This vintage is lightly oaked in old French barrels. It displaysaromas of fresh peach pear and citrus fruit. The palate is well integrated with fruit concentration and racy acidity.
White Asparagus
Although white asparagus is grown in the UK, predominantly in Evesham Vale, Worcestershire, we generally get it from Loire Valley and Germany. Our wine match here comes from Alsace, a wonderful wine region straddling these two white asparagus producing countries.
To prepare:
Peel, blanche until tender, plunge into cold water to arrest the cooking, dry off and then pan fry in butter until golden brown. Serve with a pan fried free-range chicken or duck breast and a pea puree made by sweating off finely chopped shallots in butter before adding the fresh or frozen peas and blitzing once cooked.  
Serve with
Cattin Cuvee Noble Riesling Pinot Gris 2020, £11.75
This is a blend of 50% Riesling and 50% Pinot Gris, a Noble Blend wine, also known as Edelzwicker. The wine is fermented towards dryness, it is aromatic and shows ripe fruit on the palate, which balances the bitter notes of this dish. A great introduction to the wines of Alsace.
Alternative picks for these seasonal flavours:
Coteaux de Giennois, les Beaux Jours, Emile Balland 2020, £14.49
Despite having been a wine producing region for centuries, Coteaux de Giennois region as an official AOC is still a small and relatively unknown area which lies in the shadows of its famous neighbours Pouilly Fume and Sancerre. To the consumer, this wine is a close match in quality and style, sharing soils types and climate with its fancy friends. It basically translates as a right bargain! Vibrant gooseberry and grassy aromas. The palate is rich with lime and grapefruit flavours with a mineral edge. (Or you can upgrade to Sancerre Blanc, Domaine Jean-Paul Balland 2020, £19.99)
Or Gruner Veltliner Domane Krems 2019, £12.50, from Austria.The winery is based in a 1448 hospice. They source their fruit from 40 hectares of prime sites around Krems and ferment their Gruner Veltliner fruit in steel for freshness. A friendly Gruner with apple and pear fruit and a spicy, savory finish.
*Although these dishes are shouting for white wine, a Pinot Noir wouldn't be a mismatch for any of the above. This Bulgarian number is a real favourite and over delivers on price. 
Soli Miroglio Pinot Noir, Thracian Valley 2019, £12.49
This is a silky smooth Pinot Noir, light bodied with a profile of wild strawberry, red cherry, orange, and sandalwood, vanilla and sweet spice. Fine backbone of acidity really moreish and impressive pinot from Bulgaria.