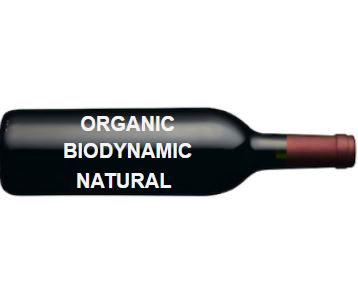 There is a lot of talk in the wine-world at the moment about sustainability and the impact our industry has on the planet. With that conversation, comes a multitude of different terms. We decided to write this post to hopefully help clear up the vagaries of some key terms, and to promote some of the wines we stock, from producers championing these practices.
Organic, Biodynamic & Natural wines
When we sayorganic wine &biodynamic wine, what we are really talking about is the way in which the grapes that went into that wine were grown. So what we should say is: it's 'wine made from organically / biodynamically grown grapes'.
But what's the difference between the two? Well…
Organic
Organic viticulture is a style of farming in which growers limit the use of certain chemicals - things like pesticides, herbicides or synthetic fertilizers – only natural products are used to help the growing of these grapes. In theory you can make any style of wine using these practices (although because of climatic differences it's far easier to do so in some places than others!).
There are several organisations that can certify you as being organic, which allow you to label your wine as such and require you to strictly adhere to the rules and guidelines they set out. This certification process is often a very long and costly one, leading  to some smaller producers deciding not to certify themselves despite practicing organic viticulture.
Here are some of our favourite organic producers: Raventos, Adobe Emiliana, Sepp Moser, Saladini Pilastri
Biodynamic
Biodynamic viticulture is a holistic (almost spiritual) approach to growing grapes. It was developed in the 1920s by Austrian philosopher and academic, Rudolph Steiner. It adheres to all the criteria as organic viticulture with several other processes.
Biodynamics is about seeing your vineyard as one ecosystem that, when in equilibrium, provides a quality of health and nutrition to the land, not possible with the use of synthetic fertilisers and the like. It's an entirely chemical free type of farming in which the various vineyard tasks are carried out in coordination with lunar cycles, in the belief that all things, including vines, are affected by the gravitational force of the moon.
For more information on the specifics of biodynamics click here
(https://www.biodynamics.com/biodynamic-principles-and-practices)
Here are some of our favourite biodynamic producers: Filipa Pato, Corte Sant Alda, Waterkloof
Natural
We should first note that there is no official or regulated definition of the term natural wine so when you see the term, you should go ahead and ask for specifics.
Generally speaking the term refers to the wine making process rather than grape growing. A natural wine in generally one that has had little to no human manipulation. Where no additives or processing aids are used and intervention in the naturally occurring fermentation processes kept to a minimum – that means no from-a-packet yeasts to kick start fermentation and the use of Sulphur Dioxide (a common preservative used in many foods) and the over 100 different other additions that can be used when making a wine, are discouraged. They are often unfiltered and can sometimes have gone through extended periods of skin contact (Orange wine!)
Click here for a full list of the different additives that can be used in wine making (http://wineauthorities.com/pdfs/WineAdditives.pdf)
Producers: Tillingham, Artisan Vignoble du Reveur
Written by: Jake