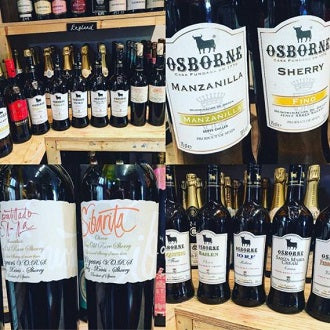 While Osborne has been a major player in the Sherry industry for hundreds of years, their wines had spent a few years out of the limelight on our shores until recently. With a new importer, and a big push they are back nationally through independent retailers with an excellent portfolio.

Based in El Puerto De Santa Maria, south west of Jerez and right on the sea the house style is that of freshness and acidity. This creates bright and easier drinking wines with redeeming features through the range.

At entry point, the Manzanilla and Fino both sit around 3.5 years of age, the Manzanilla zesty and fresh with the Fino providing a slightly gentler approach.

Moving forward, Fino Quinta ages for an additional year offering a more pungent and intense wine. Still bright and packed with bitter orange aromas, what an excellent pairing for some grilled octopus. Further still goes Fino Coquinero, a 7 year Fino with 2 years in the open air, turning it towards an Amontillado. This is a wine of great concentration and rather delicious. Salinity with a lovely nutty finish makes this the dreamboat for a quality bit of Jamon.

A 30 year old VORS Amontillado showed spectacularly, ripping acidity and massive hits of seville orange give way to toffee popcorn and almond. A grand wine perfect for grilled meats, i'm sure Iberico Presa would be suggested but I think a bacon chop would fare well here.

Oloroso's are aplenty with the drier 'Bailen' and slightly sweetened '10RF', both seasoned with varying degrees of Pedro Ximenes. Lovely wines with cheeses and the like, the 'Bailen' especially well balanced. A spectacular VORS Oloroso followed, incredibly concentrated and long with lashings of nuts, leather and spice and a wonderful structure.

On the sweet end, the Santa Maria cream showed very nicely. Toffee, Coffee and nuts but balanced and still with prevalent acidity. A VORS Pedro Ximinez then finished the day, glass coating and wonderfully intense with figs, coffee, orange peel and nuts offering an immensely long finish with a proper, opulent sweetness.

All in all a great range characterized by freshness and a light touch. Where many producers aim for very intense, sometimes challenging power Osborne have aimed these We hope to stock more of the above as the availability comes round, but for now come and samples what we have!
By Rob Maynard
OSBORNE 10RF MEDIUM OLOROSO - https://www.butlers-winecellar.co.uk/products/osborne10rfmediumolorosonv75cl
OSBORNE FINO - https://www.butlers-winecellar.co.uk/products/osbornefinonv75cl
OSBORNE FINO QUINTA - https://www.butlers-winecellar.co.uk/products/osbornefinoquintanv375cl
OSBORNE MANZANILLA - https://www.butlers-winecellar.co.uk/products/osbornemanzanillanv75cl