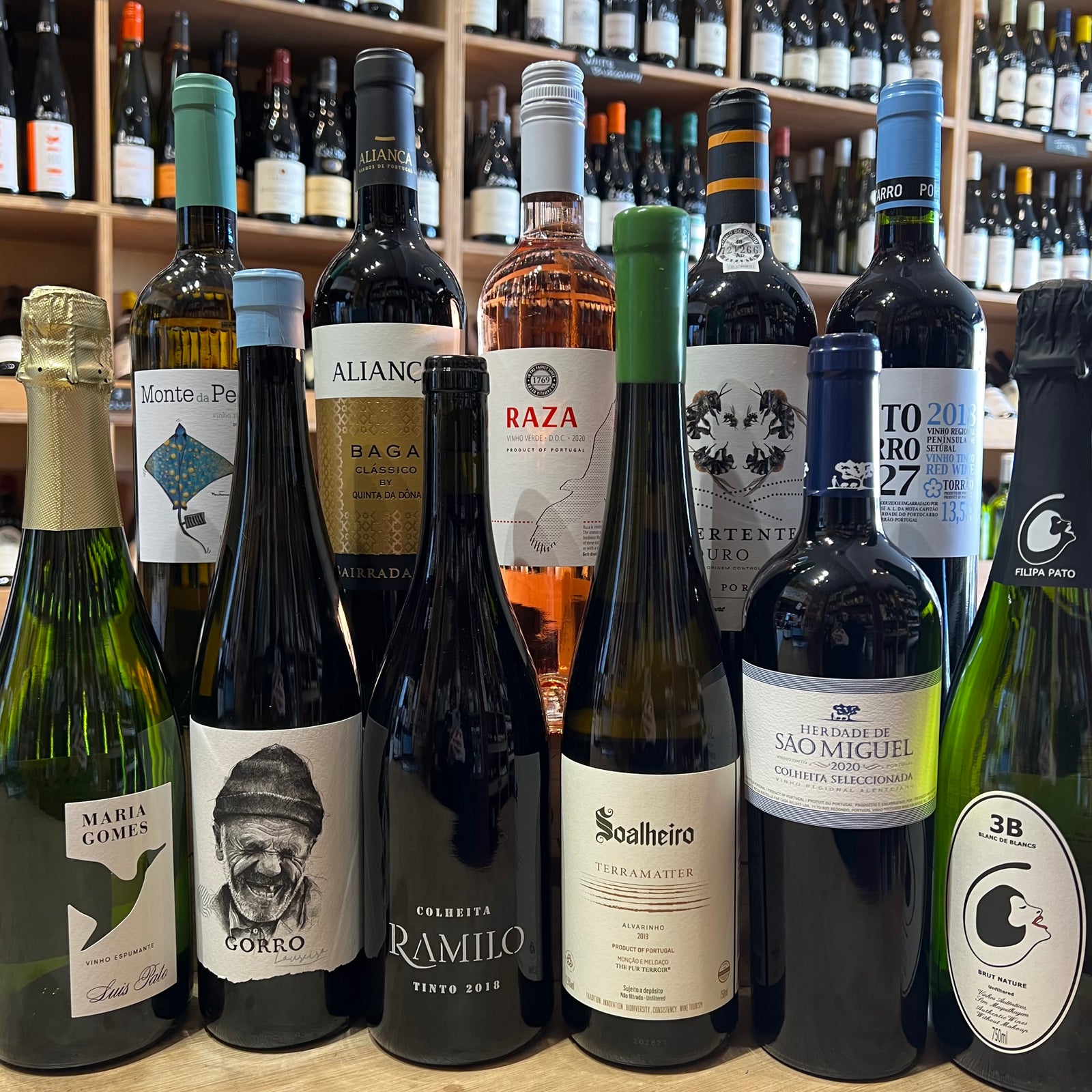 From the 1st - 15th June 2022 we will be highlighting Portuguese wines from different regions across this amazing country. 
We have worked with Portuguese wines since Butlers first opened in 1970 and have championed them ever since. They offer variety, quality and sustainable wines which are very good value for money compared with many other wine making parts of the world. 
We think they are great and this country is well worth visiting at any opportunity - They make wine everywhere!
Sparkling
Wine #01
Luis Pato Sparkling Maria Gomes (Bairrada) 


Luis Pato is widely regarded as the person who put the wines of Bairrada on the world map. He is an eccentric character known for his scientific approach to winemaking, whilst honoring native grape varieties and wine making traditions of his region. He also has two exceptionally talented winemaking daughters, Filipa and Maria-Jo

ã

o Pato. 

 

This sparkling wine is a blend of the white grape, Maria Gomes (85%) with a portion of the red grape, Baga (15%). A really delicious wine which should replace cheap Prosecco the world over. Lovely sweet-floral fruits on the nose, and a touch of toasty / biscuit character. Dry on the palate, but not too Brut, tasting of apples, fresh lemons and white flowers.

                    
Whites
Wine #02
Gorro Loureiro (Vinho Verde) 


Many associate the Vinho Verde region of Portugal with frivolous, light and spritzy wines or perhaps with Alvarinho; a grape made popular by its Spanish relative Albarino. But here we have something a little different… 
The Loureiro grapes for this wine, grow in granitic soils, in the sloping vineyards of the beautiful Lima Valley, in Northern Portugal. Here the continental climate is influenced by the Serra D'Arga mountains and these growing conditions contribute to the beautiful mineral freshness of this wine. Gorro has vibrant aromas of pear and lychees. On the palate it is fresh yet creamy with a long and mineral finish. 

A sensational wine! 

                   

Wine #03

Soalheiro Terramatter (Minho, Vinho Verde) The Soalheiro vineyards were established in 1974, not far from Melgaço, in Alvaredo; Portugal's most northerly town which overlooks the Minho River. Since then, this very special terroir has allowed Soalheiro to forge its reputation as the very finest producer of the Alvarinho grape variety in Portugal.
Made with organically grown grapes of Alvarinho, this is a concentrated and complex wine from Soalheiro. The grapes are harvested early and undergo partial malolactic fermentation in chestnut barrels. The resulting wine has a pleasing vegetal character. An elegant and fresh wine with an intense mineral expression.

                  
Filipa Pato and husband, William Wouters have a simple philosophy; to "create authentic wines without make-up, to express the true nature of the vineyards they come from". 

Producing wines in the coastal region of Bairrada they practice biodynamic viticulture and are undergoing conversion to organic certification. 

The Dinamica Branco is a native blend of 80% Bical and 20% Arinto. Bical is known for its pear fruit character and here it presents herbal accents of thyme and rosemary. There is weight and softness in texture, working to balance the salty, mineral tang with a good long acidity to finish. 

                  

 
Herdade da Malhadinha is a large estate surrounded by stunning hills and mountains, in the Beja province of Low Alentejo. Here the Soares family are making fabulous wines which have become firm favourites at Butlers.  

Their white blend is a modern white made with fruit from young vines, fermented in stainless steel.  Fresh and aromatic, dominated by orchard and tropical fruits with a clean minerality. A versatile food wine which is light and refreshing enough to drink on its own.

                   
Rose

Wine #06
Quinta da Raza is a family run wine estate, situated in Basto, a subregion of the Vinho Verde DOC. Here they benefit from an unusual micro climate, enjoying warmer conditions than is typical for their northerly situation in Portugal. 

This cheeky little rose is made from three indigenous red grape varieties: Vinhão, Padeiro and Espadeiro. There is intense fruity freshness and the naturally occurring, signature spritz of the Vinho Verde wines.

                 
Reds 
Wine #07
Terra d'Alter Zero Sulphur Aragonez (Alentejo) 
There is a noticeable trend towards wines which are low in sulphur and some can certainly divide opinion but here we have a tried and tested Zero added sulphur wine which is fabulously approachable and has none of the 'funk' that many are afeared of! 

Terra d'Alter is in the Alentejo region of South Portugal where Australian winemaker, Peter Bright uses native grapes to make modern and expressive wines.

The Aragonez has a dark intense color, heaps of red fruit and spicy vanilla notes. Soft and ripe tannins with a spicy finish. 

                  

 

Wine #08
Aliança Bairrada Baga 2015 
From one of Portugal's largest and most progressive producers with 600 hectares spread across estates in five regions from Douro in the north to Alentejo in the south. 

There is great value in their mid range wines which celebrate regional identity.  Their Bairrada red is 100% Baga which spends 14 months in new French oak barrels. 

Rich black fruit with aromas of star anise, clove and smoky oak. Ripe bramble fruit and plum flavours are backed by well-structured tannins and a touch of dark chocolate. Match with roast pork dishes, typical of the region. 

                  

Wine #09
Herdade Sao Miguel Tinto (Alentejo)
Herdade Sao Miguel is owned by the Relvas family who are striving to make eco-positive wines, striking a balance between investment and social and environmental sustainability.  

The blend of grape varieties for this wine changes slightly for each vintage, depending on what grows well. This one is a blend of Portuguese grapes Alicante Bouschet and Touriga Nacional, topped up with the French varieties Cabernet Sauvignon and Syrah.

The portuguese pair give warming, spicy fruit, and opulence, the french influence provides freshness and structure. The wine is aged briefly in oak just to add toasty hints. 

                  

Wine #10
Ramilo Tinto (Lisboa) 
This is a modern, organic wine made from a blend of Aragonez, Touriga Nacional and Castelao. The grapes are foot trodden in traditional granite lagars, they are fermented in stainless steel and bottled unfiltered and unfined. They are bottle in an ultra cool light bottle with a stencilled label, this saves on paper and does not require a plastic capsule, we like this forward thinking approach.

The Touriga and Aragonez provide punchy, punchy full flavours and the addition of Castelao adds a super freshness. The resulting wine has pure berry fruit flavours, and a fine elegance, making it very drinkable. 

It feels a little like a quality Portuguese Beaujolais in style, if you can imagine such a thing!

                  

Wine #11
Niepoort Vertente (Douro) 
'Vertente' means 'aspect' or 'hillside', representing the steep sloping terraces of the Douro Valley. This wine is typically a right mix of indigenous grape varieties. Vertente uses the young, 25 years old vineyards of Quinta de Nápoles, on the slopes of the river Tedo, where Touriga Franca and Tinta Amarela are predominant. Another parcel of older vines (60 years plus) include Tinta Roriz and other varietals make up the blend, contributing an elegance to this wine. 

The wine has a profile of fruits of the forest with notes of graphite, spice, leather and beautifully integrated wood. The tension, structure and acidity in this wine suggests great aging potential but it is lovely right now! 

The 'BEE' Label celebrates Niepoort's 175 year anniversary - A collaboration with London-based artistLouis Masai.

                 

Wine #12
Herdade do Portocarro, Autocarro No.27 Tinto (Setúbal) 
The Portocarro philosophy is to make quality wines in limited and exclusive quantities. The wines are intense and complex, elegant and reflective of the mineral rich soils of the area.

The vineyards are located between the Peninsula de Setubal and Alentejo's intensely hot plains. The vines grow on a hilltop 60m above the river where the hot days are tempered by cool nights, influenced by the Atlantic breezes. 

Autocarro No.27 is a young rebel wine with deep earthy tones, herbs and spices and ripe plums. A blend of Aragonez, Cabernet Sauvignon and Touriga Nacional, the wine was fermented in oak vats for a round, soft finish.