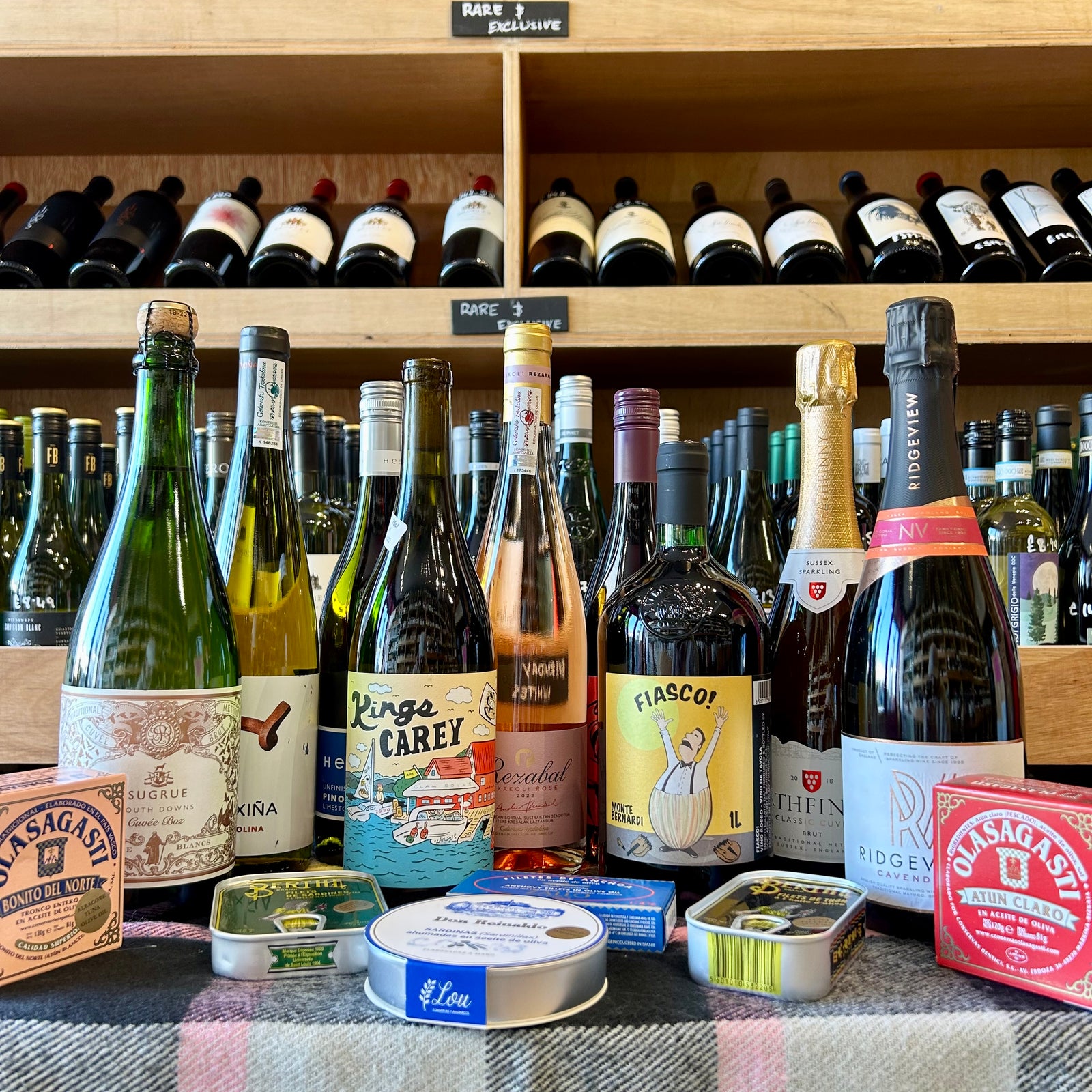 As summertime approaches, so does the opportunity to enjoy the great outdoors with family and friends. And what better way to do that than with a refreshing bottle of wine and some delicious tinned fish? Whether you're planning a beach party, picnic, or barbecue, these two items are the perfect accompaniment to any summer gathering.
When it comes to wine, there are plenty of options to choose from at Butler's, if you're looking for a light and refreshing white wine, try a zesty Spanish Txakolkina or Portuguese Vinho Verde. Regulars to the shop will recognise Raza a wonderful low alcohol white made in the classic Vinho Verde style that gives it just a touch of sparkle. If you'd like to try something new then check out the Basque regions answer to this iconic style and pick up a bottle of Txakolina also available in a rose if you fancy some more fruit.
These wines pair well with seafood, making them the perfect match for your sardines, tuna or anchovies. If you prefer a red wine, a fruity and light-bodied Pinot Noir such at Hesketh from Australia or a smooth Beaujolais like the Pivoines would be a great choice especially served slightly chilled. And for those who enjoy a bit of bubbly, a crisp and refreshing Prosecco like the Valfondaor Sussex sparkling (we have a lot) will add a touch of elegance to your summer party.
Now let's talk tinned fish. Whether you prefer tuna, mussels, sardines, or anchovies, these canned delights are handily packaged so they can fit snuggly in your beach bag and are ready to serve out of the tin. They are also versatile and easy to prepare, making them a great option for picnics and barbecues. You can serve them as a simple snack with crackers or bread, add them to salads or sandwiches, or even use them as a topping for pizza. Check out our full range here.
Beach parties are a quintessential summer activity, and we have a wine that is designed for the relaxed summer vibes. King's Carey Chardonnay from MarFarm California is an organic Chardonnay that has a nose of tangerines on a sea breeze and tastes of lemon zest with a whisper of spices and tropical fruits plus a touch of new oak for complexity. Having this in your beach bag is going to set you off on the right foot this season.
Another great option is a picnic in the park. Grab a blanket, some cushions, and a basket filled with your favourite tinned fish and take advantage of our selection of half bottles that will fit perfectly into your luggage. Whether it's a crisp mineral Chablis, a fruity smooth Rioja or just a classic Champagne for that touch of elegance and sophistication, find a shady spot under a tree and enjoy a leisurely afternoon with friends and family.
And of course, no summertime party is complete without a barbecue. Fire up the grill and cook up some burgers, hot dogs, and grilled vegetables. A Mediterranean classic like Chianti is sure to be a big hit and since it's summertime why not go all out and grab a litre bottle of our Monte Bernardi Fiasco! Vino Toscano. Monte Bernardi is a quality producer in Chianti Classico that has decided to have a bit of fun with Fiasco! (Named after that classic flask bottle). It's a red blend made with organic grapes sourced from all over Italy, and it's incredibly drinkable. Medium-bodied, full of juicy red berry flavours, with floral and spicy hints for company.
I know what you're thinking, "what if wine isn't my thing?" well we have you covered with an incredible range of local beers that are the perfect alternative and absolute essential for any summertime get together. Sourced from a host of local heroes old and new in a variety of styles to impress even the most particular beer drinker. Check out our full range here for local and national delivery, or run into the shop on your way to your next beach gathering and grab a few cans!
Wine, beer and tinned fish are the perfect combination for summertime gatherings. They are easy to prepare, versatile, and delicious. So, whether you're planning a beach party, picnic, or barbecue, be sure to stock up on your favourites at Butler's and get ready for a summer of fun and relaxation.