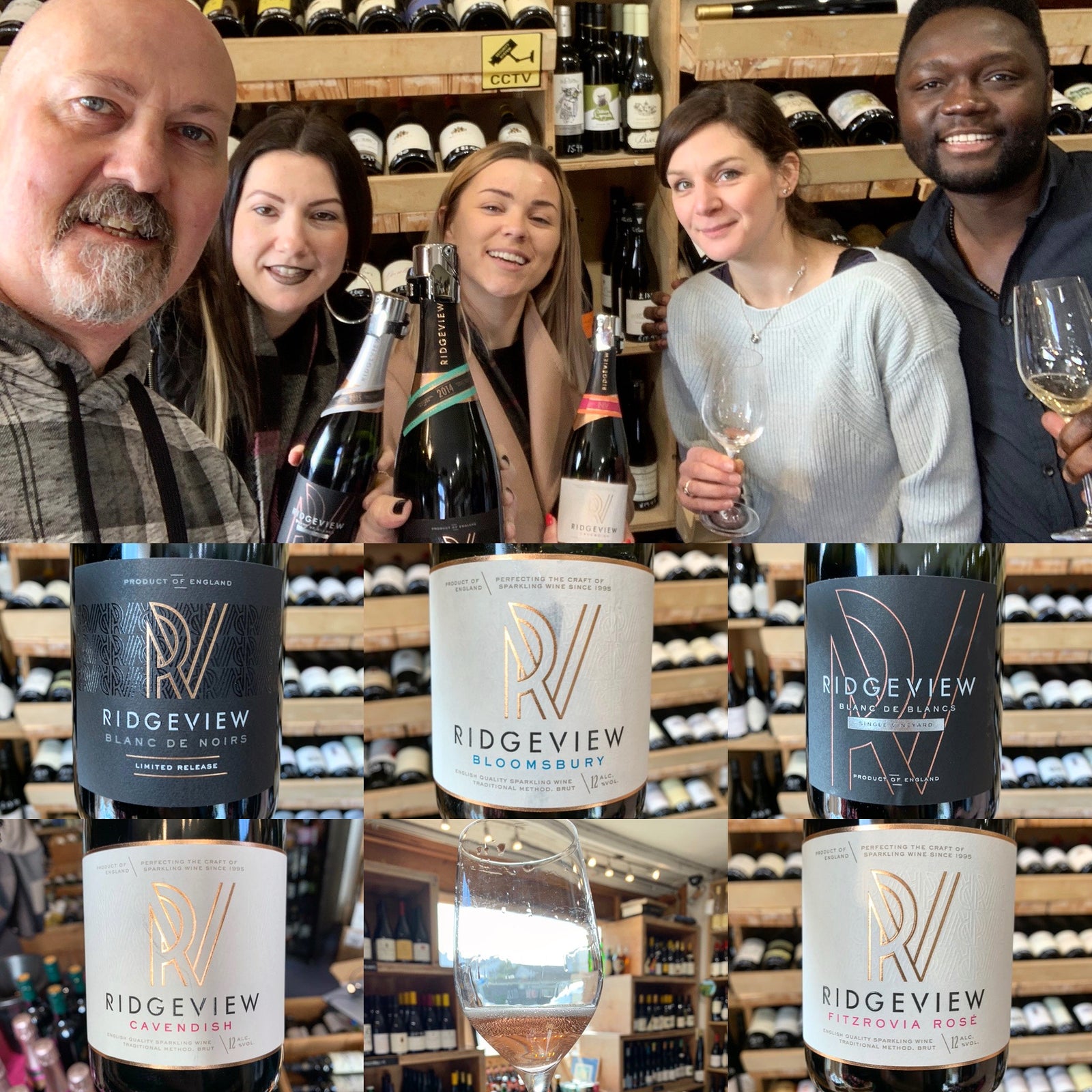 We were very lucky to taste the range of award winning English Sparkling wines from our friends at Ridgeview Estate this week and this is what the team thought.
Henry Butler
It was great to meet Scarlet, from Ridgeview, especially as she opened up a few bottles. Although I have tried the Ridgeview wines many times, it is always great to retry them properly, and I continue to be impressed.
You don't need tasting notes from me, just buy them, drink them and make your own minds up. For us, it's important to touch base with the Ridgeview team each year, to listen to their message and their plans, we are excited to be part of that.
My favourite is the Blanc de Noirs, formerly known as Knightsbridge, it always has been. I really like the richness, and texture, and it always tastes like the fruit is mature and luscious, it's a great food wine.
Cassie Gould
Bloomsbury NV 
Chardonnay 2/3 - 1/3 red varieties - lees aged 18 months
Fresh, easy drinking, vanilla, brioche, citrus, apple, zesty nose.
Canapes aperitif, smoked salmon, oysters, fish & chips on the beach.
Cavendish NV
2/3 red grapes -1/3 chardonnay - 18 months lees 
Richer apple, red apple, more Champagne like, softer fizz.
Fish, meat.
Fitzrovia NV
Red fruits, strawberry, fruity.
Pair with lighter sweet desserts or smoked salmon.
"These single vintage wines have helped make name and get recognition for English wine industry as they have won more awards than anything else - 2010 best sparkling wine in the world - export market took off!"
100% Chardonnay -  single vineyard - old vines - 3 years on lees 
Herbaceous, medicinal characteristic from 2014 vintage, warmer in 2015 so more ripe fruits. Nice soft nose, peach, opens up in glass - fruits to vanilla
Blanc De Noirs 2014  
37% Pinot Meunier - 63% Pinot Noir - 3 years on lees
Richest and fullest wine in the range. Red fruits, spice
Great with meat dishes, much richer style, More Champagne like in richness and body.
Roast beef, venison
Rose De Noirs 2014 74% pinot noir
We're the only people with this wine! - saignee method - 3 years on lees
Rose gold colour, spice and a little tannin from the skin contact, creamy texture, strawberry and cream.
Seafood, fresh fruits. 
Dan Orton
Bloomsbury:
Being a blend of the 3 main Champagne varietals, the fruit of the Bloomsbury is big, ripe and rounded. It fills the mouth with citrus and clementines. Its very soft with the acidity being really well integrated.
Cavendish NV: 
Light bodied with floral notes.
Fitzrovia NV: 
The nose was great, full of strawberries and cream, soft brioche notes. the palate had electric acidity with raspberry notes. 
Blanc De Blancs 2015: 
Rich, biscuity and rounded, this had the sherbet lemon from the chardonnay, it was backed up by the leesey ( Made up word for lots of lee's notes) aromas. Has a thick and rich mouse adding the power of the wine, this would not be afraid of any food.
Blanc De Noirs 2014:
A very ripe nose, much more bright flower notes with darker red berries. The palate was the best of the day, little bits of vanilla and blackcurrant, then along side the acidity an awesome note of sour cherries really helped to keep it fresh.
Laura Hockenhull
Alongside some of the smaller, boutique local wine producers, it is easy to be a bit dismissive of Ridgeview Estate. Their reputation precedes them as being one of the largest and most consistent producers of quality Sussex Sparkling wine and they are often an obvious choice from a customer perspective.  The estate has grown in size and nature over the years, developing from their own 10 acre vineyards to buying in fruit from across the county giving them 100 acres of vineyard fruit to play with. They now produce approximately 90,000 bottles of each of their signature wines (Bloomsbury, Cavendish, Fitzrovia).  However, our recent visit from Scarlet was a real reminder of what Ridgeview do so well and why they are so successful. The wines showed incredibly well. Here are some notes from our team tasting:
Bloomsbury NV 
This is chardonnay dominant with 1/3 pinot meunier / pinot noir in the blend.  The wine has a richer nose than expected. It is packed with citrus and orchard fruit character, the fizz is not aggressive and a long flavourful finish.  A really delightful aperitif wine, not to be written off as their 'entry level' wine but as a fantastic flagship wine. Pair with light seafood... food you would naturally squeeze a lemon on!  
Cavendish NV 
This has the reverse blend of the Bloomsbury 2/3 red grapes to 1/3 chardonnay and the same 18 months on the lees. Red apple skins on the nose but this is a less fruit driven style and has more of the 'grown-up' character of a pinot dominant blend. A fuller more serious wine. 
Fitzrovia NV
It has delightful fruit of cassis and berry fruit. The treatment is similar to the production of the white sparkling wines from the signature range but 5% is a red wine made from the same red grapes which make up the rest of the blend.  It almost drinks like a kir royale with 10g/l dosage. But this isn''t a sweet wine. It is complex and balanced, elegant and very quaffable. Good with white fish or a 'not too sweet' pudding like a berry cheesecake. 
Blanc de blancs (Chardonnay) is their only single estate wine, all hand-picked from their own 25 year old vines and is only made in the best years.  This wine differs wildy from 2014 to 2015 vintage and they divide opinion. The 2014 is a wine makers vintage, it was a cooler and wetter year and the grapes were harvested later. The resulting wine is herbaceous, notes of fennel. perhaps less obvious but a very characterful wine. There's not a lot of this wine left around but we still have some in stock so get it while you can! 
The 2015 from the warmer year (Scarlet's favourite), is creamier. Reminiscent of apple pie and custard. notes of vanilla and baked fruit but sophisticated with soft mousse and long mouthwatering finish. 
Blanc de Noirs 2014 (68% Pinot Noir, 32% Pinot Meunier)
This is the head wine-maker's favourite of the Ridgeview range. Only made in the best years when the grapes can achieve the ripeness required for this rich wine. It has 3 years on lees and this is as close as their range gets to those bready and biscuity notes associated with champagne.  This should be drunk in a big glass for maximum impact.  This wine can stand up to some serious foods including game birds and the estate have even successfully paired this wine with Beef! It is a mouth coating rich wine with dark cherry and spice. 
Rose de Noirs 2014
This is a different process to the Fitzrovia. Here they use the saignee method where the skins are left in contact with the wine after they have been gently pressed. A couple of hours bleeds a pink orange hue into the wine and notes of apricot and red fruits on the palate. It also has 3 years on the lees and it is made in such a small quantity that it looks like Butlers are one of the only places you can now buy the 2014 vintage. It's on promotion for valentines day at a ridiculous price of £40 (RRP £50)! Whilst stocks last!