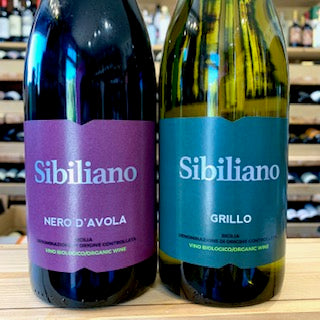 With this baking weather, we've chosen to highlight these organic Sicilian wines as our wines of the week. 
These two 'Sibiliano' wines are made from two of Sicily's best known grape varieties. The white from Grillo, and the red from Nero d' Avola. These varietals are well worth getting to know a bit better. 
Grillo was once used exclusively to make wines similar in style to Sherry (Marsala) to slake the thirst of a British naval forces who were stationed off Sicily in the 19th Century. As demand slowly began to wane for this style, producers turned to making unfortified table wines as well.
Cantina Europa, the Co-operative behind these wines can lay claim to being the first producer of Grillo wine. They are an enormous organisation with 2,100 members. Combined, they cultivate more than 6,000ha of land. These wines come from grapes grown in the region of Trapani, located to the west of the island. It is heavily influenced by the sea, which helps temper the arid growing conditions. They are very sustainable and both wines are certified organic.
The Grillo is fresh with ripe stone fruit aromas and a hint of salinity. On the palate, it has a slight waxy texture, lifted by a crisp acidity which also brings crisp red apple flavours. These sit nicely with the stone fruit characters, and really shine through on the finish. There's a hint of creaminess lurking in the background too. 
A great example of this grape variety, it is the perfect 'staycation' wine to crack open with a group of friends on a hot summer's afternoon. 
The Nero d' Avola is vibrant, and bursting with red fruits on the nose, it still has plenty of acidity, and a smooth tannic structure. Fruits on the palate are dominated by flavours of black cherry and raspberry. The finish is also fresh and fruity. 
This is a wine that could be chilled down and drunk with cured meats, or as the precursor to barbeque food. Equally, could just be slugged down under the summer sun with good company.