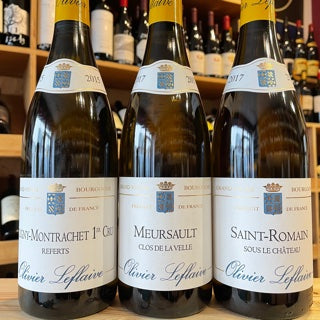 We think this producer is superb and have a range of his wonderful wines in stock now. 
These can be drunk now or could age for the next 5-10 years. 
Olivier Leflaive 
Despite being born into a family of winemakers, located in one of the most prestigious wine making regions in the world, Olivier Leflaive left the family estate, firstly to obtain a degree in economics and then to pursue a career in music. In 1981, after nearly 10 years of working in TV and radio, as a folk music booking agent and accountant, Olivier returned home. 
In his own words,"My country, my family and my heritage were inescapable. I felt an obligation to follow in my father's footsteps and those of the 17 generations that came before us."
He became co-manager of Domaine Laflaive and in 1984 he created his own company, Olivier Leflaive Frères. A kind of negociant business, buying wine and grapes from growers outside the Estate.  Over the years he has nurtured relationships with these partners; encouraging and supporting sustainable, organic and bio-dynamic approaches to wine making. Along with the grapes from the Family's own Estate, they are now able to vinify and age the equivalent of 120 hectares of vines. The majority of which are white wines from the three prestigious Côte de Beaune villages of Puligny-Montrachet, Chassagne-Montrachet and Meursault, as well as from Chablis and the Côte Chalonnaise.
Saint Romain Sous le Château, Olivier Leflaive 2017
This terroir is considered the most accomplished of the A.O.C. Saint Romain. Its exposure towards South-East and its limestone stony soil give a wine of personality mixing rich but subtle aromas. This cuvée is vinified from three distinct plots of different ages.  2017 was a serious vintage; a wine-makers vintage. A lively wine with saline minerality and a richness from the oak aging (20% new).
Very elegant. Ideal with pâtés, terrines and potted meat
Meursault Clos de la Velle, Olivier Leflaive 2017 
As the name describes, the vineyard is situated belowthe village, at the foot of the hillside, adjacent to Château de la Velle. It surrounds this magnificent 13th century property where the vines thrive in deep, rich top soils over a rocky base, which enables good year-round drainage.
The wine is ages for 16 months; 4 months in stainless steel tank and then transferred to 100% oak barrels (20% of new oak).
A wine which boasts a power and generosity typical of Meursault, plus fine acidity to balance. 
Puligny-Montrachet 1er Cru Referts, Olivier Leflaive 2015
These 46 year old vines sit on a site once described as a "bristling field of brush and rocks". The soil is marly at the top and and more ferruginous at the bottom, producing a more unctuous style of wine, which can be sensitive to over-ripeness. This was, however, an exceptional year and the estate's vintage report states that the health and condition of the grapes from 2015, makes the vintage one of the finest in grape quality since Olivier Leflaive was founded in 1984 - the sorters barely had to sort the fruit! 
100% Chardonnay. Aged for 17 months; 5 months in a stainless steel tank and then in 100% oak barrels (25% of new oak).
This is a sophisticated yet concentrated wine with citrus and apricot, then notes of honey and butter with age. Finesse of Puligny-Montrachet appellation combined with a dense and fleshy texture.
Ideal with seafood, poached fish or cooked with cream and cheese such as Epoisses.
Laura Hockenhull