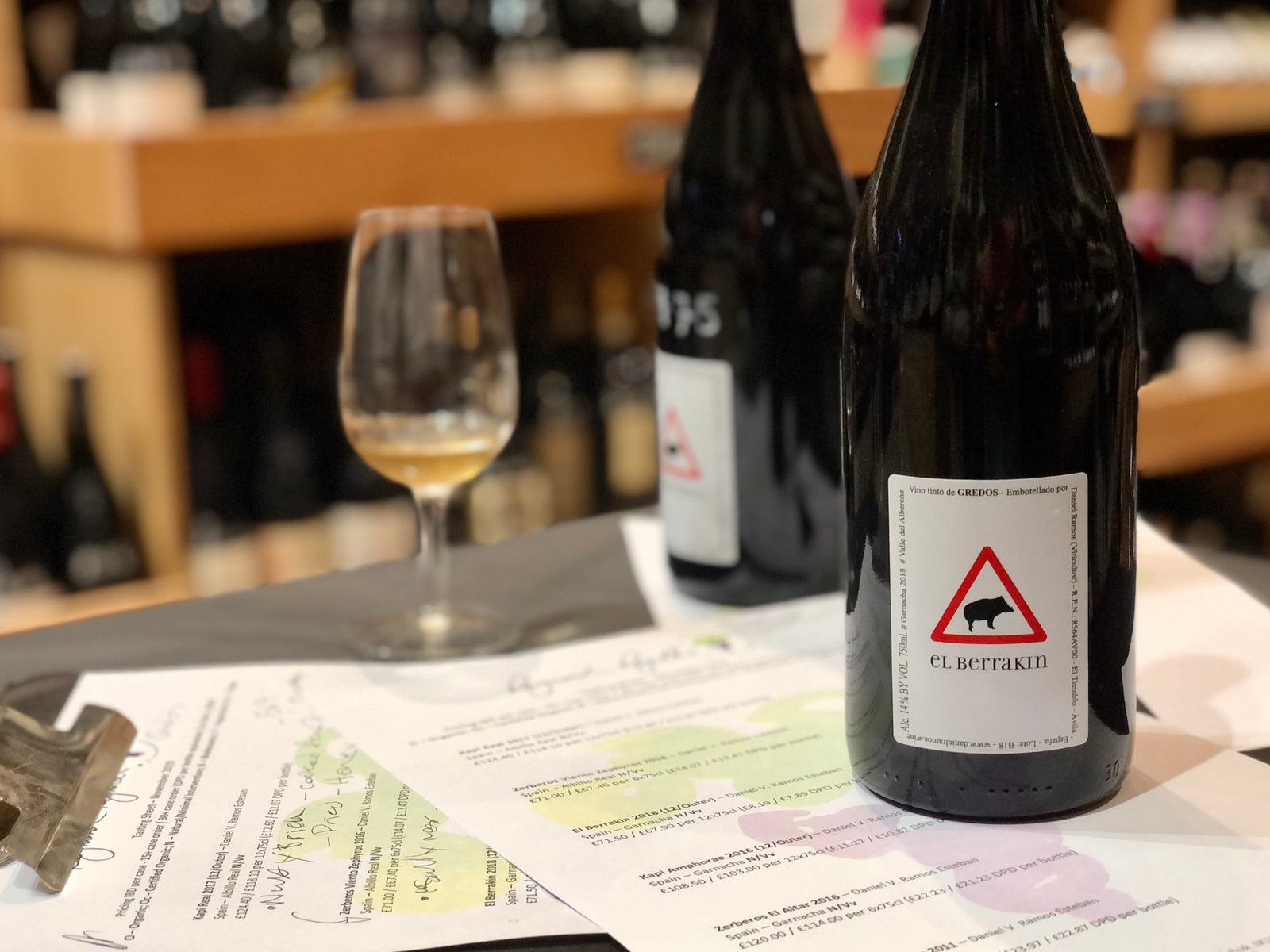 By Jake Henderson  
This Friday we had a visit from our friend James who brought along Daniel Ramos a wine maker who's work we've appreciated for a while now - mostly in the form of drinking (the ultimate kind of appreciation!). 
He's a produces terroir driven, natural wines high up in the mountains of Gredos - 
about 90 minutes west of Madrid. Sticking to the traditional local varietals (Garnacha & Abillo Real), he practices minimal intervention in the cellar to ensure that he's allowing his vineyards unique character to shine!
Currently stocking a couple of his wines, follow the links and get them while you can. Before we drink them all!
Made using local varieties Abillo Real. There's a bit of skin contact and is fermented in amphora, before being bottled unfined and unfiltered. Dried apricot and honey with a nutty richness and plenty of acidity to keep it fresh. Thought the had a great structure and flavour concentration. 
Also had a super unique label. They are made by the local wind - 'Viento Zephyros' - freely moving a pen, suspended from a vine.
A pretty cool take on Garnacha. Very fresh and pure - definitely focused on that berry fruit supported by some herbal notes and super soft tannins. Organic fruit and totally natural fermentation (excluding a small sulphite addition before bottling)  but so precise. Seriously good winemaking!
Kapi Amphorae
This one is made using old vine (60 years) Garnacha in large clay amphorae. A natural, slow fermentation and gentle maceration - 9 month total skin contact. Delicate but dense fruit fruits and loads more of the herbal character  herb, with a nice firm structure.
Zerberos El Altar
Again, old vine, high altitude Garnacha. This time a single vineyard bottling from Daniels north facing vines which, along with the high altitude helps create a super fresh wine. Very clean and elegant, almost Burgundian in style (a term that's pretty much a cliche at this point - but it's true!). 22 days skin contact. Aged in 600L French oak. Was full of sour cherry, spice and was a bit smokey.
Zerberos Del Tiemblo 2013
This single vineyard number was great! Sour cherries and rosemary - a bit wild but very fun. Starting to show signs of some bottle age too. It was fermented with 30% whole bunch (with stems), before aging in large oak. As with the other wines everything is very natural, minimal intervention, and no fining or filtration before bottling.